Ron Capps raced to his first Funny Car victory in nearly a year Sunday at the Circle K NHRA Winternationals at Auto Club Raceway at Pomona.
Steve Torrence (Top Fuel) and Greg Anderson (Pro Stock) also were winners at the season-opening NHRA Mello Yello Drag Racing Series event near Los Angeles.
Capps emerged from a strong performing field as the winner and had to defeat defending world champion Del Worsham in the final round to take his 46th career victory. He outran Jeff Diehl, Chad Head and Robert Hight in early rounds.
In the final, Capps used a quicker reaction time and covered the distance in 3.981 seconds at 324.28 mph in his NAPA Auto Parts Dodge Charger to hold off the hard-charging DHL Toyota Camry of Worsham, which posted a quicker, but losing performance of 3.962 at 324.36.
It was the third Winternationals win for the popular San Diego driver who calls the historic Southern California track a second home.
"This is the most fabled track we go to and it's the birthplace of drag racing; it is unbelievable to win here," Capps said. "I can't wait to get this season going. You wonder if you are ever going to see one of these [trophies] again. I am racing Del Worsham in the final, who is one of the best. We threw down. What a race. Just to know we can get in the circle and get another Wally feels good."
In Top Fuel, red-hot Torrence powered to his first Winternationals victory and his sixth career win by outrunning Doug Kalitta in the final round. Torrence's Capco Contractors dragster posted a 3.735 at 326.48 to edge Kalitta's Mac Tools machine, which trailed with a 3.753 at 324.36.
Torrence, whose car has been running like a very consistent bracket dragster since pre-season testing last week in Phoenix, used a string of low 3.7-second runs to beat Steve Faria, Morgan Lucas, and Richie Crampton in the first three rounds. He saved his quickest run on Sunday for the final to beat Kalitta.
"[Tuning consultant] Alan [Johnson] and [crew chief] Richard [Hogan] have worked really well together," said
Torrence, who becomes the Top Fuel points leader for the first time in his career. "Alan is that thorn who keeps poking Richard to tune it just a little bit farther. My crew guys have done a great job. I am just the guy that sits in there and gets to drive it. It feels good. I wish the season was over already. We are going to do what we can to keep the momentum going and go on to Phoenix and try to write a story just like this one."
Four-time world champ Anderson earned the first win in the new EFI Pro Stock era, holding off his teammate Jason Line in a photo-finish final round. Anderson also won by using a holeshot start and finished in 6.617 at 207.85 in his Summit Racing Equipment Chevy Camaro to take the win over Line, whose 6.609 at 209.82 in his Summit Camaro wasn't enough to make up for Anderson's starting line advantage.
"I feel honored to be the first winner of the fuel injection era and get the first trophy," said Anderson, who was the event's No. 1 qualifier and advanced to the final with round wins over Matt Hartford, five-time champ Jeg Coughlin Jr. and last season's top rookie Drew Skillman. With the win, he denied his teammate a third consecutive Winternationals trophy.
"I got a great light in the final and got it done," Anderson said. "It was my day. I can't tell you how proud I am of this Summit Racing team. It is getting better every run. That's going to pay off down the road. Everybody out there is in a steep learning curve right now. The other competitors in our class are going home and work hard and they will do better at Phoenix. We are going to have to buckle down and find something better again. Hopefully we will be better again come Phoenix."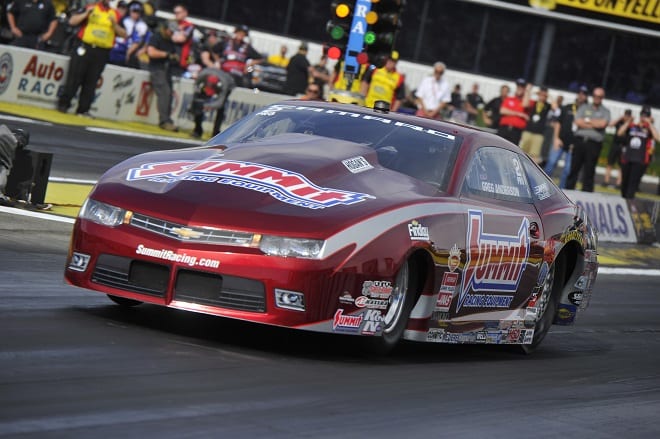 The NHRA Mello Yello Drag Racing Series continues Feb. 26-28 at the CARQUEST Auto Parts NHRA Nationals at Wild Horse Pass Motorsports Park near Phoenix.