Ron Capps raced to his first victory of the season in Funny Car Sunday at the Auto-Plus NHRA New England Nationals. Tony Schumacher (Top Fuel), Dave Connolly (Pro Stock) and Angie Smith (Pro Stock Motorcycle) also were winners at the NHRA Mello Yello Drag Racing Series event at New England Dragway in Epping, NH.
Capps drove his NAPA Auto Parts Dodge Charger to the win over Alexis DeJoria with a 4.095-second run at 315.19 mph to claim the 41st victory of his career in Funny Car.
"It was huge to get [crew chief] Rahn Tobler back his mojo," said Capps. "He was beating himself up. He found something overnight. He and Eric [Lane, assistant crew chief] worked all night on what they were going to do this morning."
It was the first finals appearance for Capps since Brainerd last season. He had reached five semifinals this season before advancing to this final to face DeJoria. With the victory, Capps grabbed the final transfer spot in the Traxxas Nitro Shootout which will occur during the Chevrolet Performance U.S. Nationals at Indianapolis on Labor Day weekend.
"It was big because we haven't been in the winner's circle since Brainerd," said Capps, who defeated Tim Wilkerson, Cruz Pedregon and Courtney Force to advance to the final round.
"It was bigger because there was one spot left in the Traxxas Shootout. Nobody wanted to talk about it in our pit area, but that was it."
Capps leaves Epping fourth in the Funny Car point standings. Funny Car points leader Robert Hight reached the second round, falling to John Force Racing teammate Force.
In Top Fuel, Schumacher piloted his U.S. Army dragster to a pass of 3.824 at 323.27 to defeat points leader Doug Kalitta and pick up his second victory of the season. In earlier rounds he raced past Steve Torrence, Antron Brown and Clay Millican.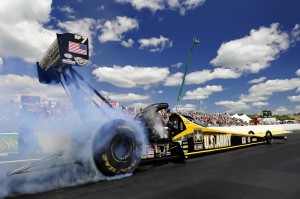 "The fans that paid good money to go to a drag race got the best show I've seen this year," Schumacher said of the close action all weekend long. "It was outstanding racing. It's cyclical. You go up and down. Right now we're up and it's outstanding."
It was the 74th career victory for Schumacher, a seven-time world champion, and first at the Northeastern track. With the win, Atlanta Dragway now stands as the only track that Schumacher has yet to record a victory.
"I'd like to have that," Schumacher said of the win in Georgia. "It would be really cool. Of all the records we've set and we've set everything there, that's the one that's out there."
Kalitta's Mac Tools dragster reached its sixth final of the season. With the finals appearance, Kalitta increased his points lead over Antron Brown to 156 markers.
In Pro Stock, Connolly reached his first final since 2012 and made the best of it with his performance of 6.536 at 213.23 in his Charter Communications Chevy Camaro to defeat Gray Motorsports teammate Jonathan Gray.
"I had very high expectations of this team," Connolly said. "I know the caliber of people working on it. The talent pool is deep. What a great weekend."
It was the 24th win of Connolly's career and first since Reading, 2012. Connolly advanced to the final with round wins over Kenny Delco, Vincent Nobile and Greg Anderson.
"This class is brutal right now," Connolly said. "It's tough. One-thousandths of a second separate us every weekend. Today was no different."
Pro Stock points leader Erica Enders-Stevens and her Elite Motorsports Chevy Camaro team had their race end early following a second round defeat to four-time world champion Greg Anderson.
Smith secured the first Pro Stock Motorcycle victory of her career with a winning run of 6.905 at 191.89 on her Kandy Magazine Buell, defeating husband and teammate Matt Smith, whose NitroFish Buell slowed as it approached the finish line.
"In this sport, I'll take it any way I can get it," said Smith. "It's my first one, I'm proud to be here. I'm really tired of dusting all of [Matt's] Wallys. I at least want to dust one of mine at the house. Now I have one, and I'm good with that."
It was the first time that a husband and wife met in the final of an NHRA Mello Yello Drag Racing Series event. Matt, the reigning Pro Stock Motorcycle world champion, lost in the Epping final for the second season straight, falling to teammate John Hall last year.
Screamin' Eagle Vance & Hines Harley Davidson teammates Eddie Krawiec and Andrew Hines had won three races in a row, but both riders fell to Angie Smith in the second round and semifinals respectively. Hines continues to lead the points in the two-wheel category.
The NHRA Mello Yello Drag Racing Series continues June 26-29 at Joliet, Ill. with the O'Reilly Auto Parts Route 66 NHRA Nationals at Route 66 Raceway.
(Photos courtesy NHRA/National Dragster; Click to enlarge) 
EPPING, N.H. — Final round-by-round results from the 2nd annual Auto-Plus NHRA New England Nationals at New England Dragway and Motorsports Park, the 11th of 24 events in the NHRA Mello Yello Drag Racing Series:
TOP FUEL
ROUND ONE — Khalid alBalooshi, 3.833, 319.14 def. Leah Pritchett, 3.831, 313.15; Clay Millican, 3.920, 305.63 def. Brittany Force, 4.560, 274.22; Richie Crampton, 4.028, 300.20 def. Dom Lagana, 4.044, 297.75; Antron Brown, 3.858, 315.12 def. Todd Paton, 4.081, 290.88; Doug Kalitta, 3.810, 325.45 def. Terry McMillen, 4.341, 186.00; J.R. Todd, 3.826, 317.05 def. Bob Vandergriff, 4.081, 230.61; Spencer Massey, 3.968, 293.86 def. Shawn Langdon, 4.141, 254.86; Tony Schumacher, 3.854, 322.34 def. Steve Torrence, 3.922, 304.19; QUARTERFINALS — Crampton, 3.800, 325.14 def. Massey, 3.794, 323.97; Millican, 3.834, 318.62 def. Todd, 3.836, 320.97; Schumacher, 3.787, 324.28 def. Brown, 3.794, 320.66; Kalitta, 3.813, 325.45 def. alBalooshi, 3.856, 318.92; SEMIFINALS — Kalitta, 3.792, 325.92 def. Crampton, 3.822, 325.37; Schumacher, 3.825, 322.81 def. Millican, 3.860, 316.38; FINAL — Schumacher, 3.824, 323.27 def. Kalitta, 3.813, 323.89.
FUNNY CAR
ROUND ONE — Robert Hight, Ford Mustang, 4.069, 314.39 def. Mike Smith, Dodge Stratus, 7.026, 89.34; Courtney Force, Mustang, 4.089, 313.73 def. Dave Richards, Chevy Monte Carlo, 4.900, 160.23; Cruz Pedregon, Toyota Camry, 4.107, 291.76 def. Jeff Arend, Dodge Charger, 4.744, 176.12; Tommy Johnson Jr., Charger, 4.127, 312.64 def. Bob Tasca III, Mustang, 4.767, 190.14; Alexis DeJoria, Camry, 4.120, 310.13 def. Tony Pedregon, Camry, 4.374, 224.17; Del Worsham, Camry, 4.127, 309.84 def. Jack Beckman, Charger, 4.123, 309.20; Ron Capps, Charger, 4.064, 316.45 def. Tim Wilkerson, Mustang, 4.061, 314.46; John Force, Mustang, 4.129, 312.50 def. Matt Hagan, Charger, 4.119, 305.36; QUARTERFINALS — J. Force, 4.095, 314.83 def. Hight, 4.067, 312.35; Capps, 4.097, 311.13 def. C. Pedregon, 4.109, 308.85; C. Force, 4.124, 312.86 def. Worsham, 4.133, 308.92; DeJoria, 4.106, 310.98 def. Johnson Jr., 7.002, 88.00; SEMIFINALS — DeJoria, 4.086, 312.21 def. J. Force, 4.130, 312.06; Capps, 4.104, 314.09 def. C. Force, 4.131, 312.21; FINAL — Capps, 4.095, 315.19 def. DeJoria, 4.121, 309.98.
PRO STOCK
ROUND ONE — Jonathan Gray, Chevy Camaro, 6.525, 213.16 def. Jason Line, Camaro, 6.530, 213.64; Greg Anderson, Camaro, 6.547, 212.56 def. Chris McGaha, Camaro, 6.532, 213.43; Vincent Nobile, Camaro, 6.525, 213.27 def. V. Gaines, Dodge Dart, 11.043, 88.86; Allen Johnson, Dart, 6.531, 213.43 def. Jeg Coughlin, Dart, 6.563, 208.59; Shane Tucker, Chevy Cobalt, 6.537, 213.16 def. John Gaydosh Jr, Pontiac GXP, 6.719, 209.95; Dave Connolly, Camaro, 6.513, 213.23 def. Kenny Delco, Cobalt, broke; Shane Gray, Camaro, 6.527, 212.49 def. Val Smeland, Cobalt, 7.609, 142.46; Erica Enders-Stevens, Camaro, 6.518, 212.73 def. Larry Morgan, Ford Mustang, 6.563, 211.76; QUARTERFINALS — Johnson, 7.742, 181.18 def. Tucker, 13.393, 63.99; J. Gray, 6.564, 212.59 def. S. Gray, 6.559, 213.06; Anderson, 6.551, 212.86 def. Enders-Stevens, 6.551, 213.40; Connolly, 6.526, 212.93 def. Nobile, 6.562, 213.13; SEMIFINALS — J. Gray, 6.583, 212.76 def. Johnson, 6.525, 213.60; Connolly, 6.517, 213.23 def. Anderson, 6.549, 212.93; FINAL — Connolly, 6.536, 213.23 def. J. Gray, 6.577, 213.16.
PRO STOCK MOTORCYCLE
ROUND ONE — Angie Smith, Buell, 7.061, 191.27 def. Jim Underdahl, Suzuki, broke; John Hall, Buell, 6.820, 196.04 def. Chaz Kennedy, Buell, 6.922, 189.76; Adam Arana, Buell, 6.995, 193.85 def. Michael Ray, Buell, foul; Hector Arana, Buell, 6.826, 196.67 def. Shawn Gann, Buell, 10.531, 78.32; Andrew Hines, Harley-Davidson, 6.843, 195.28 def. Scotty Pollacheck, Buell, 6.897, 193.88; Hector Arana Jr, Buell, 6.827, 194.80 def. Jerry Savoie, Suzuki, 6.893, 194.35; Eddie Krawiec, Harley-Davidson, 6.799, 197.48 def. Justin Finley, Suzuki, foul; Matt Smith, Buell, 6.834, 195.48 def. Steve Johnson, Suzuki, 6.904, 194.21; QUARTERFINALS — M. Smith, 6.879, 194.86 def. A. Arana, 6.979, 193.88; Hines, 6.919, 195.14 def. H. Arana, broke; Arana Jr, 6.808, 196.47 def. Hall, 6.868, 194.72; A. Smith, 6.896, 192.49 def. Krawiec, 6.862, 197.25; SEMIFINALS — A. Smith, 6.908, 193.77 def. Hines, 6.921, 192.33; M. Smith, 6.873, 195.11 def. Arana Jr, 13.014, 61.08; FINAL — A. Smith, 6.905, 191.89 def. M. Smith, 7.230, 145.99.
EPPING, N.H. — Sportsman final results from the 2nd annual Auto-Plus NHRA New England Nationals at New England Dragway and Motorsports Park. The race is the 11th of 24 in the NHRA Mello Yello Drag Racing Series:
Super Stock — Joe Santangelo, Chevy Camaro, 10.903, 93.11  def. Dan Fletcher, Camaro, foul.
Stock Eliminator — Ron Infantino, Chevy Camaro, 11.060, 116.70  def. Joe Lisa, Camaro, 10.962, 116.99.
Super Comp — Timmy Markoglu, Dragster, 8.924, 176.49  def. Kyle Cultrera, Dragster, 8.920, 178.83.
Super Gas — Ray Balian, Ford Probe, 9.924, 162.90  def. Brian Khoury, Chevy C-10, 9.943, 153.74.
Super Street — Art Gardner, Chevy Nova, 10.922, 149.81  def. Frank Quarno Jr, Nova, 10.893, 135.40.
Pro Stock Snowmobile — Tina Duncanson, Ski-Doo, 8.289, 156.52  def. Mark Case Jr., Ski-Doo, 9.534, 149.46.
Top Sportsman — Matt Harper, Pontiac Grand Prix, 7.544, 183.10  def. Marc Caruso, Chevy Cobalt, 6.986, 192.44.