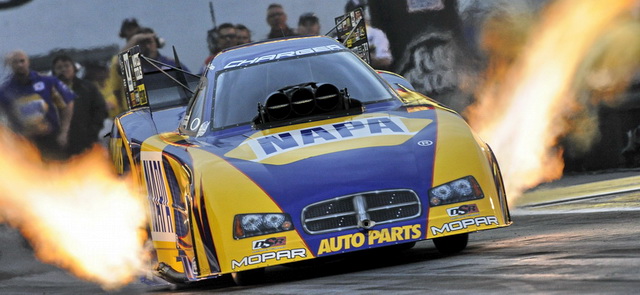 The Circle K Winternationals this week marks the start of a milestone season for Ron Capps as it will be his 20th year as an NHRA professional racer and 10th with Don Schumacher Racing (DSR).
All he wants to commemorate this year is the special golden Wally trophy after the 24th event of the 2014 NHRA Mello Yello Drag Racing Series that will go to the Funny Car world champion.
Despite four runner-up finishes for the championship, the past 19 years have been filled with events that will define Capps' career as one of the best Funny Car drivers in history. He has won 41 event titles–including his first in 1995 driving a Top Fuel dragster, which makes him one of only 14 in NHRA's 63-year history who have won in both of drag racing's elite categories.
He also has driven for a pair of Hall-of-Famers in Don Schumacher, his current boss, and Don "Snake" Prudhomme, who offered his first opportunity with a top-notch team. Capps also has driven for three of the sports' most well-known sponsors: U.S. Tobacco with Prudhomme before carrying the colors of Brut and NAPA AUTO PARTS since 2008 with Don Schumacher Racing.
Capps, 48, is taken aback when reminded this is his 20th season competing as a full-time professional racer.
"Is it really? Wow. That's incredible. You live, breathe NHRA drag racing and most of what you think about is how to get better on and off the track. Time just flies by–too fast. It's been fun. I've been able to race against all the great ones. It's been fun to watch the sport to grow where it is today."
Capps finished 2013 with three wins in five championship rounds with crew chief Rahn Tobler and assistant John Collins.
His resume is nearly full. The only item missing is a season championship.
"Of course I want a championship, but things have changed. I just talked with Jimmie Johnson and some of the NASCAR guys about how NASCAR is changing its playoff format again in Cup. And it's a different world now with our playoff system that started in 2007. It's not like it used to be because you don't have to be good all year long with our Countdown (to the Championship).
"You still want to have a championship on your resume, that's always the goal. My elders always have told me just keep your head down, keep focused on race wins because when race wins come the points come along with them. If you keep doing that you might look up at the end of the season and have a championship."
Capps and his DSR NAPA Dodge Charger R/T team got the year off to a good start when they posted the quickest time (4.003 seconds, 320.28 mph) among NHRA's best Funny Car teams during the Jan. 17-18 PRO Winter Warm-up preseason event at Palm Beach International Raceway at Jupiter, Fla.
The NAPA team hopes to improve on last season's great start when it advanced to the championship round at the Winternationals opener, then two weeks later won the title near Phoenix.
(Photos courtesy NHRA/National Dragster; Click to enlarge)