Back-to-back Funny Car world champion Ron Capps raced past Robert Hight in the final round of the Mission #2Fast2Tasty NHRA Challenge, winning the specialty race for the second time this season on Saturday as part of the Summit Racing Equipment NHRA Nationals at Summit Motorsports Park.
In the Mission #2Fast2Tasty NHRA Challenge, Justin Ashley (Top Fuel), Deric Kramer (Pro Stock) and Angie Smith (Pro Stock Motorcycle) also won the bonus event in Norwalk. Leah Pruett (Top Fuel), Bob Tasca III (Funny Car) Matt Hartford (Pro Stock) and Gaige Herrera (Pro Stock Motorcycle) all qualified No. 1 at the ninth of 21 races during the 2023 NHRA Camping World Drag Racing Series season.
Capps powered to a run of 3.887-seconds at 327.74 mph in his 11,000-horsepower NAPA Auto Parts Toyota GR Supra, defeating Hight to claim the victory. The points leader continues to enjoy a strong June, winning in Bristol two weeks ago and now the specialty race on Saturday in Norwalk, beating Chad Green in the earlier round. He also qualified No. 2 for Sunday's race.
"You're racing for what's very important – those (bonus) points," Capps said. "Winning a championship by two (points) last year tells you how important these points are. It's not cliché. Your life is upside or awesome depending on one or two points in the landscape of Funny Car in NHRA, so we'll take this.
"Mission Foods has changed the way we approach the weekend. You're bummed if you don't make it to the semifinals of a race because you know you're not in the Mission Foods #2Fast2Tasty Challenge. If you go to the semis on Sunday and don't win the race, you're bummed, but you know you get to be in the challenge at the very next race. It's a really big deal, and it's fun. It really brought Saturdays to life."
Tasca drove to his third No. 1 spot this season with a spectacular run on Saturday, going 3.884 at 329.26 in his 11,000-horsepower Motorcraft Ford Mustang. It's the 12th career top qualifier for the veteran, who will open raceday against Bobby Bode. Matt Hagan qualified third with a run of 3.892 at 327.82.
"I think you've seen this car perform at a really high level this year," Tasca said. "We have multiple No. 1 qualifiers when the tracks are really good. We've struggled a little bit with consistency, and what I like this weekend even more than the No. 1 qualifier is that we ran 3.90, 3.88, and 3.90. The car was absolutely dialed in. That was the last little missing link for this team to go on a real run. You're starting to see the consistency of the car.
"This is a special track, and I love racing here. These facilities – they're a different level. You come here and see that it's an awesome place to race. Hopefully we can win another one here."
Ashley notched another standout moment during his incredible 2023 season in Top Fuel, collecting his fourth win in the Mission #2Fast2Tasty NHRA Challenge on Saturday. He went 4.063 at 228.61 in his 11,000-horsepower Phillips Connect/Toyota dragster to beat Doug Kalitta in the final round, staying undefeated in the specialty race in the process. Ashley has collected 12 bonus points in a memorable year that also includes four races wins. Ashley went 3.743 to beat Austin Prock in the opening round and now has a chance to sweep the weekend for the third time this year.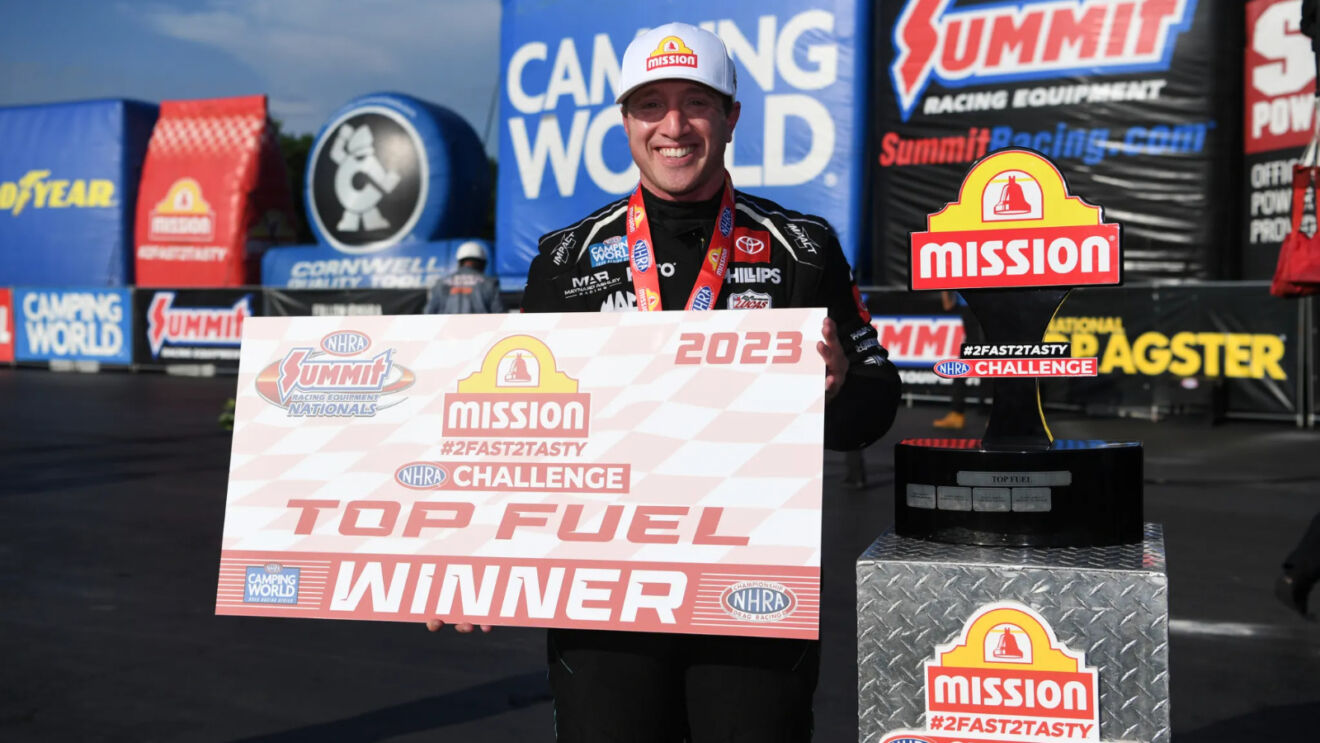 "This is very exciting, and I think for myself and all the other drivers, it really does a great job of setting us up for Sunday and for raceday so we can get in the right mindset," Ashley said. "It's so important to be able to collect those championship points now, early on in the year. It's a blast to race. I'm really happy to collect those points and get another win.
"These are the moments you dream about. I remember being at many, many tracks as a kid. I have so much gratitude just to be here but then to be able to turn on as many win lights as we can, really is a dream come true for myself and a lot of the guys on the team. Mike Green, Tommy DeLago, they do a really good job of bringing the championship experience, and it resonates through the team."
Pruett's run of 3.684 at 333.08 from Friday in her 11,000-horsepower Dodge Direct Connection dragster held up, handing the standout her second straight No. 1 qualifier and the 15th in her career. Now, she'll try to pick up her first win of the season, opening eliminations against Kyle Wurtzel. Torrence qualified second with a 3.688 at 332.10 and defending world champ Brittany Force moved up to third with a 3.694 at 332.10. Joining Leah as the No. 1 qualifier was her husband, Tony Stewart, who took the top spot in Top Alcohol Dragster.
"I think with all the different variables that we've been given with weather and conditions, everyone has made the most that they've had," Pruett said. "It feels absolutely great. Being No. 1 is what Tony Stewart Racing is all about and I'm glad that our Top Fuel team has been able to up our cadence and our performance to keep up with what Tony and Matt Hagan's team has been able to do.
"The beauty is that we do have really great runs, and that's putting us in the position to gain these qualifying points and qualifying positions for a better spot to start on raceday. We would have loved to have made runs today that were spectacular, but we know we have a racecar that can the mileage on Sunday."
Continuing his recent run of success, Pro Stock's Kramer won the Mission #2Fast2Tasty NHRA Challenge for the first time in his Get Biofuel Camaro, defeating Greg Anderson in the final round with a 6.622 at 207.02. Kramer is on a stretch of four straight final round appearances and continued to impress on Saturday in Norwalk, defeating Cristian Cuadra in the opening round on a holeshot before getting past Anderson in the final round of the specialty race. Currently second in points, Kramer also picked up three bonus points in the Countdown to the Championship with the win.
"This is super exciting," Kramer said. "We come out here every weekend with the expectation to win, and when you go for a long stretch and don't get the success that you're looking for, it's easy to get bogged down. But after doing really well in Vegas and staying and testing, you just keep that momentum rolling. We're extremely happy. I have to give a big shout-out to Mission Foods for putting this on. I've had a lot of fun.
"Every round win is hard to get in this class. You are crossing that finish line and hoping and praying that that light comes on in your lane, and it's extremely satisfying when it happens."
Hartford claimed his third No. 1 qualifier this season with a 6.595 at 208.36 in his Rottler/Total Seal Camaro. It was a welcome sign after Hartford struggled mightily in Bristol two weeks ago. He resolved those issues quickly in Norwalk and will open raceday against Fernando Cuadra Sr., looking for his first win of the season. Erica Enders' 6.595 at 208.36 puts her second heading into raceday, while Troy Coughlin is third with a 6.595 at 207.56.
"We're counting every point we can. We're looking at bonus points, qualifying No. 1 you get extra points," Hartford said. "It's going to mean something when you get to the Countdown as to where you end up. Name me one person in Pro Stock right now that you think can't win the championship right now. I can't. We need to go into that with as many points as we can. Those points right now are huge. We have a chance to win the championship, and it's the best chance we've ever had."
In Pro Stock Motorcycle, Angie Smith enjoyed the biggest moment of her season thus far, defeating Hector Arana Jr. in the final round of the Mission #2Fast2Tasty NHRA Challenge with a pass of 6.967 at 196.96 on her Denso Auto Parts Buell. After the victory, Smith talked about the importance of momentum, knowing she gained plenty with her successful day on Saturday in Norwalk. She knocked off Herrera, who went red, in the opening round before holding off Arana Jr. in the final round of the specialty race.
"It was really exciting to get the win," Smith said. "I just want to say thank you to Mission Foods for doing this. It puts a little extra emphasis on Saturday, and it's like two races in one. When you can put your name on that trophy, it means a lot.
"It does give us more confidence. Anytime you can turn on win lights, it makes you more confident. I think the people that win these things – it gives you confidence, it gives you momentum."
Herrera bounced back from his red light in the Mission #2Fast2Tasty NHRA Challenge, rolling to his fifth straight No. 1 qualifier with a pass of 6.785 at 198.76 on his Mission Foods/Vance & Hines Suzuki. The points leader just missed on a new track record, but takes plenty of momentum into Sunday, where he'll attempt to get his fourth win this year. Matt Smith qualified second with a 6.806 at 199.17, with Arana Jr.'s 6.814 at 199.14 putting him third.
"After going red in Bristol and then going red today in the Mission #2Fast2Tasty Challenge definitely took the wind out of my sails a little bit," Herrera said. "To bounce back and get a No. 1 qualifier – we're still holding that streak so I'm happy for that, overall, for the whole team.
"I started off with an incredible season, you can't ask for anything better. I knew there would be bumps in the road. In Bristol, I was telling everyone I wasn't feeling it, something was going to happen, and it did. I think you just come back from it and grow from it."
Eliminations for the Summit Racing Equipment NHRA Nationals begin at 10 a.m. ET on Sunday at Summit Motorsports Park.