Former child actor Cameron Ferré's lifelong dream of competing in the NHRA Top Fuel ranks will come true this weekend when he makes his competition debut at the NHRA Carolina Nationals, Sept. 16-18, at zMAX Dragway. While on set filming Jack Frost in 1998, Ferré was surrounded by many well-known actors who knew acting was their career; however, Cameron looked at acting as a way to supplement his dream of one day racing a Top Fuel dragster.
Ferré was able to obtain his Top Fuel license after the second Las Vegas National event in last October driving the Paton family's dragster. The Ontario, Canada-based team is currently campaigning their 50th year of racing.

"I cannot thank the Patons enough. The family's history in the sport is rich, and I am just happy to be a part of their team. I have been dreaming of this opportunity since I was nine years old, and it has been one heck of a journey to get to this moment. Words cannot describe how excited I am to kick off my professional career," said Ferré.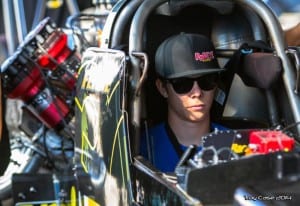 Ferré, 31, captured his first national championship in the Junior Drag Racing League back in 2002, competing against many of the young professionals in the sport now such as Shawn Langdon, Erica Enders, and Leah Pritchett. Determined, a young Ferré made the move into the sportsman ranks competing in Super Comp where he was able to pick up a national event win at the World Finals in Pomona at the end of the 2012 season.
Fast forward three years and Cameron has been getting his feet wet preparing for his Top Fuel debut piloting Larry Miersch's A/Fuel dragster where the team found success posting a runner-up finish at the U.S. Nationals in 2015. "The seat time in the A/Fuel dragster played a huge role in preparing me for the task at hand. Miersch's car is an ex-Kalitta Top Fuel car, so all of the levers and procedures are pretty identical," Ferré adds.
While working his way through the ranks and driving just about anything offered his way, Ferré has had many long-time sponsor supporters alongside his family, and without them none of this would be possible. Backing Ferré in his debut this weekend will be JBS Ltd., Racepak, Ted Wiens Tire and Auto, Precision Racing Suspension, Nitrohead, Ultimate Design, Epokhe Sunglasses, and Brico Industries.