Courtney Force (above) raced to the landmark 100th victory by a female in NHRA history Sunday at the NHRA Kansas Nationals at Heartland Park Topeka.
Spencer Massey (Top Fuel) and Allen Johnson (Pro Stock) also were winners of the NHRA Mello Yello Drag Racing Series event.
In her second attempt to earn the much sought after milestone victory in as many weeks, Force outran veteran Funny Car driver Cruz Pedregon in the final round to take the historic win, her first of the season and fourth of her career.
Force, the event's No. 1 qualifier, finished in 4.148 seconds at 306.46 mph in her Traxxas Ford Mustang, while Pedregon's Snap-on Tools Toyota Camry slowed near the finish with a 4.225 at 250.60.
"There's just a lot of emotion right now," said Force, 25, the youngest daughter of 16-time world champ John Force. "It's been a long weekend. I'm so proud of my Traxxas Ford Mustang team and I am happy to win it for all of the girls who have won races in NHRA over the years. They all know how to win."
Force is one of 14 women who have earned victories in the NHRA Mello Yello Drag Racing Series, starting with the legendary Shirley Muldowney in Top Fuel in 1976. Force nearly accomplished the feat last weekend in Atlanta, but she lost a close final round race to her teammate Robert Hight.
"It's huge," said Force, who outran Dale Creasy Jr., Jeff Arend and Tommy Johnson Jr. in earlier rounds. "You can see the emotions on my face after the loss in the final round last weekend. It's a big deal. It's a milestone for women, and every girl out here wanted to get it. Every girl put their heart out into it. I was crushed last weekend, because I thought that opportunity would never come around again. I'm still trying to soak it all in right now."
She is one of three women who have won races in the series this season, joining fellow Funny Car racer Alexis DeJoria and Pro Stock points leader Erica Enders-Stevens, both two-time season winners. Yesterday, she and her sister Brittany, a Top Fuel driver, were both No. 1 qualifiers of the event. Eight female racers representing each of the four Mello Yello Series classes have competed this season.
"This is for all the girls out there in any type of sport, any motorsport," said Force, who was presented a special Wally with a commemorative pink 100th female win faceplate and design on the trophy's bottom. "It's an exciting day for us. It's an honor to be number 100 on a list of the legends like Shirley Muldowney, Angelle Sampey, Melanie Troxel, Erica Enders-Stevens, Shelly Payne, Ashley (Force Hood, sister), Alexis DeJoria, there are so many great names. My sister Brittany is so close. It's an honor to be a part of it. We've hit 100, but there's 100 more to go."
Funny Car points leader Hight was upset in the opening round, ending streaks of six consecutive final rounds and three straight victories for the driver of the Auto Club Ford Mustang. Hight leads John Force by 204 and Courtney moves up to fifth in points with the victory.
Massey earned his second Top Fuel victory in a row and second win at Topeka, defeating defending world champion Shawn Langdon in the final round. Massey sped to a performance of 3.871 at 314.02 in his Schumacher Electric dragster to claim his 16th career win, while Langdon's Al-Anabi Racing dragster slowed to a 4.278 at 233.68.
"It was a struggle that started with running (teammate) Tony Schumacher and every round after that," said Massey. "We kept trying to get the car to perform. Like everybody else we were trying to run a .70, but the car just wouldn't do it. We'd give it more clutch, then more clutch again, then more motor. It kept running a .86 and then an .87, but it was enough."
After outrunning Schumacher in the first round, Massey also defeated Terry McMillen and Brittany Force en route to the victory.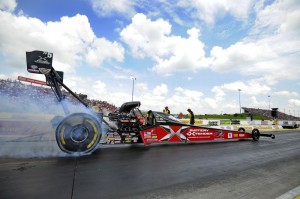 "I went to (crew chief Phil Shuler) before the final round and reminded him the sun was out just like the run before," Massey said. "We didn't want to beat ourselves. We wanted to go down the track and make them beat us. When you can beat Alan Johnson's race car, especially with a good leaver like Shawn Langdon in the seat, that's saying something. You're racing a championship-caliber team every time you race an Al-Anabi car."
Massey moved to third place in the standings, and now trails series leader Doug Kalitta by 138. Antron Brown is second, 30 back of the leader.
"Whenever you get your momentum going, everything seems to fall into place," Massey said. "I like these races that are back-to-back-to-back. When the summer months come along and it gets hot, that weather works good with our tune-up."
In Pro Stock, Johnson scored his third victory of the season and third at Topeka by outrunning teammate Jeg Coughlin in the final round. Johnson powered his Team Mopar Dodge Dart to a 6.663 at 207.81 to hold off the hard-charging Coughlin's JEGS.com/Mopar Dart, which trailed with a 6.664 at 207.05. It was Johnson's 23rd career victory.
"When we get to these altitude tracks, with a little bit of humidity – like here, Las Vegas and Denver, it seems like we excel," Johnson said. "I was wondering where that was at all weekend until that second round, where we laid down a really good run. This team just keeps battling. Every single run, we're just attacking the car. To have half the wins (from the class) in our camp this year is a pretty good feeling."
With the win, Johnson cut Enders-Stevens' series lead to 85. He beat her in the semifinals, ending her hopes for the milestone 100th female win.
"She's (young), heck she can get the 200th," Johnson said with a grin. "I really wanted her to get that, to be honest. Jeg kept her from getting it last week and I kept her from getting it this week, so it's sort of bittersweet. She's a young lady with a big future ahead of her."
The NHRA Mello Yello Drag Racing Series continues May 29-June 1 with the Toyota NHRA Summernationals at Old Bridge Township Raceway Park, Englishtown, N.J.
(Photos courtesy NHRA/National Dragster; Click to enlarge)
TOPEKA, Kan. — Final round-by-round results from the 26th annual NHRA Kansas Nationals at Heartland Park Topeka, the eighth of 24 events in the NHRA Mello Yello Drag Racing Series:
TOP FUEL
ROUND ONE — Khalid alBalooshi, 3.806, 292.71 def. Antron Brown, 3.844, 317.34; Doug Kalitta, 3.815, 321.35 def. Leah Pritchett, 3.859, 318.24; Spencer Massey, 3.862, 319.82 def. Tony Schumacher, 4.826, 151.10; Brittany Force, 3.872, 311.41 def. Luigi Novelli, 6.249, 85.64; J.R. Todd, 3.812, 320.74 def. Clay Millican, 4.041, 250.37; Shawn Langdon, 3.792, 321.96 def. Pat Dakin, 3.870, 312.86; Terry McMillen, 4.758, 247.47 def. Steve Torrence, broke; Richie Crampton, 3.832, 318.24 def. Bob Vandergriff, 4.368, 210.60; QUARTERFINALS — Massey, 3.865, 317.94 def. McMillen, 3.881, 315.05; Todd, 3.808, 316.30 def. Crampton, 3.828, 317.64; Force, 3.828, 322.88 def. alBalooshi, 4.940, 147.10; Langdon, 3.777, 318.17 def. Kalitta, 3.886, 308.14; SEMIFINALS — Massey, 3.874, 319.29 def. Force, 3.908, 279.38; Langdon, 3.820, 315.05 def. Todd, 3.862, 292.08; FINAL — Massey, 3.871, 314.02 def. Langdon, 4.278, 233.68.
FUNNY CAR
ROUND ONE — Tommy Johnson Jr., Dodge Charger, 4.099, 309.34 def. Alexis DeJoria, Toyota Camry, 4.098, 308.57; Chad Head, Camry, 4.093, 311.70 def. Matt Hagan, Charger, 4.157, 301.27; Courtney Force, Ford Mustang, 4.108, 301.74 def. Dale Creasy Jr., Chevy Monte Carlo, 7.070, 106.21; Bob Tasca III, Mustang, 4.147, 307.23 def. John Force, Mustang, 5.526, 135.32; Cruz Pedregon, Camry, 4.090, 308.35 def. Robert Hight, Mustang, 4.073, 313.44; Tim Wilkerson, Mustang, 4.170, 307.02 def. Tony Pedregon, Camry, 4.186, 301.47; Ron Capps, Charger, 4.128, 307.79 def. Del Worsham, Camry, 4.601, 195.73; Jeff Arend, Charger, 4.504, 278.52 def. Jack Beckman, Charger, 11.276, 70.57; QUARTERFINALS — Capps, 4.141, 310.05 def. Tasca III, 4.172, 303.91; C. Pedregon, 4.090, 308.21 def. Wilkerson, DQ; Johnson Jr., 4.673, 198.35 def. Head, 5.203, 202.48; C. Force, 4.114, 311.49 def. Arend, 4.406, 221.89; SEMIFINALS — C. Force, 4.154, 294.11 def. Johnson Jr., DQ; C. Pedregon, 4.094, 302.35 def. Capps, 4.147, 302.55; FINAL — C. Force, 4.148, 306.46 def. C. Pedregon, 4.225, 250.60.
PRO STOCK
ROUND ONE — Jason Line, Chevy Camaro, 6.691, 206.13 def. Jonathan Gray, Camaro, 6.736, 206.80; V. Gaines, Dodge Dart, 6.681, 207.34 def. Greg Anderson, Camaro, 6.727, 204.88; Allen Johnson, Dart, 6.676, 206.95 def. Larry Morgan, Ford Mustang, 6.690, 206.61; Dave Connolly, Camaro, 6.650, 207.56 def. Chris McGaha, Camaro, 6.656, 206.64; Jeg Coughlin, Dart, 6.653, 206.54 def. Rodger Brogdon, Camaro, 6.753, 195.08; Shane Gray, Camaro, 6.651, 207.98 def. Steve Kent, Camaro, 6.788, 182.03; Vincent Nobile, Camaro, 6.664, 206.95 def. Mark Hogan, Pontiac GTO, 6.781, 202.67; Erica Enders-Stevens, Camaro, 6.664, 206.16 def. Deric Kramer, Dodge Avenger, foul; QUARTERFINALS — Enders-Stevens, 6.653, 206.92 def. Gaines, 15.614, 53.74; Nobile, 6.660, 207.27 def. Line, 6.674, 207.56; Johnson, 6.637, 207.21 def. S. Gray, 6.655, 207.62; Coughlin, 6.645, 206.23 def. Connolly, 6.665, 207.78; SEMIFINALS — Coughlin, 6.677, 206.54 def. Nobile, foul; Johnson, 6.657, 206.32 def. Enders-Stevens, 6.657, 206.51; FINAL — Johnson, 6.663, 207.18 def. Coughlin, 6.664, 207.05.
TOPEKA, Kan. — Sunday's final sportsman results from the 26th annual NHRA Kansas Nationals at Heartland Park Topeka. The race is the eighth of 24 in the NHRA Mello Yello Drag Racing Series:Top Alcohol Dragster — Shayne Lawson, 5.329, 269.19  def. Monroe Guest, 5.548, 250.04.
Top Alcohol Funny Car — Dale Brand, Chevy Monte Carlo, 5.639, 255.58  def. Brian Hough, Ford Mustang, 5.689, 251.39.
Competition Eliminator — Shaun Vincent, Chevy S-10, 8.521, 155.26  def. Clark Smiley, Pontiac GXP, 7.422, 182.62.
Super Stock — David Rampy, Chevy Camaro, 10.406, 124.35  def. Tyler Wudarczyk, Camaro, 10.320, 124.11.
Stock Eliminator — Austin Williams, Plymouth Duster, 11.368, 110.15  def. Brett Speer, Chevy Nova, 10.744, 115.04.
Super Comp — Gary Wamboldt, Dragster, 8.933, 172.74  def. Steve Williams, Dragster, 8.917, 173.09.
Super Gas — Luke Bogacki, Chevy Corvette, 9.905, 146.56  def. Jeff Lopez, Corvette, 9.878, 150.50.
Top Sportsman — Jeremiah Vandeventer, Ford Mustang, 7.338, 186.77  def. Norman Brungardt, Chevy Camaro, foul.