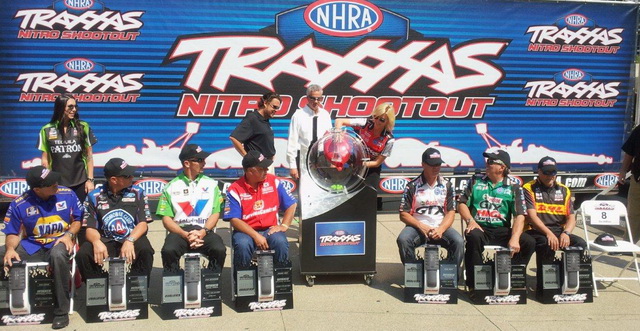 Top fan-vote getters Brandon Bernstein and Courtney Force were the lucky winners in the special lottery drawings for the No. 8 positions in the Traxxas Nitro Shootouts today during a press conference held in downtown Indianapolis to preview the Mac Tools U.S. Nationals presented by Auto-Plus, the world's most prestigious drag race.
Bernstein will face the top seed in Top Fuel, Antron Brown, in the first-round pairing of the Top Fuel Traxxas Nitro Shootout, while the 24-year-old Force will meet Funny Car top seed Ron Capps in the Traxxas Nitro Shootout for Funny Car first round.
"It's very exciting that the fans voted as much as they did for us and that my name got called," Bernstein said. "I was worried about Clay (Millican), so I knew it would be close, but it's fun that we got it and I can't wait to race!"
Said Force: "I'm so excited that my Traxxas Ford Mustang is in the Shootout! I'm so thankful to the fans for voting for me. I knew it was up to chance with the lottery, so I can't believe we actually won. It'll be so awesome to be in my first Traxxas Nitro Shootout and I can't wait to line up on Sunday."
The Traxxas Nitro Shootouts will be contested during the Mac Tools U.S. Nationals presented by Auto-Plus, Aug. 29-Sept. 3, at Lucas Oil Raceway at Indianapolis. The Traxxas Nitro Shootout for Top Fuel will be held Saturday Sept. 1, with rounds at 4 p.m., 7 p.m., and 8 p.m.  The Traxxas Nitro Shootout for Funny Car will be contested Sunday, Sept. 2, with rounds at 12:30 p.m., 3:30 p.m. and 4:30 p.m. Both Traxxas Nitro Shootouts will be showcased in ESPN2HD's Sunday race coverage.
The two drivers selected today was the culmination of a process that started on Aug. 20. All drivers in both categories who had competed in each race this season but were not a part of the seven qualified drivers for each Traxxas Nitro Shootout were eligible for the fan vote/lottery. Fan voting took place on NHRA's Facebook page and lasted until Aug. 28. The fan voting determined how many lottery balls would be assigned to each driver for the drawing. Force led the Funny Car voting with 63 percent, while Bernstein had the most votes in Top Fuel, with 35 percent.
In the other first-round pairings in Top Fuel, Winternationals winner Spencer Massey will face Topeka winner David Grubnic, Bristol winner Tony Schumacher will meet Gainesville winner Morgan Lucas and Atlanta winner Steve Torrence will face Doug Kalitta, who was inserted into the field as the highest points earning non-winner since one spot was left open with only six different winners in the regular season.
In the three other Funny Car first-round pairings, Phoenix winner Robert Hight will meet Chicago winner Jeff Arend, Topeka winner Jack Beckman will face Winternationals winner John Force and Englishtown winner Johnny Gray will race Houston winner Mike Neff. Below are the drivers who have qualified for the Traxxas Nitro Shooutouts and their first-round pairings for the lucrative bonus races which will award the winning drivers $100,000 each.
(Photos courtesy JFR; NHRA/National Dragster; Click to enlarge)
TRAXXAS NITRO SHOOTOUT (TOP FUEL)
FIRST-ROUND PAIRINGS (Sept. 1, 4 p.m.):
1. Antron Brown vs. No. 8 Brandon Bernstein
2. Spencer Massey vs. No. 7 Dave Grubnic
3. Tony Schumacher vs. No. 6 Morgan Lucas
4. Steve Torrence vs. No. 5 Doug Kalitta
SEMIFINAL PAIRINGS (7 p.m.):
Brown-Bernstein winner vs. Torrence-Kalitta winner
Massey-Grubnic winner vs. Schumacher-Lucas winner
FINAL (8 p.m.)
TRAXXAS NITRO SHOOTOUT (FUNNY CAR)
FIRST-ROUND PAIRINGS (Sept. 2, 12:30 p.m.):
1. Ron Capps vs. No. 8 Courtney Force
2. Robert Hight vs. No. 7 Jeff Arend
3. Jack Beckman vs. No. 6 John Force
4. Johnny Gray vs. No. 5 Mike Neff
SEMIFINAL PAIRINGS (3:30 p.m.):
Capps-C.Force winner vs. Gray-Neff winner
Hight-Arend winner vs. Beckman- J.Force winner
FINAL (4:30 p.m.)