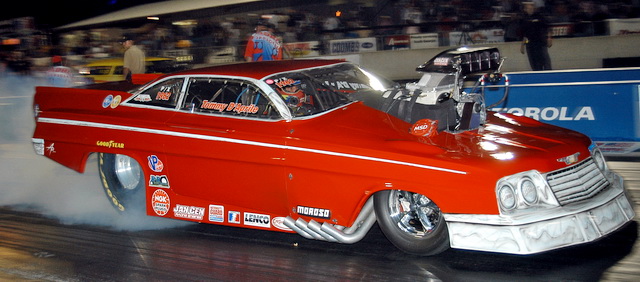 Mel Bush Motorsports (MBM) has been around drag racing for a long time, as has team owner Mel Bush, who drove a 1962 Bel Air in Top Sportsman competition for a number of years in the IHRA series.
Mel stepped out of the driver seat a while ago, but still owns that bright orange Bel Air, as well as a red '62 Bel Air that was driven in NHRA Pro Mod and ADRL Pro Extreme as recently as 2009 in the hands of MBM driver Tommy D'Aprile. Later this year, MBM will be putting the car back on the track with Steven Bush doing the driving in the ADRL's new-for-this-year Pro Mod class.
"The Bel Air did well in NHRA competition and I think this is a good time to bring it back out," the elder Bush said. "My son will be driving it and our tuner, Todd Tutterow, will be calling the shots. I look forward to seeing what it can do."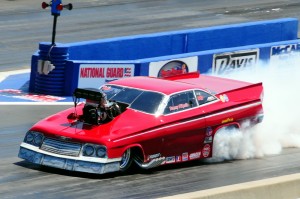 Steven Bush has driven a Top Dragster in IHRA competition and made laps to get his Pro Mod license a few years ago. He said he's looking forward to the new challenge of driving a blown doorslammer.
"I am excited for this opportunity to drive a car capable of speeds above 150; I know that its going to be a challenge and it will be different than my dragster, but I'm ready to see what we can do."
Bush and D'Aprile are enjoying a standout year in 2012, currently sitting fourth in ADRL Pro Extreme points after going to two finals and having their Jeffers Pro Cars C5 Corvette qualify in the number-four spot at the most recent ADRL event in Charlotte last month before a case of tire shake ended the event for the team.
"As I climbed from the car I saw my opponent (Clint Thompson), who had got his first round win ever in ADRL competition, elated with joy. I celebrated with him and his crew and was very happy for them," D'Aprile said. "While we may have lost in the first round at this event there are three more events to look forward to."
(Photos by Ian Tocher and Roger Richards)