The 2023 NHRA Camping World Drag Racing Series will start at historic Gainesville Raceway for just the second time in nearly seven decades with the Gatornationals, March 9-12. In advance of this epic event the NHRA is joining Ocala, Florida, based Top Fuel driver and 2021 Gatornationals Top Fuel winner Josh Hart in hosting the inaugural Gatornationals FanFest on Wednesday, March 8, from 6:00 p.m. until 9:00 p.m. at Burnyzz Speed Shop (1 Aspen Road, Ocala, Florida).
The free to attend event will feature a car show, live music, food trucks, and a driver autograph session from 7:00 p.m. – 8:00 p.m. that will include former Gatornationals winners and current NHRA professional drag racing stars. Proceeds from the event will be donated to Racers For Christ.
"We are excited to host this kick-off event with the NHRA to start the Gatornationals," said Hart, multi-time Top Fuel winner. "Our goal is to have as many former Gatornationals winners and current drivers as possible for the free autograph session and to continue to grow this event to highlight the Gatornationals. This is one of the most historic motorsports events in the country and we are excited to have it in our backyard and celebrate with everyone from Ocala and around central Florida. I want to thank everyone at Burnyzz Speed Shop for supporting this great first time event."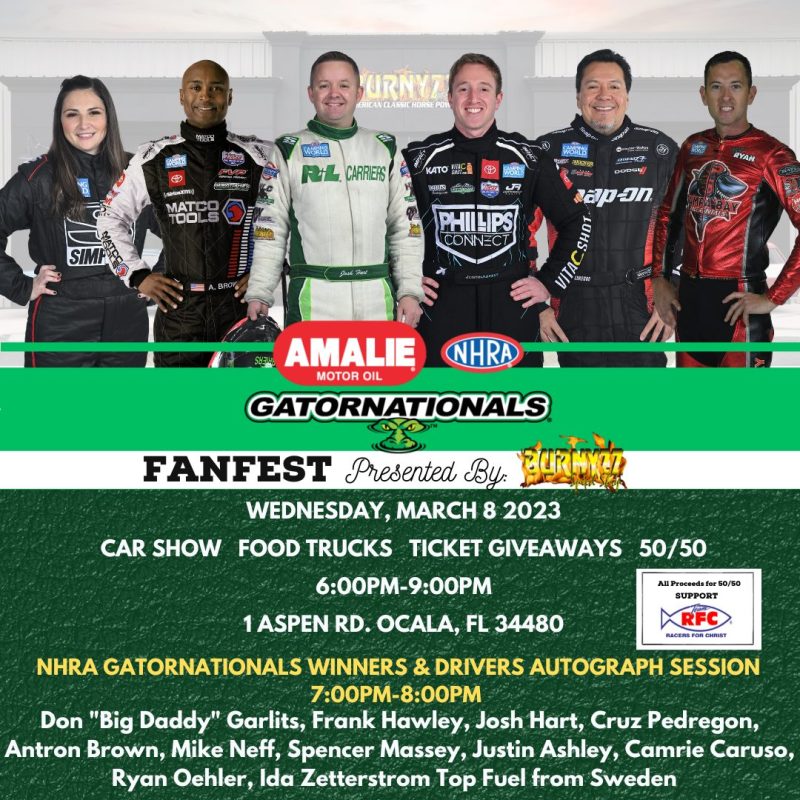 Drivers and former Gatornationals winners who have committed to attending include four-time Top Fuel winner and NHRA legend Don "Big Daddy" Garlits, two-time Funny Car winner Frank Hawley, 2021 Top Fuel winner Josh Hart, 1998 Funny Car winner Cruz Pedregon, 2013 Top Fuel winner Antron Brown, 2011 Funny Car winner Mike Neff, 2015 Top Fuel winner Spencer Massey, Top Fuel's Justin Ashley, 2022 NHRA Rookie of the Year Camrie Caruso, Pro Stock Motorcycle rider Ryan Oehler and Ida Zetterstrom Sweden Top Fuel driver. With almost a month until the event more drivers and winners are sure to commit and fans can follow NHRA social media as well as Burnyzz Speed Shop social media for more driver and winner commitments.
The NHRA Amalie Motor Oil Gatornationals, will be contested March 9-12 at Gainesville Raceway and for tickets visit here.