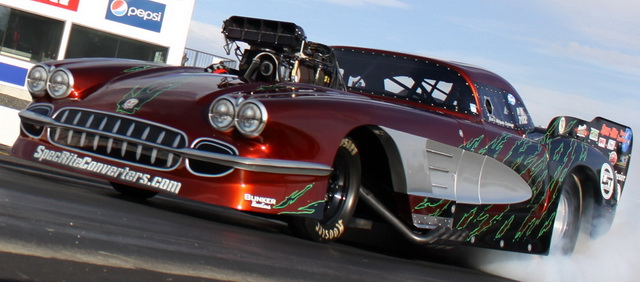 Rod Burbage drove his Spec-Rite Converter-sponsored 1958 Corvette to a win in the West Coast Outlaw Pro Mod Association's (WCOPMA's) season opener this past weekend at Firebird Raceway in Boise, Idaho. With a short field Burbage grabbed the number-one qualifying position away from Dan Nickelson during the final qualifying session.
In the third and final qualifying session Burbage stepped up with a 6.201 at 231.00 mph to earn the top spot. Nickelson was behind the water box to witness that run and stepped up to try and take the position back, but his 6.229 at 230.41 wasn't enough and landed second on the qualifying order.
Andy Neyer ran consistently all weekend in the mid 6.60-range and did the same in the first round of eliminations against Nickelson. Neyer knew he didn't have a 6.20 in the car, but if Nickelson messed up he was there with another 6.60 pass to grab the win, and that's exactly what happened. Nickelson broke his blower belt leaving the line and Neyer cruised down for the win with a 6.636 @ 201.29 to claim a spot in the final round.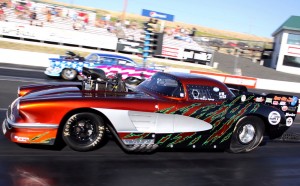 On the other side Burbage was paired up with Tommy Johanns. Burbage got off the line first and ran low ET of the event with a 6.184 @ 223.60 pass while Johanns had his hands full around the 330' mark as he lightly tagged the wall. Johanns was out of the car on his own in the top end and not injured in the mishap.
The final round paired Burbage vs. Neyer. When the tree dropped Neyer was off way too early with a -.127 red-light but it didn't matter as Burbage ran another consistent pass to take the win with a 6.206 @ 229.24 to Neyer's losing 6.738 @ 206.13.
With the event win Burbage has an early lead on the point's standings heading into the next WCOPMA event July 6-8, at Mission Raceway Park in Mission, BC, Canada.