PDRA's Pro Extreme category welcomes new sponsorship for 2018. Bryant Industrial Crane and Rigging has come on board as the class title sponsor. ProLine Racing is the presenting sponsor. The class offers a unique niche in Pro Modified racing, a place for outlaws who continually want to push the limits. The class has no shortage of entertainment value and is ready to rock this season thanks to new sponsorship.
For 35 years Bryant Industrial Crane and Rigging has been serving customers with the most technologically advanced cranes. Bryant Marriner, owner of Bryant Industrial, has also fueled a long passion for drag racing. He's backed racers and had a foray in the driver's seat himself. Now, he's coming on board to support the future of Pro Extreme.
"We're a crane and rigging company," Marriner said of his company. "We work from Washington D.C. to Atlanta. We do a lot of heavy bridge beams, oilers, chillers, cooling towers, air handlers. We set a lot of medical research equipment, MRIs and X-ray equipment. We like the crazy stuff that there are no books written to tell anybody how to do that job. It's a niche market. It's a challenge every day. I went in business in '83 and I'm still working for a lot of those that I went in business for back then. Our reputation is out there and speaks for itself."
Marriner has been involved in the sport on many levels and, for several years, has been a supporter of Terry Leggett's Pro Extreme operation.
"I enjoy seeing the Pro Extremes run," told Marriner. "The PDRA is the only place that you can legitimately run a screw blower. And without the PDRA and the Pro Extreme class, there are too many of those guys that would either be sitting out or would have to change the top end of their motors to run roots blowers or totally change and run a different motor.
"The ProLine guys are great guys," Marriner added of the class presenting sponsor. "The PDRA is lucky to have somebody of their caliber willing to step up to the plate.
"Trust me we're going to bring some excitement with it and to it."
ProLine Racing has been helping customers push performance barriers in a wide array of categories since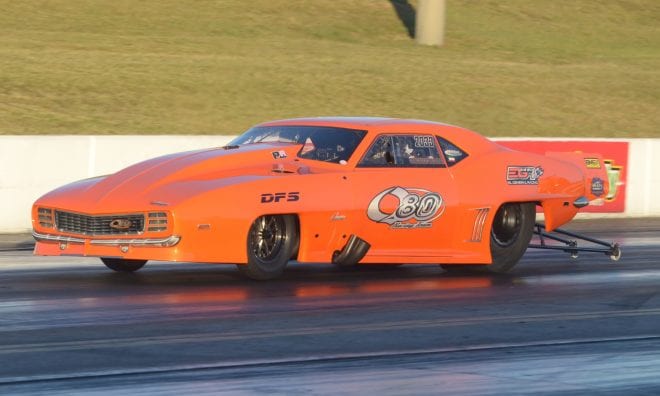 2005. Racers in several PDRA classes choose ProLine, including Pro Extreme racer Jose Gonzales. While ProLine may be most known for their turbo applications, the company sells a range of performance parts, including complete engines, EFI packages and transmission components.
For the second consecutive season Quick Drive will return to sponsor the Pro Extreme Low Qualifier Award. Quick Drive's torque converter drive unit can handle the highest levels of performance. Backed by the company's incredible customer support, Quick Drive products are a winning combination for PDRA racers.
In addition to these great sponsors, Terry Leggett, Scott and Michelle Farley, and Jose Gonzales have all committed to supporting Pro Extreme in 2018.
"We're excited to have such great support for Pro Extreme," stated PDRA Director of Marketing, Will Smith. "The class has a very unique spot in drag racing and we're proud that it's here with the PDRA. We look forward to what Bryant Industrial and ProLine will bring to the class this season."