Antron Brown piloted his Matco Tools dragster to the Top Fuel victory Sunday at the 18th annual DENSO Spark Plugs NHRA Nationals at Las Vegas Motor Speedway.
Tommy Johnson Jr. (Funny Car) and Tanner Gray (Pro Stock) were also winners at the fourth event of 24 on the NHRA Mello Yello Drag Racing Series schedule.
Brown, who won the event in 2016, raced to a 3.747-second pass at 321.04 mph to defeat Don Schumacher Racing teammate Tony Schumacher who ran a 3.809 at 325.14 in his U.S. Army dragster. This is Brown's 46th career Top Fuel victory and first of the season. It was also Don Schumacher Racing's 300th team win.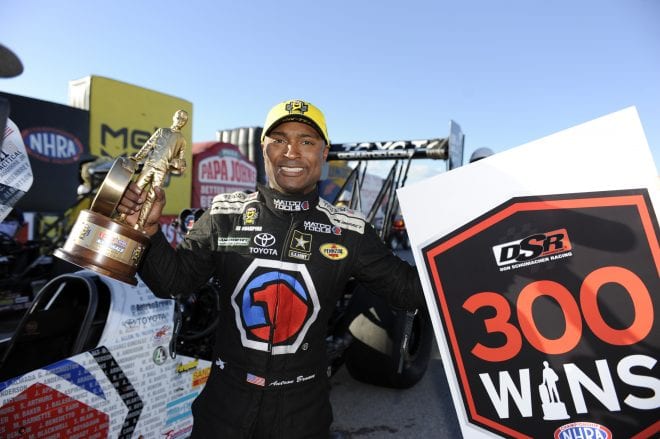 "Today was tough battles," Brown said. "When you race two of your teammates you know you got a battle on your hands because you all have the same quality parts. And when you go up there you have to throw everything up there. Especially with Tony. He hasn't been an eight-time champion for nothing, buddy, he knows how to race. We had to push hard."
Brown, who has been racing Top Fuel for 10 years, has won a race every year of his Top Fuel career. He is the only racer in NHRA history to have a win in 10 consecutive seasons. He raced past Scott Palmer, No. 1 qualifier Steve Torrence and two-time 2017 event winner Leah Pritchett en route to the finals. Schumacher faced Terry McMillen and Doug Kalitta before seeing Brown in the final round.
In Funny Car, Johnson Jr. claimed his first victory at Las Vegas Motor Speedway since 2001 when he outran rookie Jonnie Lindberg with a 3.933 pass at 323.66 in his Make-A-Wish Dodge Charger R/T. It is his 15th career win and first of the season. Lindberg pushed his Head Racing Toyota Camry to a 4.016 at 302.14 in his second consecutive runner-up effort in 2017.
"Today was a pretty trying today," Johnson Jr. said. "It was pretty hot. Probably the hottest track we've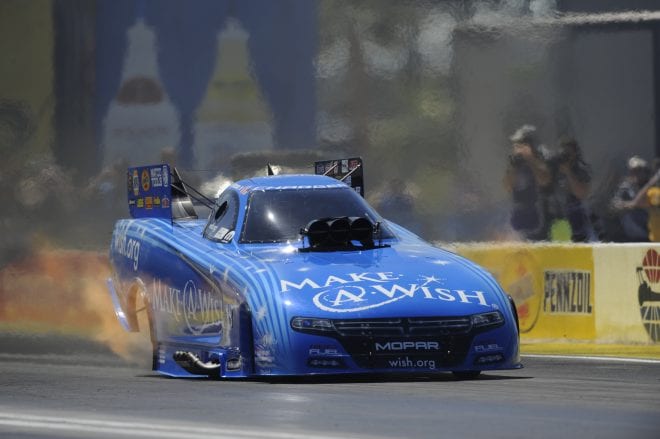 seen this season yet. The guys did a great job. When we came out first round and were low ET by at least three hundredths I thought, 'Oh, it's going to be a good day.' This is just a great facility. When I come in the gate I have a good feeling because I've had some success here, a win prior to this, and a couple runner-up finishes."
Johnson Jr. pushed past Jim Campbell, Robert Hight and 16-time world champion John Force before facing Jonnie Lindberg in the finals. Lindberg defeated Cruz Pedregon, Jack Beckman and Gary Densham before falling to Johnson Jr., who moves to second in the points standings. Lindberg is now eighth.
Gray, who is only 17 years old, became the youngest Pro Stock winner in NHRA history when he raced his Gray Motorsports Valvoline Chevrolet Camaro to a 6.681 pass at 206.61 to defeat Bo Butner and his Jim Butner's Auto Chevy Camaro on a holeshot in the finals. Butner raced to a 6.678 at 206.76 but his reaction time of .088 at the start was too slow for Gray's .010.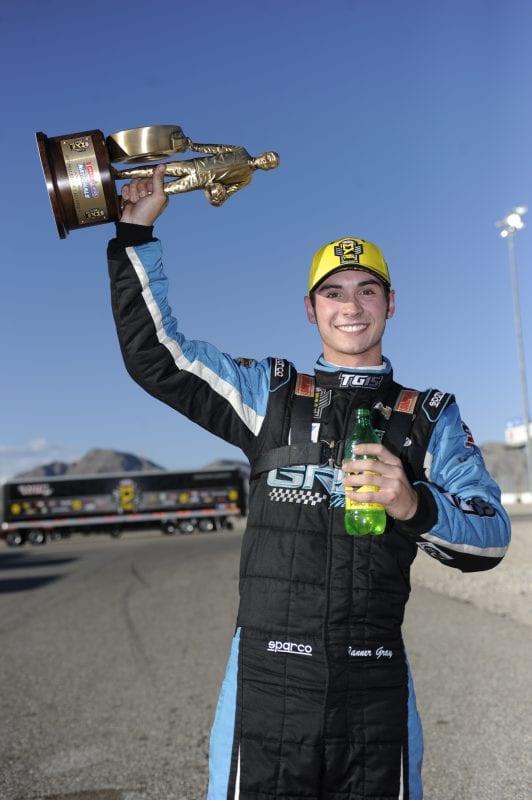 "I can't thank everybody enough," Gray said. "My crew is definitely the reason I'm here. I do a small part. It feels really cool. I was pretty nervous. This was something I wanted to do since I was real young and I finally got the opportunity to do it. When I started this deal I told my dad I wanted to be the youngest Pro Stock winner. To be able to do that feels really cool."
Gray is now fourth in the points standings after taking on Drew Skillman, Greg Anderson and defending world champ Jason Line before reaching the finals. Butner lined up against Alan Prusiensky, two-time champ Erica Enders and veteran Jeg Coughlin en route to his finals appearance.
The 2017 NHRA Mello Yello Drag Racing Series season continues at the 30th annual NHRA SpringNationals April 21-23 at Royal Purple Raceway.