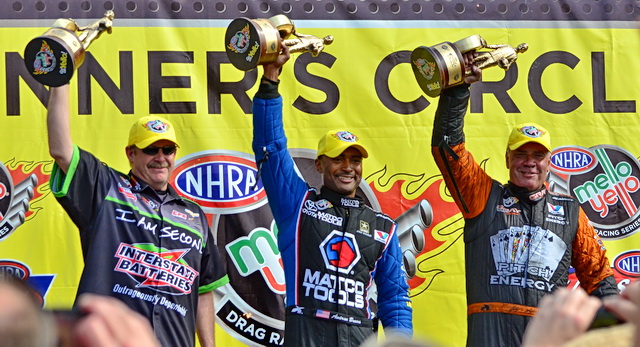 Antron Brown (above center) raced to the Top Fuel victory Saturday at the weather-delayed Summit Racing Equipment NHRA Southern Nationals at Atlanta Dragway.
Johnny Gray (Funny Car, right) and Mike Edwards (Pro Stock) also were winners at the NHRA Mello Yello Drag Racing Series event, which was delayed for one week due to persistent rain showers.
Brown claimed his second victory of the season and his fifth win at the Georgia dragstrip, powering past Brandon Bernstein in the final round. Brown covered the distance in 3.801 seconds at 321.25 mph in his Matco Tools dragster, while Bernstein's ProtectTheHarvest.com dragster lost traction at the start and finished in 7.105 at 90.64.
"It's big to win down here at the Southern Nationals," said defending world champion Brown, who also defeated Pat Dakin, Spencer Massey and Doug Kalitta in earlier rounds to secure his 39th career victory.
"This track's been real special to me," Brown continued. "It reminds me of going to a racetrack in my hometown. It's been around forever, and it has that special atmosphere with great fans that pump you up. You get that aura of the passion for the sport that they have. Everybody was running so strong this weekend that it was monumental for us to get the job done."
With the win, Brown moved to second place in the points order, within five points of Don Schumacher Racing (DSR) teammate and series leader Tony Schumacher.
"Every team gets in a groove, and our car can run what the track will hold when we're in our groove," Brown said. "People probably know that if they want to take that win from us, they're going to have to step up because we're not going to leave any scraps on the table. We threw some good numbers out there."
In Funny Car, a pair of DSR drivers settled the final as Gray earned his second win of the season by defeating event No. 1 qualifier Matt Hagan. Gray's Pitch Energy Dodge Charger led the entire way down the track with a performance of 4.077 at 314.17 and Hagan trailed in his Magneti Marelli/Rocky Footwear Charger with a 4.160 at 309.49.
The victory pulled Gray out of bit of a mini-slump, which he had been in since winning in Gainesville, Fla. in March and included a DNQ at the Four-Wide Nationals in Charlotte and a pair of second round losses at Las Vegas and Houston.
"We got over-center here for a couple of races and struggled pretty good," said Gray, who moved up from fifth to third in the series standings with the win. "The car was getting really inconsistent, and the boys made the election just to back the thing way down, get way over on the soft side, and start picking their way back up. I didn't know they'd pick it up quite that quick, but they picked on it pretty good today. The thing came back real strong."
Gray outran Robert Hight, Ron Capps and points leader Cruz Pedregon in earlier rounds to claim his fifth career victory and first ever at Atlanta Dragway.
"We're tickled to death," Gray said. "[Crew chiefs] Rob [Wendland] and Rip [Reynolds] are pretty phenomenal over there. They get a little left of center there every now and again, but, boy, it doesn't take them long to reel it back in, and when they've got it reeled in, man that's a hot rod. They give me a car good enough even I can't screw it up."
Edwards scored his second Pro Stock win of the season and the 36th of his career by defeating Gray's son Shane in the final round with a 6.595 at 209.14 in his Interstate Batteries/I Am Second Chevy Camaro.
"All things considered, it was a great day in the office," said Edwards, who beat Warren Johnson, V. Gaines and Greg Anderson in the first three rounds. "Man, it just seemed like we were a little bit faster than a few of them.
"We're making good runs, just need to make better runs. We just tried all day long and couldn't make it go any faster, but hey, it just feels good to come out with a win. It was a great win for me and my guys."
The younger Gray posted a 6.643 at 208.17 in his Gray Motorsports Camaro in the runner-up effort in his third consecutive final-round appearance. He barely missed joining his father in the Mello Yello Series winner's circle, which would have been a first in the sport. The only other time a father-son tandem advanced to final rounds in different Mello Yello Series categories at the same event was in 2008 at Brainerd, Minn., with Brandon Bernstein in Top Fuel and Kenny Bernstein in Funny Car, but neither of them won that day.
"Shane was on today," said Edwards, who with the win increased his series points lead to 126 over second-place Jeg Coughlin. "I asked him down there at the other end what he had this morning, and he said a big ol' box of Wheaties, so that's what I'm having in Kansas. He did a phenomenal job. I think that's three finals in a row for that team, so they're definitely catching fire, and they're running good."
Gray rattled off several amazing reaction times to advance to the final round, including back-to-back .002 and .001 starts in the semis and final. Edwards, the 2009 world champ, says winning an NHRA Pro Stock race just keeps getting tougher and tougher.
"The competition is amazing," Edwards said. "Pro Stock is just a great class. It's fun to be a part of, but I'll tell you what, the older I get, my nerves are getting shot. It's tough. Them guys are so good. They pull up there and just pop them .00s on you.
"Man, we made a real nice run in the final. I was a little worried because that was the first time we were going to be the first pair out, but it made a sweet run. It's all good when you win."
The NHRA Mello Yello Series continues next weekend (May 17-19), with the NHRA Kansas Nationals at Heartland Park Topeka (KS).
(Photos by Ian Tocher; Click to enlarge)
COMMERCE, Ga. — Final round-by-round results from the 33rd annual Summit Racing Equipment NHRA Southern Nationals at Atlanta Dragway, the seventh of 24 events in the NHRA Mello Yello Drag Racing Series:
TOP FUEL
ROUND ONE — Brittany Force, 3.892, 321.42 def. Clay Millican, 3.937, 319.82; Spencer Massey, 3.845, 314.31 def. Steve Torrence, 3.884, 318.39; Brandon Bernstein, 4.128, 213.23 def. Terry McMillen, 6.876, 87.07; Antron Brown, 3.857, 324.98 def. Pat Dakin, 4.007, 295.21; Shawn Langdon, 3.782, 322.81 def. Morgan Lucas, 3.802, 319.45; Doug Kalitta, 3.808, 325.37 def. Leah Pruett, 5.679, 120.95; Khalid alBalooshi, 3.843, 322.58 def. David Grubnic, 6.907, 82.59; Tony Schumacher, 3.799, 323.74 def. Bob Vandergriff, 3.893, 318.47; QUARTERFINALS — Brown, 3.798, 318.24 def. Massey, 4.286, 205.13; Bernstein, 3.847, 320.43 def. alBalooshi, 4.071, 318.47; Kalitta, 3.789, 325.61 def. Schumacher, 3.813, 323.04; Langdon, 3.791, 323.81 def. Force, 3.874, 322.96; SEMIFINALS — Bernstein, 3.761, 324.05 def. Langdon, 3.807, 324.44; Brown, 3.788, 320.43 def. Kalitta, 4.864, 150.68; FINAL — Brown, 3.801, 321.35 def. Bernstein, 7.105, 90.64.
FUNNY CAR
ROUND ONE — Tim Wilkerson, Ford Mustang, 4.139, 307.79 def. Alexis DeJoria, Toyota Camry, 6.566, 97.94; Cruz Pedregon, Camry, 4.100, 307.86 def. Jeff Arend, Dodge Charger, 6.751, 92.74; Matt Hagan, Charger, 4.663, 280.02 def. Tony Pedregon, Camry, 6.213, 111.45; Ron Capps, Charger, 4.096, 309.98 def. Blake Alexander, Charger, 4.235, 287.35; Jack Beckman, Charger, 4.122, 307.79 def. Bob Tasca III, Mustang, 6.027, 116.01; Del Worsham, Camry, 4.187, 301.00 def. Courtney Force, Mustang, 7.727, 75.77; Johnny Gray, Charger, 4.137, 309.27 def. Robert Hight, Mustang, 5.860, 121.54; John Force, Mustang, 7.085, 93.48 def. Chad Head, Camry, foul; QUARTERFINALS — Hagan, 4.104, 309.56 def. J. Force, 4.214, 301.07; Gray, 4.090, 307.51 def. R. Capps, 4.175, 305.01; C. Pedregon, 4.124, 299.60 def. Worsham, 4.118, 303.03; Wilkerson, 4.142, 303.71 def. Beckman, 4.361, 297.48; SEMIFINALS — Hagan, 4.106, 311.05 def. Wilkerson, 4.714, 220.58; Gray, 4.088, 311.34 def. C. Pedregon, 4.099, 302.41; FINAL — Gray, 4.077, 314.17 def. Hagan, 4.160, 309.49.
PRO STOCK
ROUND ONE — V. Gaines, Dodge Avenger, 6.626, 209.23 def. Rodger Brogdon, Chevy Camaro, 9.802, 93.11; Jason Line, Camaro, 6.615, 209.62 def. Vincent Nobile, Avenger, 7.307, 143.92; Shane Gray, Camaro, 6.618, 209.01 def. Erica Enders-Stevens, Camaro, 6.652, 208.30; Greg Stanfield, Camaro, 6.642, 207.37 def. Allen Johnson, Avenger, 6.632, 208.84; Greg Anderson, Camaro, 6.623, 209.33 def. Chris McGaha, Avenger, 11.578, 75.57; Mike Edwards, Camaro, 6.612, 209.62 def. Warren Johnson, Pontiac GXP, 6.706, 206.80; Jeg Coughlin, Avenger, 6.615, 209.04 def. Larry Morgan, Ford Mustang, 6.693, 207.50; Kurt Johnson, GXP, 6.664, 206.64 def. Rickie Jones, Camaro, 6.783, 165.58; QUARTERFINALS — Anderson, 6.630, 208.97 def. Stanfield, 6.677, 207.62; Gray, 6.653, 208.68 def. K. Johnson, 7.986, 125.44; Coughlin, 6.624, 208.75 def. Line, 6.619, 209.39; Edwards, 6.601, 209.43 def. Gaines, 12.272, 65.14; SEMIFINALS — Gray, 6.620, 208.75 def. Coughlin, 6.607, 209.49; Edwards, 6.607, 209.65 def. Anderson, 6.609, 209.82; FINAL — Edwards, 6.595, 209.14 def. Gray, 6.643, 208.17.
COMMERCE, Ga. — Sportsman final results from the 33rd annual Summit Racing Equipment NHRA Southern Nationals at Atlanta Dragway. The race is the seventh of 24 in the NHRA Mello Yello Drag Racing Series:
Super Stock — David Latino, Chevy Cobalt, 9.699, 127.10  def. Ryan Richardson, Chevy Camaro, 10.191, 112.59.
Stock Eliminator — Jeff Strickland, Chevy Nova, 10.686, 120.35  def. Jeff Adkinson, Chevy Camaro, 10.672, 114.44.
Super Comp — Lauren Freer, Dragster, 8.904, 173.87  def. Michael Rastall, Dragster, 8.884, 169.34.
Super Gas — Billy Upton, Chevy Corvette, 9.915, 153.79  def. Scott Lawton, Corvette, 9.925, 146.89.
Super Street — Troy Williams Jr., Chevy S10, 10.944, 130.83  def. Mike Desio, Chevy II, 10.877, 138.74.
Top Dragster — Ray Miller III, Dragster, 6.843, 191.87  def. Jeff Strickland, Dragster, 7.204, 174.08.
Top Sportsman — Jeffrey Barker, Chevy Cobalt, 6.690, 206.61  def. Tommy Turner, Pontiac GXP, foul.