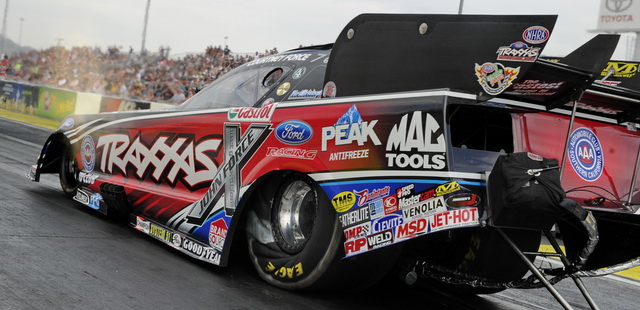 Antron Brown (Top Fuel), Courtney Force (Funny Car, above) and Jeg Coughlin (Pro Stock) earned No. 1 qualifying positions and will lead their categories into Sunday's 11 a.m. eliminations at the NHRA Mello Yello Drag Racing Series' fourth stop of the year.
Brown secured his first No. 1 qualifying position of the season and 35th of his career with his 3.768 at 325.14 in his Matco Tools dragster. Brown's 3.7-second run was one of five 3.7s during the final qualifying session and the Don Schumacher Racing driver snatched the top position from series points leader Doug Kalitta on the last pass of the final session.
"You could see as the track got tighter the crew chiefs were getting it together and we saw some phenomenal runs," Brown said. "Doug put that 3.77 on the board right in front of us, so I knew it was time to get to work. We had just been picking at it, but I saw my boys go into the box and make some adjustments I just said, 'Uh oh, here we go. This is where it gets good,' and it just went A to B."
Brown noted the stiff competition of the Top Fuel category so far in 2014 and the runs from qualifying showed a similar pattern.
"It's going to be a fight like this all year," Brown said. "It's not going to be just the fastest car, but the most efficient car that makes great laps the most often. We're looking forward to that challenge."
Brown will face Mike Strasburg in the first round of eliminations. The 2012 world champ has two wins at Las Vegas including last season's fall event and will be going for his second straight win at the track.
Kalitta, who won the Amalie Motor Oil Gatornationals two weeks ago, qualified second with a 3.775 pass at 321.88 in his Mac Tools dragster. The Ypsilanti, Mich. native held the No. 1 qualifying position for one pass before Brown's top run. Kalitta will face Steve Faria in the first round.
In Funny Car, Force set track records in both elapsed time and speed with her performance of 4.006 at 325.37 in her Traxxas Ford Mustang Funny Car. Force's top speed was also the fastest speed for both nitro classes.
"I was waiting for dad [John Force] or Matt Hagan to take it from me," Force said. "When I got out of the car, I didn't realize the speed was 325 mph. It's pretty [amazing to see] the 325 mph run was not only the best in Funny Car, but Top Fuel, as well."
Force has struggled to open the season but feels that her team may have turned a corner following a semifinal showing in Gainesville. "We struggled a little bit at the beginning of the season," said Force, who was runner-up at both Las Vegas events last season. "Coming out here, it felt good to have a consistent race car back and be at a track that we've had some good luck at in the past."
The 2012 Automobile of Southern California Road to the Future Award winner secured her first No. 1 qualifier of the season and fourth of her career. She earned a matchup with Jon Capps on Sunday. Her 16-time world champion father, John Force, qualified No. 2 with his 4.017 run at 317.87. The Castrol GTX High Mileage Ford Mustang driver will face Paul Lee in the first round of eliminations.
Tommy Johnson Jr., Del Worsham and Matt Hagan rounded out the top five. Bob Tasca III entered the event fourth in Funny Car points, but failed to qualify.
In Pro Stock, Coughlin topped the leaderboard after the first day of qualifying with a 6.625 at 208.78 in his JEGS.com/Mopar Dodge Dart and the run held up through Saturday's two sessions, giving him his 20th career No. 1 qualifying position and first of the season.
"I'm really proud to hold onto the No. 1 position," Coughlin said. "I think it really shows quite a bit from our team. We've been hustling the last month-and-a-half getting these new cars ready."
The defending world champ will meet No. 16 seed Mark Wolfe in the first round. Chris McGaha, who secured his first career No. 1 qualifier at Phoenix, was close to a second top spot but will settle for the No. 2 seed in his Harlow Sammons of Odessa Chevy Camaro. The Odessa, Texas native ran 6.625 at 208.07 and will open eliminations against Rodger Brogdon.
Erica Enders-Stevens, Dave Connolly and Jason Line also claimed top-five positions in Pro Stock.
(Photos courtesy NHRA/National Dragster; JFR/Nastase; Click to enlarge)
LAS VEGAS — Sunday's first-round pairings for eliminations for the 15th annual SummitRacing.com NHRA Nationals at The Strip at Las Vegas Motor Speedway, the fourth of 24 events in the NHRA Mello Yello Drag Racing Series.  Pairings based on results in qualifying, which ended Saturday. DNQs listed below pairings.
Top Fuel
1. Antron Brown, 3.768 seconds, 325.14 mph  vs. 16. Mike Strasburg, 4.138, 279.85; 2. Doug Kalitta, 3.775, 323.19  vs. 15. Steve Faria, 4.038, 289.63; 3. Steve Torrence, 3.779, 324.28  vs. 14. Terry McMillen, 3.936, 309.98; 4. Spencer Massey, 3.794, 323.81  vs. 13. Clay Millican, 3.874, 295.59; 5. Tony Schumacher, 3.797, 324.28  vs. 12. Troy Buff, 3.858, 305.08; 6. Richie Crampton, 3.798, 320.13  vs. 11. J.R. Todd, 3.841, 310.34; 7. Brittany Force, 3.799, 315.86  vs. 10. Bob Vandergriff, 3.831, 319.52; 8. Shawn Langdon, 3.815, 324.05  vs. 9. Khalid alBalooshi, 3.824, 313.22. Did Not Qualify: 17. Steven Chrisman, 4.209, 280.95; 18. Scott Palmer, broke.
Funny Car
1. Courtney Force, Ford Mustang, 4.006, 325.37  vs. 16. Jon Capps, Chevy Impala, 4.245, 278.23; 2. John Force, Mustang, 4.017, 317.87  vs. 15. Paul Lee, Dodge Charger, 4.124, 306.81; 3. Tommy Johnson Jr., Charger, 4.023, 317.87  vs. 14. Jack Beckman, Charger, 4.115, 310.13; 4. Del Worsham, Toyota Camry, 4.041, 315.71  vs. 13. Tony Pedregon, Camry, 4.100, 309.77; 5. Matt Hagan, Charger, 4.046, 318.17  vs. 12. Alexis DeJoria, Camry, 4.090, 309.84; 6. Ron Capps, Charger, 4.052, 315.34  vs. 11. Tim Wilkerson, Mustang, 4.090, 312.13; 7. Robert Hight, Mustang, 4.059, 317.49  vs. 10. Jeff Arend, Charger, 4.081, 311.70; 8. Cruz Pedregon, Camry, 4.067, 313.00  vs. 9. Chad Head, Camry, 4.076, 309.20. Did Not Qualify: 17. Gary Densham, 4.248, 290.88; 18. Jeff Diehl, 4.287, 293.98; 19. Bob Tasca III, 4.411, 307.30.
Pro Stock
1. Jeg Coughlin, Dodge Dart, 6.625, 209.17  vs. 16. Mark Wolfe, Ford Mustang, 6.724, 205.76; 2. Chris McGaha, Chevy Camaro, 6.625, 208.46  vs. 15. Rodger Brogdon, Camaro, 6.699, 206.95; 3. Erica Enders-Stevens, Camaro, 6.627, 209.04  vs. 14. Larry Morgan, Mustang, 6.696, 206.99; 4. Dave Connolly, Camaro, 6.627, 208.26  vs. 13. Matt Hartford, Dodge Avenger, 6.695, 207.46; 5. Jason Line, Camaro, 6.630, 208.94  vs. 12. Deric Kramer, Avenger, 6.686, 207.59; 6. Allen Johnson, Dart, 6.632, 208.94  vs. 11. Steve Kent, Camaro, 6.657, 207.56; 7. Shane Gray, Camaro, 6.632, 209.17  vs. 10. V. Gaines, Avenger, 6.657, 209.07; 8. Jimmy Alund, Camaro, 6.639, 208.49  vs. 9. Vincent Nobile, Camaro, 6.647, 207.72.