Ron Capps scored valuable qualifying points and Jack Beckman sprinted to the qualifying lead in Funny Car on Friday at the Auto Club NHRA Finals at Auto Club Raceway at Pomona.
Antron Brown (Top Fuel), Jason Line (Pro Stock) and Jerry Savoie (Pro Stock Motorcycle) also were qualifying leaders in their respective categories at the 24th and final event of the 2016 NHRA Mello Yello Drag Racing Series season. The Auto Club NHRA Finals marks the conclusion of the six-race NHRA Mello Yello Countdown to the Championship playoffs.
Capps posted the lowest elapsed time in the first session of qualifying with a 3.883-second pass at 323.66 mph in his NAPA Auto Parts Dodge Charger R/T. He was awarded three points for being the quickest of the session and now has an 89-point lead over teammate and second-place Matt Hagan. If Capps, the winningest Funny Car driver in NHRA history without a world championship, has at least an 81-point lead over Hagan when qualifying concludes Saturday evening, he will clinch the 2016 NHRA Mello Drag Racing Series Funny Car world championship.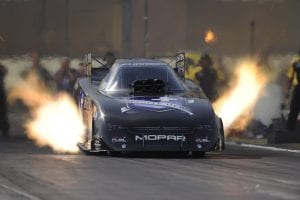 Beckman raced to the top qualifying position in Funny Car with a 3.865 at 332.84 in his Infinite Hero Foundation Dodge Charger R/T. He set both ends of the track record with the performance. Beckman has five No. 1 qualifiers this year and 20 in his career.
"It was an amazing run," said Beckman, a two-time 2016 event winner. "We had hot conditions all day but us running the new track records is a testament to how fast the Funny Car category has gotten as a whole this entire season."
John Force, who won his fourth race of the season two weeks ago in Las Vegas, is second with a 3.880 at 330.72 in his PEAK Antifreeze Chevy Camaro SS, while Capps' 3.883 at 323.66 in the first session was enough to put him in the third spot. Robert Hight is fourth and Hagan is fifth.
In Top Fuel, 2016 series champion Antron Brown continued his dominance by racing to the provisional lead with a 3.713 at 326.56 in his Matco Tools dragster. Brown clinched his third world title two weekends ago in Las Vegas. He has three No. 1 qualifiers this season and 47 in his career. Brown has tallied seven victories in eleven final round appearances so far this year.
"At the end of the day, it's all for the love of this sport," said back-to-back world champ Brown. "All the teams come out here, not because they want a lot of money or for the attention, it's for the love of the sport. We were able to sneak back into the No. 1 spot and the whole field is so tight right now. This kind of field is what you want to see all of next year. We got our work cut out for us this weekend and it feels good to get this Matco Tools car to the No. 1 spot."
Steve Torrence is currently qualified second with a 3.716 at 326.95 in his Capco Contractors / Torrence Racing dragster. Torrence has three wins this season – including one at the season-opener at Pomona in February. Phoenix winner Leah Pritchett is third with a 3.726 at 328.62 in her FireAde dragster. Shawn Langdon, who won both events at Auto Club Raceway at Pomona in 2015, is fourth and eight-time world champion Tony Schumacher is fifth.
Pro Stock points leader Jason Line sprinted to the top spot with a 6.565 at 211.16 in his Summit Racing Equipment Chevy Camaro. Line has seven No. 1 qualifiers this year, 48 in his career and four at the Auto Club NHRA Finals. He is a two-time world champion and has a 20-point lead over second-place Greg Anderson.
"It'll be fun to watch and really nerve wracking for Greg and me," said Line, an eight-time 2016 event winner.
"Maybe we'll be duking it out on Sunday. It was a nice run but could've been better, to be honest with you. There's a little left. I think the racetrack will continue to get better over the weekend and you'll see all of us go faster. Tomorrow should be interesting."
Anderson is qualified second with a 6.575 at 210.70 in his Summit Racing Equipment Chevy Camaro. Anderson is a five-time world champion and a seven-time 2016 event winner. Bo Butner posted a 6.580 at 210.37 in his Jim Butner Auto Chevy Camaro and sits in the third spot. St. Louis winner Alex Laughlin and recent Las Vegas winner Shane Gray are fourth and fifth, respectively.
In Pro Stock Motorcycle, Savoie rode his White Alligator Racing Suzuki to the provisional No. 1 spot with a 6.844 at 195.93. Savoie won at the most recent event in Las Vegas as the No. 1 qualifier and also posted a No. 1 in Dallas. He has seven top qualifiers in his career and one at Auto Club Raceway, which came at the Finals one year ago. Savoie entered the weekend three points behind leaders Eddie Krawiec and Andrew Hines, who were tied, but now has a one point lead over rival Krawiec and a three point lead over Hines.
"We got a little aggressive on that first run and thought the track conditions were a little better, and same thing on the second run," said Savoie, who rode into the sand trap in the second qualifying session. "We got all the wheels off and the bike is completely stripped down besides the engine. The way this bike is sealed up, it was kind of hard for any rocks to get inside the engine compartment. I'll keep my composure and on Sunday we'll go do our thing."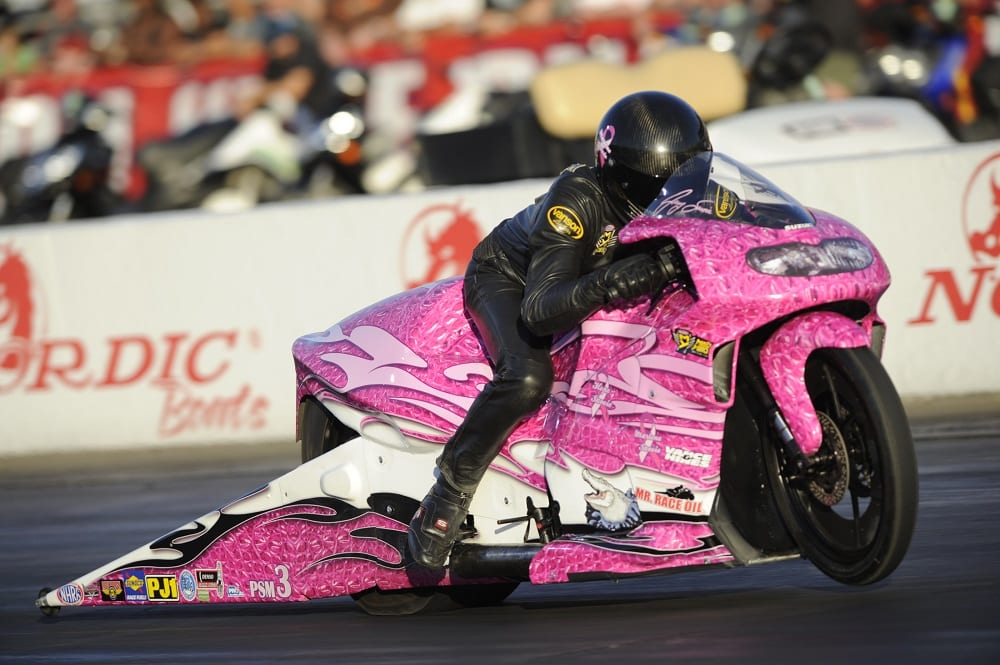 Hector Arana Jr. is currently qualified second with a 6.857 at 195.65 on his Lucas Oil Buell. He is followed by three-time world champ Krawiec in third with a 6.858 at 195.53 on his Screamin' Eagle Vance & Hines Harley-Davidson. Krawiec is a five-time 2016 event winner and has raced to the final round at the Auto Club NHRA Finals for eight consecutive years. His Harley-Davidson teammate, Hines, is qualified eighth.
Qualifying for the Auto Club NHRA Finals will resume Saturday with the last two sessions at noon and 3 p.m. Eliminations are scheduled to begin at 11 a.m. on Sunday.