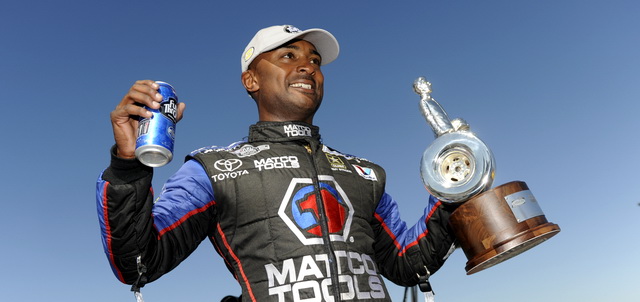 Antron Brown (above) raced to the Top Fuel victory July 29, at the NHRA Sonoma Nationals and moved into position to become the first NHRA driver to sweep the three-race Western Swing twice, while  Allen Johnson remains in contention to sweep the swing in Pro Stock
Johnny Gray (Funny Car) and Eddie Krawiec (Pro Stock Motorcycle) also were winners of the NHRA Full Throttle Drag Racing Series event at Sonoma Raceway near San Francisco.
Brown, who became one of seven drivers in NHRA history to sweep the Western Swing in 2009, outran Spencer Massey in the final to claim his third win at Sonoma, his fourth victory of the season and 35th of his career. Brown's Matco Tools dragster produced a final round performance of 3.814 seconds at 318.02 mph to hold off Massey's charging FRAM/Prestone dragster, which finished in 3.826 at 323.50.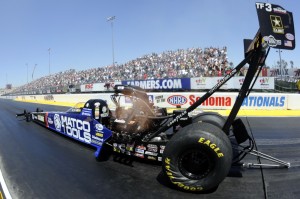 "The car is just running phenomenal, it's so easy to drive," said Brown, who defeated Steve Torrence, Tony Schumacher and Brandon Bernstein to advance to the final round.
"The boys (crew chiefs Mark Oswald and Brian Corradi) made great decisions each and every round," Brown continued. "It's one of those weekends that worked out. It was brutal for us given the (eliminations) ladder we had. We had to take it one round at a time. We kept our head down and kept digging. We aren't going to talk about (sweeping the Western Swing). We can talk about sweeping if we get to the final round at Seattle next weekend. First we have to qualify. Then we have to get past first round. The competition is just that good."
Brown says he'll try to remember what worked for him in 2009 as he approaches a second sweep of the Western Swing.
"We're going to take the same approach this time like we did the last time," Brown said. "We aren't going to look into the future and we'll just focus on the here and now."
Due to qualifying bonus points earned by Massey, he and Brown moved into a tie for the series lead. They are 126 in front of third place Tony Schumacher, the seven-time world champ.
"We're just trying to shoot for it and win as many races as possible," Brown said. "We want to go into the Countdown as the points leader and there's an extra 20 points on the line if you can do that. That proved to be huge last year in the final race of the season. We are clawing for everything that we can get."
In Funny Car, Gray claimed his second victory of the season by defeating defending world champ Matt Hagan in the final round. Gray posted a winning effort of 4.142 at 305.15 in his Service Central Dodge Charger, while Hagan trailed with a 5.461 at 146.67 in his Aaron's/Mopar Charger.
"We had a great race car all weekend," Gray said. "We struggled a little in qualifying, but I have a great crew and crew chief and they gave me a great race car today."
Gray won from the No. 6 qualifying position, beating Tim Wilkerson, Gary Densham and Denver winner Jack Beckman en route to his third final round of the season. With the win he remained in fifth place, but now trails fourth place Mike Neff by 18 points. He's 62 points out of third.
"I'd like to move up a little bit more and earn a few more points to start the Countdown with," said Gray, who didn't make the Countdown last season. "I'm ready for the Countdown, we've got a great race car."
Johnson raced to his fourth Pro Stock win of the season, beating four-time world champ Greg Anderson in the final round. Johnson, who will join Brown in a quest to sweep the Western Swing in Seattle next week, won from the top qualifying position with a final round effort of 6.542 at 211.76 in his Team Mopar Dodge Avenger, overcoming a near perfect reaction time from Anderson, who trailed with a 6.573 at 210.93 in his Summit Racing Chevy Camaro.
"We've got an awesome race car and a great team making decisions," Johnson said. "It's a sweet feeling knowing every time you go up there you are going to be the fastest car. You just have to be consistent as a driver. I was able to do that today and hopefully I can carry that on into Seattle."
Johnson used a consistent string of low 6.50s to beat early round opponents Matt Hartford, Jeg Coughlin and Jason Line. He also had the quicker reaction time in each round except the final.
"We're learning how to win, round by round by round," Johnson said. "And we're taking it one round at a time."
Johnson, who increased his series lead to 54 points over Anderson, feels confident that he can become the eighth driver to sweep the swing and only the second Pro Stock driver to accomplish the rare feat, joining Anderson (2004).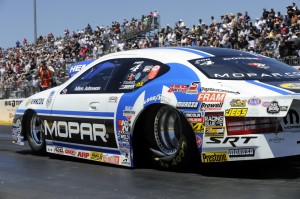 "I can't imagine winning two in a row and we've done it with earning maximum points," Johnson said. "Every round of qualifying and eliminations we had the quickest car. It's mind-boggling to me. We are getting in the championship mind set. I've never thought of myself as the best out here. So I have to start thinking that way and get my confidence up so we can get ready for the Countdown."
In Pro Stock Motorcycle, top qualifier Krawiec raced to his fifth victory of the season and second in a row, once again beating teammate Andrew Hines in the final round. In a battle between Screamin' Eagle Vance & Hines Harley-Davidsons, Krawiec raced to a final round performance of 6.809 at 197.74 to drive around the quicker-reacting Hines, who trailed with a 6.839 at 196.27.
To advance to the final, Krawiec defeated Angie Smith, John Hall and Hector Arana Sr. Krawiec's bike posted the low E.T. of the weekend in the first round win with a 6.785. He then ran low 6.80s in the final three round wins.
"You can't make mistakes out here," Krawiec said. "We're focusing on round wins. You get enough of them and that will equal race wins and then enough of those will win championships. I just want to see win lights."
The win was the eighth of the season for the Harley team and continues their domination dating back to last season. Hines advanced to his fourth consecutive final round appearance. The two riders are one and two in the series standings and pulling away from the pack.
"Hopefully we don't peak before the Countdown," Krawiec said. "We can dominate and be the team for the first 10 races, but we could fizzle out for the final six, and the end result is you don't win the championship. Our main goal is to stay on top of our program and do the best we can."
The NHRA Full Throttle Drag Racing Series continues Aug. 3-5 with the O'Reilly Auto Parts NHRA Northwest Nationals presented by Super Start Batteries at Pacific Raceways near Seattle, the third and final leg of the Western Swing.
(Photos courtesy NHRA/National Dragster; Click to enlarge)
SONOMA, Calif. — Final round-by-round results from the 25th annual NHRA Sonoma Nationals at Raceway at Sonoma, the 14th of 23 events in the NHRA Full Throttle Drag Racing Series:
TOP FUEL
ROUND ONE — Brandon Bernstein, 3.809, 322.65 def. Bob Vandergriff, 3.890, 306.12; Shawn Langdon, 3.780, 323.97 def. Khalid alBalooshi, 4.489, 190.00; Antron Brown, 3.782, 322.88 def. Steve Torrence, foul; David Grubnic, 3.814, 317.79 def. Mike Strasburg, 3.935, 312.28; Doug Kalitta, 3.811, 323.97 def. Scott Palmer, 5.789, 120.58; Tony Schumacher, 3.792, 323.74 def. Mike Salinas, 4.001, 248.75; Spencer Massey, 3.777, 328.62 def. Terry McMillen, 3.991, 294.82; Clay Millican, 4.053, 310.55 def. Morgan Lucas, 4.072, 284.27; QUARTERFINALS — Bernstein, 3.849, 320.05 def. Grubnic, 6.947, 84.80; Kalitta, 3.825, 323.89 def. Millican, 3.865, 318.77; Brown, 3.825, 321.12 def. Schumacher, 4.465, 192.60; Massey, 3.804, 326.40 def. Langdon, 4.414, 190.92; SEMIFINALS — Brown, 3.817, 320.36 def. Bernstein, 5.126, 142.03; Massey, 3.802, 324.12 def. Kalitta, 4.161, 239.70; FINAL — Brown, 3.814, 318.02 def. Massey, 3.826, 323.50.
FUNNY CAR
ROUND ONE — Cruz Pedregon, Toyota Camry, 4.060, 309.56 def. Jeff Diehl, Chevy Monte Carlo, 4.383, 274.55; Gary Densham, Dodge Charger, 4.486, 248.16 def. Ron Capps, Charger, 5.118, 162.80; Jack Beckman, Charger, 4.323, 235.47 def. Dale Creasy Jr., Chevy Impala, 5.514, 128.87; Jeff Arend, Camry, 4.110, 312.21 def. John Force, Ford Mustang, 4.188, 306.67; Matt Hagan, Charger, 4.105, 308.28 def. Courtney Force, Mustang, 4.164, 293.22; Johnny Gray, Charger, 4.075, 313.00 def. Tim Wilkerson, Mustang, 5.103, 146.81; Alexis DeJoria, Camry, 4.132, 306.74 def. Mike Neff, Mustang, 5.027, 154.94; Robert Hight, Mustang, 4.093, 309.34 def. Bob Tasca III, Mustang, 5.625, 129.29; QUARTERFINALS — Beckman, 4.972, 214.38 def. DeJoria, 5.214, 168.49; C. Pedregon, 4.110, 305.22 def. Hight, 4.150, 306.19; Gray, 4.115, 303.91 def. Densham, 4.574, 198.93; Hagan, 4.924, 195.03 def. Arend, 5.107, 192.36; SEMIFINALS — Gray, 4.092, 307.16 def. Beckman, 4.118, 304.19; Hagan, 4.231, 291.32 def. C. Pedregon, 4.293, 233.84; FINAL — Gray, 4.142, 305.15 def. Hagan, 5.461, 146.67.
PRO STOCK
ROUND ONE — Jeg Coughlin, Dodge Avenger, 6.585, 211.46 def. Warren Johnson, Pontiac GXP, 6.553, 210.87; Larry Morgan, Ford Mustang, 6.565, 210.47 def. V. Gaines, Avenger, 6.569, 210.50; Greg Anderson, Chevy Camaro, 6.537, 212.29 def. Ron Krisher, GXP, 8.137, 121.79; Jason Line, Camaro, 6.526, 212.13 def. Shane Gray, Camaro, 6.565, 210.87; Erica Enders, Chevy Cobalt, 6.512, 211.56 def. JR Carr, Mustang, 6.622, 203.28; Allen Johnson, Avenger, 6.524, 212.13 def. Matt Hartford, Avenger, 6.594, 210.18; Mike Edwards, GXP, 6.533, 212.06 def. Gordie Rivera, GXP, 6.692, 207.11; Vincent Nobile, Avenger, 6.529, 211.53 def. Kurt Johnson, GXP, foul; QUARTERFINALS — Edwards, 6.587, 211.89 def. Morgan, 8.266, 116.74; Line, 6.534, 211.76 def. Nobile, 6.537, 211.43; A. Johnson, 6.517, 212.46 def. Coughlin, 26.729, 81.78; Anderson, 6.553, 212.23 def. Enders, foul; SEMIFINALS — Anderson, 6.572, 211.06 def. Edwards, foul; A. Johnson, 6.532, 212.19 def. Line, 6.535, 212.03; FINAL — A. Johnson, 6.542, 211.76 def. Anderson, 6.573, 210.93.
PRO STOCK MOTORCYCLE
ROUND ONE — John Hall, Buell, 6.870, 192.19 def. Michael Ray, Buell, 6.942, 191.87; Scotty Pollacheck, Buell, 6.875, 191.02 def. Jerry Savoie, Suzuki, 6.932, 193.10; Karen Stoffer, Suzuki, 6.827, 194.30 def. Michael Phillips, Suzuki, foul; Hector Arana, Buell, 6.803, 195.05 def. Steve Johnson, Suzuki, 6.942, 194.02; Hector Arana Jr, Buell, 6.812, 194.60 def. Katie Sullivan, Suzuki, 6.947, 191.38; Andrew Hines, Harley-Davidson, 6.793, 196.16 def. Matt Guidera, Buell, 7.003, 191.24; Eddie Krawiec, Harley-Davidson, 6.785, 198.32 def. Angie Smith, Buell, 6.896, 191.92; Shawn Gann, Buell, 7.702, 183.57 def. Matt Smith, Buell, 10.351, 97.38; QUARTERFINALS — Arana Jr, 6.815, 194.91 def. Gann, 6.959, 193.74; Arana, 6.814, 195.00 def. Stoffer, 6.889, 194.41; Hines, 6.797, 196.99 def. Pollacheck, 6.916, 191.89; Krawiec, 6.803, 197.88 def. Hall, 6.904, 192.25; SEMIFINALS — Krawiec, 6.812, 197.80 def. Arana, 6.850, 196.44; Hines, 6.842, 196.73 def. Arana Jr, foul; FINAL — Krawiec, 6.809, 197.74 def. Hines, 6.839, 196.27.
SONOMA, Calif. — Sunday's sportsman final results from the 25th annual NHRA Sonoma Nationals at Raceway at Sonoma:
Super Stock — Justin Lamb, Cobalt, 8.586, 154.32  def. Dave Raybourn, Dart, 8.589, 154.14.
Stock Eliminator — Tommy Gaynor, Camaro, 10.863, 109.19  def. Dave Bridgewater, Camaro, 10.505, 123.01.
Top Dragster — Bobby Ray McMahan, Dragster, 6.553, 206.76  def. Val Torres Jr., Dragster, 6.648, 202.21.
Top Sportsman — Ed Olpin, Camaro, 7.575, 181.11  def. Todd Stewart, Cobalt, 7.097, 186.20.
Super Comp — Aaron Kinard, Dragster, 8.952, 164.75  def. Justin Morgan, Dragster, 8.894, 173.09.
Super Gas — Rob Willis, Firebird, 9.958, 148.97  def. Ronnie Lahn, Cavalier, foul.