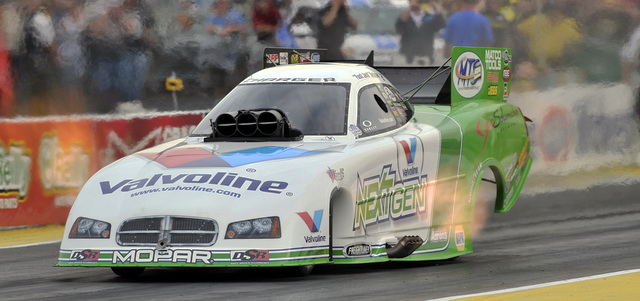 Antron Brown raced to his sixth Top Fuel victory of the season Sunday at the AAA Insurance NHRA Midwest Nationals at Gateway Motorsports Park and in the process increased his championship points lead. Jack Beckman (Funny Car, above), Erica Enders (Pro Stock) and Eddie Krawiec (Pro Stock Motorcycle) also were winners of the event, the first race for NHRA in the St. Louis area in more than two years.
Brown defeated championship rival Spencer Massey in the final round and moved 21 points ahead of the Texas driver as only three races remain in the Full Throttle Countdown to the Championship playoffs. Brown, who battled side-by-side with Massey all weekend, took the victory with a final round performance of 3.766 seconds at 325.22 mph in his Matco Tools/Aaron's dragster, while Massey trailed with a 3.812 at 324.05 in his FRAM/Prestone dragster.
"Our team hit a grand slam here this weekend," Brown said. "We qualified No. 1 and took it one round at a time. It was a great weekend, but it's always a struggle. This class is very competitive, and these guys aren't playing anymore. You have your struggles here and there, and you have to keep on overcoming them. I'm just so happy for our Aaron's/Matco guys."
Brown beat Bruce Litton, Steve Torrence and Brandon Bernstein in early rounds before unleashing his quickest run of the day in the final against Massey.
"It was a stressful day where we matched up against some great competition," Brown said. "Matching up against my teammate [Massey] in the final was big – we've been back and forth in the points.  It's great to have six wins, but right now they're all in the past.  We need to go back to the shop and get focused on these last three races. It's just so competitive out here and this points race is going to go down to the last race."
Beckman moved to within 30 points of Funny Car points leader Ron Capps by racing to his third victory of the season. He took the final round win in his Valvoline NextGen Dodge Charger over Matt Hagan, who fouled at the start in his DieHard Dodge Charger.
"It's nice to know that we have a car that can challenge for the championship," said Beckman, who beat Alexis DeJoria, Jeff Arend and Tony Pedregon to advance to the final round. "This wasn't do-or-die, but it's getting pretty close. I'm not saying we counted points, but we had a tablet going with a lot of cross marks and updated math. Losing to Capps by four-thousandths in Dallas hurt a lot, but today went a long way towards healing that. It's awesome to know that we have three races to go and are only 30 points back. All we want is a fighting chance going into Pomona."
Points leader Capps lost in the second round to Hagan, a non-Countdown performer and the defending world champ who has now advanced to back-to-back final rounds in the playoffs. Beckman was surprised when he saw Hagan blast away from the line so early in the final.
"From my perspective, you're ready to go up there and squeeze the trigger if anything happens," Beckman said. "I heard noise, saw the red light come on, and saw the big DieHard logo from Matt's car. We have a big respect for that car. Over the last four races, it might be the best-running car on average."
In Pro Stock, Enders earned her fourth victory of the season and first ever in the playoffs by using a reaction time advantage to defeat series points leader Allen Johnson in the final round. She powered her GK Motorsports Chevy Cobalt to a 6.540 at 211.79 to finish just inches in front of Johnson's Team Mopar Dodge Avenger, who posted a quicker, but losing run of 6.538 at 212.13.
"This is the win I wanted to get in Texas last week, but I'll take it," Enders said. "We were definitely consistent this weekend and that's why we got to the final so I could race my bud [Allen Johnson] and get to the winner's circle."
Enders outran Shane Gray, teammate Dave Connolly and event top qualifier Jason Line to advance to her second straight Countdown final round appearance.
"It is a total team effort every week," she said. "My team is the reason why I get to do this. They're great. They helped me get down a tricky track when other guys were getting in pedal-fests. We were a little behind performance-wise in the final, but we made a good run and I did my job."
With the runner-up finish and third straight final round appearance in the Countdown playoffs, Johnson increased his series lead to 109 over Line, while Enders moved to third in the standings, 126 back of Johnson.
Krawiec claimed his seventh Pro Stock Motorcycle victory of the season and increased his points lead to 33 over his final round opponent and teammate, Andrew Hines. Krawiec took his 18th career victory when Hines fouled on his identically-prepared Screamin' Eagle Vance & Hines Harley-Davidson.
Krawiec took three of his round wins via red-light starts by his opponents, including his first round win over Steve Johnson and second round win over Chip Ellis. Krawiec used a strong performance on his Screamin' Eagle Harley-Davidson to outrun Hector Arana Sr.'s Lucas Oil Buell in the semifinals.
"Andrew and I were lucky to take out the Hectors in the semis and that really helped us in the points," Krawiec said. "I lost in Dallas due to rider error. I had a .066 light which is unacceptable. This week I was good on the tree and had a good bike which is what it takes to win some rounds. Yes, I had three red-lights against me here but I did well and all my runs were good. I pushed it a little in the final but I know the potential of what he [Andrew] has. He crushed me in Charlotte."
The NHRA Full Throttle Countdown to the Championship playoffs continues with round four of six, Oct. 4-7 with the Auto-Plus NHRA Nationals at Maple Grove Raceway, Reading, Pa.
MADISON, Ill. — Final round-by-round results from the inaugural AAA Insurance NHRA Midwest Nationals at Gateway Motorsports Park, the 20th of 23 events in the NHRA Full Throttle Drag Racing Series:
TOP FUEL
ROUND ONE — Khalid alBalooshi, 3.830, 322.50 def. Larry Dixon, 3.917, 310.41; Brandon Bernstein, 3.798, 321.50 def. Doug Kalitta, 3.907, 256.36; David Grubnic, 5.136, 276.41 def. Terry McMillen, 6.133, 154.30; Tony Schumacher, 3.784, 320.51 def. Clay Millican, 3.925, 279.04; Antron Brown, 3.839, 320.28 def. Bruce Litton, 10.440, 71.61; Spencer Massey, 3.803, 310.77 def. T.J. Zizzo, 5.015, 144.16; Shawn Langdon, 3.771, 325.69 def. Morgan Lucas, 4.069, 230.33; Steve Torrence, 3.793, 321.27 def. Bob Vandergriff, 3.908, 309.63; QUARTERFINALS — Massey, 3.782, 311.92 def. alBalooshi, 3.831, 298.40; Brown, 3.787, 321.19 def. Torrence, 3.904, 306.74; Bernstein, 3.795, 318.84 def. Schumacher, 3.795, 324.12; Grubnic, 3.797, 319.22 def. Langdon, 3.920, 286.07; SEMIFINALS — Brown, 3.812, 317.94 def. Bernstein, 5.149, 137.48; Massey, 3.795, 317.64 def. Grubnic, 10.350, 50.37; FINAL — Brown, 3.766, 325.22 def. Massey, 3.812, 324.05.
FUNNY CAR
ROUND ONE — Tony Pedregon, Toyota Camry, 4.111, 308.14 def. Bob Tasca III, Ford Mustang, 10.515, 77.92; Mike Neff, Mustang, 4.397, 239.65 def. Courtney Force, Mustang, DQ; Jack Beckman, Dodge Charger, 4.127, 306.12 def. Alexis DeJoria, Camry, 4.233, 294.37; Dale Creasy Jr., Chevy Impala, 4.606, 189.34 def. John Force, Mustang, 6.921, 103.19; Matt Hagan, Charger, 4.086, 304.32 def. Jim Head, Toyota Solara, foul; Ron Capps, Charger, 4.072, 309.20 def. Johnny Gray, Charger, 4.162, 307.09; Tim Wilkerson, Mustang, 4.125, 305.63 def. Robert Hight, Mustang, 4.272, 258.96; Jeff Arend, Camry, 4.142, 309.13 def. Cruz Pedregon, Camry, 4.657, 204.73; QUARTERFINALS — T. Pedregon, 4.109, 305.36 def. Neff, 10.472, 75.58; Beckman, 4.093, 306.95 def. Arend, broke; Wilkerson, 4.084, 308.50 def. Creasy Jr., 6.047, 128.74; Hagan, 4.116, 297.35 def. Capps, 4.345, 295.27; SEMIFINALS — Beckman, 4.093, 302.35 def. T. Pedregon, 5.957, 134.52; Hagan, 4.137, 299.46 def. Wilkerson, 4.197, 291.19; FINAL — Beckman, 4.132, 306.53 def. Hagan, foul.
PRO STOCK
ROUND ONE — Buddy Perkinson, Pontiac GXP, 6.564, 210.80 def. V. Gaines, Dodge Avenger, 6.551, 210.87; Mike Edwards, GXP, 6.537, 211.63 def. Larry Morgan, Ford Mustang, 6.575, 209.62; Dave Connolly, Chevy Cobalt, 6.563, 209.65 def. Ron Krisher, GXP, 6.601, 210.21; Erica Enders, Cobalt, 6.538, 211.46 def. Shane Gray, GXP, 6.588, 210.05; Greg Anderson, Chevy Camaro, 6.526, 211.96 def. Warren Johnson, GXP, 6.645, 207.43; Allen Johnson, Avenger, 6.535, 211.49 def. Greg Stanfield, Camaro, 6.590, 209.43; Jason Line, Camaro, 6.514, 212.13 def. Jeg Coughlin, Avenger, 6.587, 210.70; Vincent Nobile, Avenger, 6.546, 211.03 def. Chris McGaha, Avenger, 6.579, 210.28; QUARTERFINALS — Enders, 6.532, 211.73 def. Connolly, 6.566, 210.83; A. Johnson, 6.517, 212.03 def. Edwards, 16.178, 44.22; Nobile, 6.544, 211.36 def. Anderson, 6.535, 211.93; Line, 6.506, 212.66 def. Perkinson, 6.546, 211.39; SEMIFINALS — A. Johnson, 8.564, 184.60 def. Nobile, 9.392, 145.50; Enders, 6.531, 212.33 def. Line, 11.297, 79.17; FINAL — Enders, 6.540, 211.79 def. A. Johnson, 6.538, 212.13.
PRO STOCK MOTORCYCLE
ROUND ONE — Scotty Pollacheck, Buell, 6.895, 191.19 def. Michael Ray, Buell, 6.903, 190.38; Chip Ellis, Buell, 7.090, 159.16 def. Jerry Savoie, Suzuki, foul; Andrew Hines, Harley-Davidson, 6.899, 194.04 def. Jim Underdahl, Suzuki, 6.942, 193.27; Eddie Krawiec, Harley-Davidson, 7.222, 156.44 def. Steve Johnson, Suzuki, foul; Hector Arana, Buell, 6.845, 195.73 def. Mike Berry, Buell, 6.959, 191.32; Hector Arana Jr, Buell, 6.881, 193.49 def. John Hall, Buell, foul; Karen Stoffer, Suzuki, 6.907, 193.38 def. Matt Smith, Buell, foul; Shawn Gann, Buell, 6.923, 192.93 def. LE Tonglet, Suzuki, foul; QUARTERFINALS — Krawiec, 6.810, 197.10 def. Ellis, foul; Hines, 6.850, 194.94 def. Stoffer, foul; Arana Jr, 6.882, 195.34 def. Pollacheck, 6.946, 189.31; Arana, 7.758, 179.73 def. Gann, 8.056, 169.08; SEMIFINALS — Hines, 6.874, 193.27 def. Arana Jr, 7.013, 192.93; Krawiec, 6.852, 193.96 def. Arana, 6.892, 194.38; FINAL — Krawiec, 6.851, 193.88 def. Hines, foul.
MADISON, Ill. — Sunday's final Sportsman results from the inaugural AAA Insurance NHRA Midwest Nationals at Gateway Motorsports Park. The race is the 20th of 23 in the NHRA Full Throttle Drag Racing Series:
Competition Eliminator — Clint Neff, '23-T Ford, 9.148, 99.07  def. Larry Pritchett, Pontiac Sunfire, foul.
Super Stock — Fred Bartoli Sr., Pontiac Firebird, 9.798, 134.46  def. Justin Jenkins, Chevy Cobalt, 9.534, 138.47.
Stock Eliminator — Daryl Bureski, Olds 442, 11.416, 103.20  def. Bobby Bishop, Ford Mustang, 12.655, 96.32.
Super Comp — Michael Eggleston, Dragster, 8.889, 175.87  def. Pat Fitzpatrick, Dragster, foul.
Super Gas — Jarod Bowman, Chevy Corvette, 9.909, 161.19  def. Dan Huellewig, '32 Ford, 9.910, 144.74.