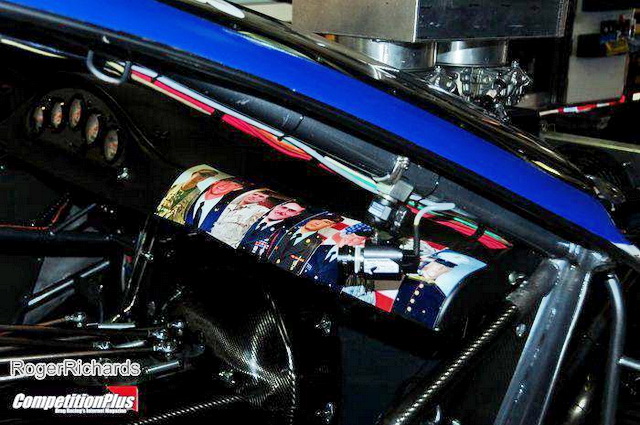 NHRA Pro Stock driver Rodger Brogdon had a little extra motivation in the car with him this weekend and it is already paying off.
Brogdon, carrying nine photographs inside his MAVTV/Lucas Oil Pontiac GXP for the Hot Rods for Heroes program of Eastern Tennessee soldiers killed in combat, qualified sixth as he continues his consistent runs of late.
"You see those soldiers' pictures on the dash and it can't help but get to you," Brogdon said. "You want to do everything you can. It gives us a lot of motivation. This is tough deal we are in, but we are going to do our best for them."
Brogdon's 6.678 second run at 204.60 mph on Friday night held up through the final two rounds of qualifying on Saturday in the Ford NHRA Thunder Valley Nationals at Bristol Dragway.
He will take on Erica Enders in the first round of eliminations on Sunday.
"It is definitely better than we have been doing," Brogdon said. "We made four good runs, that is for sure. It doesn't surprise me. I have a good team."
Brogdon came into the weekend not needing any motivation to continue his consistent runs he has made over the past two events – including his first round win in six races in Englishtown. But, he got more when he was approached by the organization for fallen soldiers.
"It is a good weekend with the Hot Rods for Heroes people here," Brogdon said. "It is such a good organization. We just need to get these soldiers some awareness. … These guys need some help. They need some attention. … We are gonna try and do something for them. I am just glad they got in touch with us and we were able to help them out a little bit. I am going to try and win some rounds for them this weekend."
Winning rounds would be an excellent way to honor those soldiers and their families, but it would also mean that Brogdon is continuing an upswing he has been on since Atlanta – a streak of three events that have seen him qualify in the top half of the field.
But he knows they still have a ways to go if they want to be in the hunt for a Wally.
"The car is good," Brogdon said. "We are getting just about everything we can out of every run. We are not as fast as the top guys, but we have been in that position for much of the year. We can really tell by looking where we need to be and what we have to work with."
(Photo courtesy Roger Richards/CompetitionPlus.com)