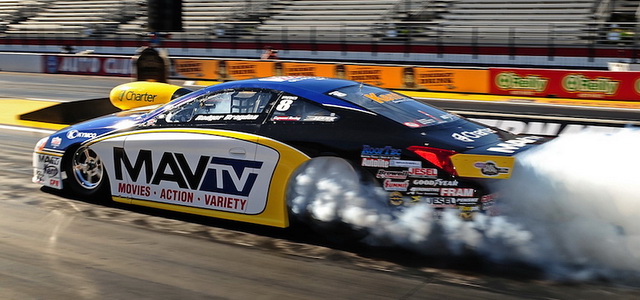 Racing on Father's Day weekend will be doubly special to MAVTV/Lucas Oil Pontiac driver Rodger Brogdon.
Not only will the Pro Stock veteran be thinking about his own dad, but Brogdon will also have his son with him for this weekend's Ford NHRA Thunder Valley Nationals at Bristol Dragway.
Brogdon's 15-year-old son Logan is his biggest fan and since he's finished with school for the summer, he'll be on hand to watch dad race on Sunday.
"My kids do something for me every day," Brogdon said. "I've got great kids, especially my son. In his eyes, I'm the greatest thing on the planet. He thinks his dad is the best in the world at anything. That sure makes me feel good."
Brogdon, too, will be thinking of his father, Leon, who helped Rodger get started in drag racing many years ago.
"If it wasn't for him, I wouldn't have raced," said Brogdon, adding with a laugh, "and if it wasn't for him, I'd be rich – because I would've never gotten involved in drag racing.
"I used to go with him and my uncle to our local track. They've got pictures of me when I was 7 or 8 years old out there with them. That's how I got started."
Brogdon remembers racing the family station wagon when he was just 15 years old.
"When I first got my driver's license, my mom had a big, ol' red station wagon," Brogdon said. "We'd take it and go ET racing. It'd cost $5 a race. It was a lot of fun."
Leon Brogdon, 72, was himself a racer in his day, and he remains one of his son's biggest supporters.
"He actually gets madder at this racing thing than I do," Brogdon said. "He's something. I bought him a '66 Chevy and he drives it all the time. It makes 500 horsepower and he drove it all the way to Alabama – and got 23 miles to the gallon. He's out tooling around the country in it."
Brogdon heads to Bristol with some momentum born from lots of testing and extra work on his Pontiac GXP. Brogdon has qualified in the top half of the field in the last two races, and in Englishtown snapped a six-race winless streak with a slump-busting first round victory. The second-round appearance moved him to eighth in the Pro Stock points standings.
Now he's ready for Bristol.
"That's got to be the most beautiful track we go to," Brogdon said of Bristol. "It's in the mountains. We really like it. We're ready to go."
Four rounds of professional qualifying will set the field for this year's race, beginning with two sessions at 5 and 7:30 p.m., Friday, followed by two more rounds at noon and 2:30 p.m., Saturday. Eliminations begin at 1 p.m., Sunday, with all action being shown on ESPN2.
Photos courtesy MAVtv and  NHRA/National Dragster