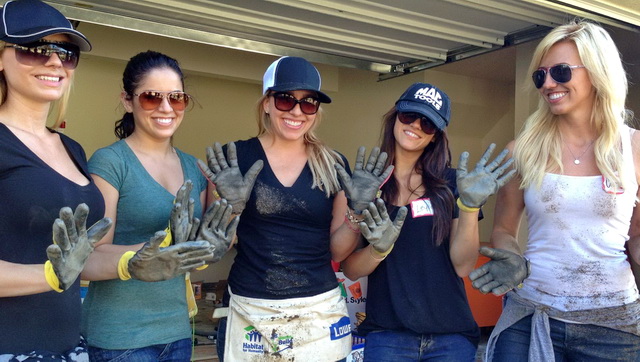 Rookie Top Fuel driver Brittany Force (above, center) did not spent her first Saturday off in over a month at the movies or the mall but rather rolling up her sleeves and getting her hands dirty finishing two backyards and a front yard for deserving Habitat For Humanity families in Santa Ana, California.
The Automobile Club of Southern California Road to the Future Award contender organized a group that included her sister Courtney Force (above, right), driver of the Traxxas Ford Mustang Funny Car, as well as some of her Castrol EDGE Top Fuel dragster crew members, and a few friends to lay sod and finish the landscaping on two homes. Representatives from sponsor System 51, including company president Jeremy Porrazzo and vice president Chris Walters also donated their time and sweat to the effort.
"We met with Habitat for Humanity in June or July and it has taken a while to get a free weekend to come out and get involved.
"It was so much fun to work with my teammates and some of our sponsors helping some great families. Giving back to the community is something I would be doing even if I wasn't a professional driver," Force said after a long day.
"I do hope that the fact that I am a professional NHRA driver can help raise some awareness for Habitat for Humanity. This was not a one-time event for me. My goal is for this to be the first of many homes I am able to be involved in and I want to hopefully encourage other people to get involved with Habitat for Humanity or any charity organization in their local community," she added.
In addition, Force blogged for espnw.com about her day spent helping others: http://espn.go.com/espnw/athletes-life/blog/post/7641/time-give-back.
(Photos courtesy JFR; Click to enlarge)