One minute Aaron Glaser was enjoying a quick vacation with his family in Gulf Shores, Ala. The next minute he's ordering parts, on the phone with his team and going through run data on his laptop.
Such is life when your vacation suddenly includes an invite to the DRAG ILLUSTRATED World Series of Pro Mod.
That's what happened to the talented Glaser on Wednesday, getting the call from Drag Illustrated Founder and Editorial Director Wes Buck and then deciding seconds later to join the fun of the $100,000 winner-take-all event on Aug. 10-11 at Bandimere Speedway just outside of Denver.
"This just made my vacation. I couldn't be any more stoked right now," Glaser said. "I'm just a normal dude who works his ass off and loves Pro Mod cars. Getting invited to come run this, it's a dream deal for a guy like me."
It was a definite pinch-me moment for Glaser, a former two-time IHRA divisional champion and ADRL world champ in Top Sportsman who now campaigns his nitrous-powered '69 Camaro in NMCA Pro Mod and PDRA Top Sportsman, and he immediately got to work.
It included a call to his race shop to start work on getting the car ready for Thunder Mountain and quarter-mile racing, as well as getting extra parts shipped to his shop by Thursday, and a final call to engine builder Billy Albert to ensure he could be in Denver next week.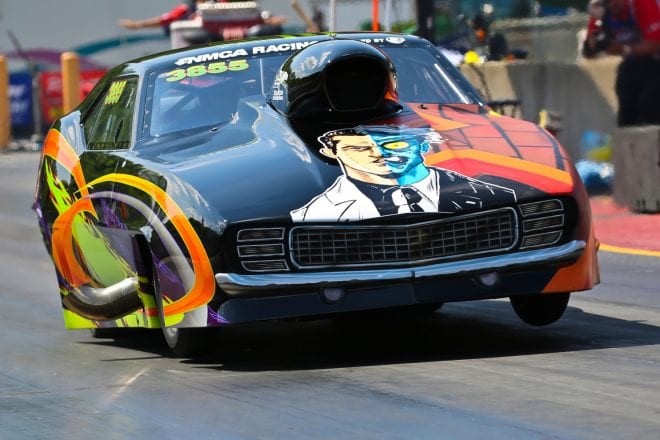 It also meant firing up the laptop to quickly start looking at data for tune-ups. But Glaser also wasn't about to let an opportunity like this slip away.
"We had just come off a two-race swing and got back from the NMCA event in Chicago last weekend, so we needed to do maintenance on everything," Glaser said. "But the World Series of Pro Mod is such a big, prestigious event, there was no way I was turning this down. The guys at the shop are already back to work on it, and we got all the parts coming to the shop.
"It's going to be a challenge. We're changing it over to a quarter-mile car and we have to rebuild the whole car, but we'll be okay. We'll go through the whole thing front to back, and rebuild it, but we're going to give it everything we've got. I don't care what it takes or what we have to do, we're going to be there."
Glaser isn't coming to Denver to be a pushover, either. Racing Pro Mod at a high level has been his goal since he first watched the likes of Shannon Jenkins and Billy Harper years ago.
But Glaser and his dad, Gene, are always ready for a challenge and the bigger it is, the more they plan on working. As for the talk that nitrous cars can't run in high altitude at Thunder Mountain, Glaser is ready to use any doubters as motivation.
"I'm the kind of guy that if you tell me I can't do something, I'm going to outwork you into the ground just to prove you wrong," Glaser said. "We don't have the biggest pockets or the biggest crew, but the two of us, we'll outwork anybody. That's what we're doing now. Going up on the mountain will be different and I expect it will throw us a little curveball, but we'll give it everything we've got. I wouldn't count us nitrous guys out. We're not afraid and we're not backing down."
Glaser plans on arriving in Denver on Tuesday, ready for two full days of testing leading into the event. It will be an important 48-hour stretch to get everything down, from the gear ratios to run quarter-mile to finding a combo in his nitrous Pro Mod that will be competitive against the loaded WSOPM lineup.
But it won't be Glaser's first appearance at Bandimere Speedway, as he raced Jr. Dragsters at the facility in the late '90s. Two decades later, Glaser is back on Thunder Mountain, living out his dream at the biggest and richest Pro Mod race in the history of the known universe.
Getting the invite and the mad dash that is about to transpire to get to Denver in less than a week is a sequence of events that Glaser will now forever treasure. If drag racing is about creating incredible memories, Glaser knows he's in the midst of a remarkable one right now.
"It's been my dream to run Pro Mod, and to run on the mountain and run against these caliber of guys, I'm stoked," Glaser said. "It looked like a great event last year and I heard everyone talk about how cool it was. I know it's going to be even better in year two."
BUY TICKETS:https://bit.ly/2KsK3hK
For more information on the Drag Illustrated World Series of Pro Mod presented by J&A Service and One Cure, please visit www.worldseriesofpromod.com.