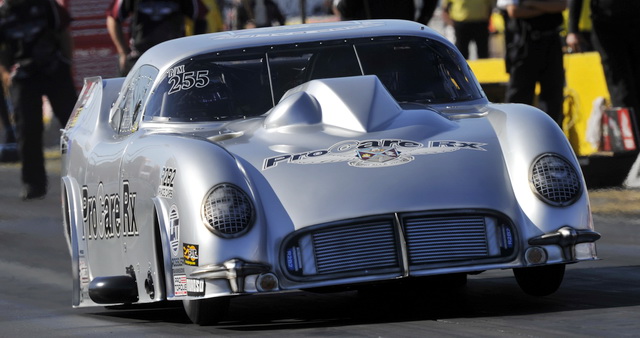 Driving the same car that Eric Dillard drove to victory at Indy last year, Brad Brand raced to the NHRA Pro Mod Drag Racing Series presented by ProCare Rx victory Sunday from the No. 16 qualifying position at the Mac Tools U.S. Nationals presented by Auto-Plus, the world's most prestigious drag race.
The Georgia-based driver defeated top qualifier Don Walsh with a powerful run in his R2B2 Racing 1953 Corvette in the opening round and never looked back as he took his first career victory at the rain-delayed event at historic Lucas Oil Raceway at Indianapolis.
Brand started the rain-delayed event as the crew chief for the R2B2 Racing's two turbo powered entries in the NHRA Pro Mod Series presented by ProCare Rx. When the rains pushed racing to a second weekend, driver/team owner Roger Burgess couldn't make it back to resume the race.
The figurative keys to the ProCare Rx Chevy Corvette were turned over to Brand with one opportunity to make the field.
"I really thought I'd be able to get down the track," Brand said. "The air was so good yesterday that we had more power than we've had for this car all season. I missed it pretty bad."
So bad, in fact, that Brand qualified No. 17 and initially didn't make race. Luckily, some racers who were at Lucas Oil Raceway for the first weekend, couldn't make it back for the second. Brand, as first alternate, got into the field as the No. 16 qualified car.
"We got lucky," Brand said. "I knew if we turned the power down, we'd still go fast."
Brand was fast enough to beat No. 1 qualifier Don Walsh in the first round on Sunday morning then followed it up with wins over Steve Matusek, Rickie Smith and finally Mike Castellana in the final.
"I think it's safe to say we made some good calls today," Brand said. "Good calls, great team, no parts breakages. It's a pretty nice feeling. We've been so close this year, I'm so glad it all came together today and Roger saying for me to treat the car like it's my own."
In the final against Castellana, Brand made his second-best pass of the day: a 5.914 second lap at 251.63 mph. Castellana shook the tires at about 100 feet and limped home with a pass of 12.763 seconds at 83.97 mph.
Brand's teammate, Leah Pruett, got to exorcise some Indy demons herself, getting a first-round win over Donald Martin before falling in the second round to Smith.
"I'm thrilled I got to the second round," Pruett said. "And you couldn't ask for anything better than having your team win the race. I feel like I'm now back on a upward swing. We're really getting the cars figured out the way we want them to.
"I've been really impressed with the unity of our team, it can be rare to have a group where everyone gets along and enjoys working together."
Against Martin, Pruett had her best pass of the event with a lap in 5.920 seconds at 248.25 mph. Martin had problems and ran a 12.940 at 63.62 mph.
In the second round, Pruett lost to Smith on a hole shot. Smith enjoyed a solid advantage out of the gate (.037 seconds to .060 for Pruett) and held off Pruett's 5.958 second charge at 248.84 mph. Smith ran a 5.967 at 242.98 mph, using his starting line advantage to get the win.
With the runner-up finish, Castellana moved to first place, four points ahead of Smith in the season points standings.
The NHRA Pro Mod Series continues this coming weekend (Sep. 14-16), with the O'Reilly Auto Parts NHRA Nationals presented by Super Start Batteries at zMAX Dragway near Charlotte, NC.
BROWNSBURG, Ind. — Final round-by-round results for the NHRA Pro Mod Drag Racing Series presented by ProCare Rx portion of the 58th annual Mac Tools U.S. Nationals presented by Auto-Plus at Lucas Oil Raceway Park at Indianapolis:
ROUND ONE — Steve Matusek, Ford Mustang, 6.071, 232.15 def. Harold Martin, Chevy Corvette, 7.840, 126.51; Pete Farber, Dodge Daytona, 6.044, 242.02 def. Pat Musi, Dodge Stratus, 6.041, 235.64; Troy Coughlin, Chevy Camaro, 5.962, 256.06 def. Adam Flamholc, Camaro, 6.007, 239.61; Todd Tutterow, Plymouth Duster, 6.015, 245.00 def. Scott Ray, Corvette, 6.053, 233.76; Rickie Smith, Camaro, 5.952, 242.80 def. Clint Satterfield, Camaro, 6.166, 238.34; Brad Brand, Corvette, 5.889, 251.86 def. Don Walsh, Mustang, 5.947, 252.99; Leah Pruett, Mustang, 5.920, 248.25 def. Donald Martin, Camaro, DQ; Mike Castellana, Camaro, 5.894, 242.71 def. Shannon Jenkins, Camaro, 5.938, 239.36; QUARTERFINALS — Coughlin, 5.951, 251.67 def. Tutterow, 5.929, 246.17; Castellana, 5.893, 241.15 def. Farber, 6.039, 245.40; Brand, 8.191, 117.56 def. Matusek, broke; SEMIFINALS — Brand, 5.994, 248.57 def. Smith, 5.962, 242.19; Castellana, 7.935, 120.94 def. Coughlin, foul; FINAL — Brand, 5.914, 251.63 def. Castellana, 12.763, 83.97.