After a celebrated and highly publicized debut at the Performance Racing Industry (PRI) Show in December, Shane Novak's ProCharger-boosted '69 Camaro made its first appearance on the track during preseason testing and the U.S. Street Nationals in Bradenton, Florida, last week. Novak and his crew, assisted by Pro Line Racing's team of tuners, will take what they learned in their successful big-tire debut and apply it with radials on the car at Lights Out 9 at South Georgia Motorsports Park in two weeks.
Originally built by Larry Jeffers Race Cars in 2013, Novak's Camaro was front-halved and back-halved by Brandon Hess and Zach Sackman at Brandospeed in Fairfax, Iowa. The car boasts a Pro Line 548 ci Hemi and an F3-143 ProCharger, with a FuelTech FT600 managing the power.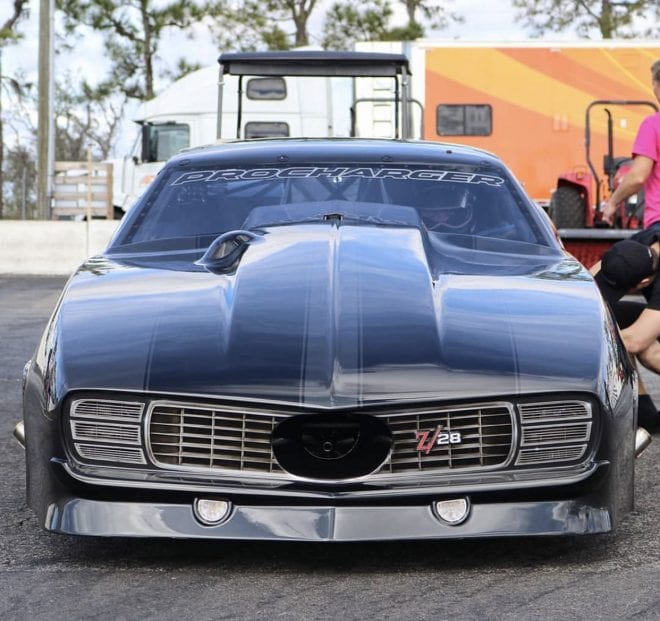 Novak and team made the trip from Iowa down to sunny Bradenton Motorsports Park with modest goals.
"With everything being new – myself included – I wasn't sure what to expect," Novak admitted. "I've never driven a fast big-tire car, so I was worrying about my driving. Everything on the car was brand new. The chassis was set up in the shop how we thought it would work. Nobody ran this engine combination before, so nobody knew what it was going to want and when it was going to want it, as far as power goes.
"I thought we'd struggle more with getting the chassis to work, then finding where the motor was happy and tuning from there. That all went quicker than I expected. It's hard to go wrong when you have Steve Petty and Josh Ledford running the car. I think we were in the threes on our third or fourth pass. I was going to be happy if we just hit the threes that weekend, to be honest."
The weeklong test session, as well as the entire build process, was a "total team effort" between Novak, Brandospeed, Pro Line and ProCharger.
"First and foremost, I want to thank Brandon Hess and Zach Sackman with Brandospeed," Novak stressed. "Without those two, the car would've never been done. The whole entire Pro Line crew, from Eric Dillard to Brandon Stroud – they were right there with us all week. I also want to thank Walt Sipp, Dave Werremeyer, and Cliff Hall with ProCharger."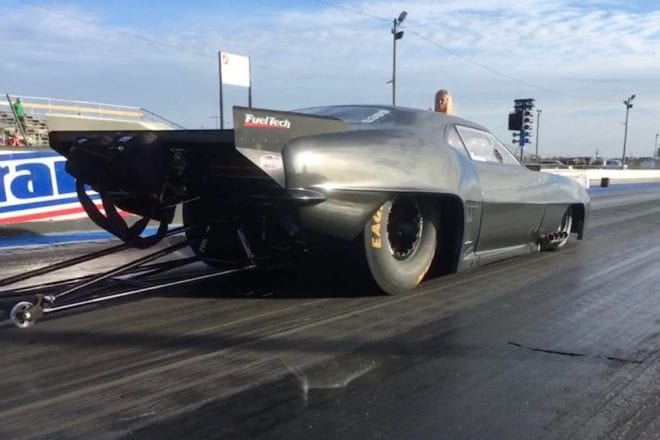 Novak posted a string of 3.8-second passes to satisfy his goals and qualify for the 16-car Pro Mod Boost field at the U.S. Street Nationals. A best of 3.84 seconds stirred up debates online over whether the pass was the new ProCharger-equipped door car record, but Novak isn't necessarily worried about the record books just yet.
"The confirmation I got was from ProCharger themselves," Novak said. "They had three representatives at the race watching and in our pits all weekend. They said the previous record was an .86. I've seen where people have said that this wasn't the new record, but I don't have any confirmation that it is or isn't.
"Honestly, the car will go a lot faster than where it's at. If (3.84) isn't the record and they say it's a .79 or .80 or whatever, the car will surpass that."
For now, Novak is focused on smashing his own personal records. Next on his list are his Radial vs. the World numbers, which he plans on resetting at Duck X Productions' Lights Out 9 in Valdosta, Georgia, in two weeks.
"Of course we're going to step back some, but I don't think it will be as much as some might think," Novak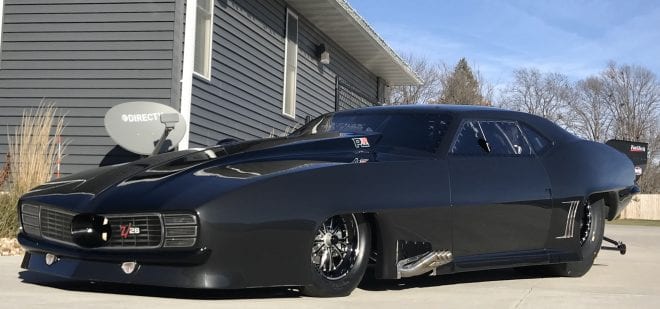 said of the team's strategy for the transition to radials. "I have Jamie Miller, a tuner with Pro Line, in my corner. He set up the chassis for the radials and he's the one calling the shots on any chassis changes. With his background, we might not be dead-on right away, but we're not going to be clear out in left field either."
Novak's last trip to Valdosta was with his 1975 Camaro, a street car he built with a twin-turbo Pro Line 540 motor between the frame rails. It had an all-steel body, factory glass and windows that still rolled up and down, and at 900 pounds overweight, it just wasn't competitive in the increasingly cutthroat Radial vs. the World class.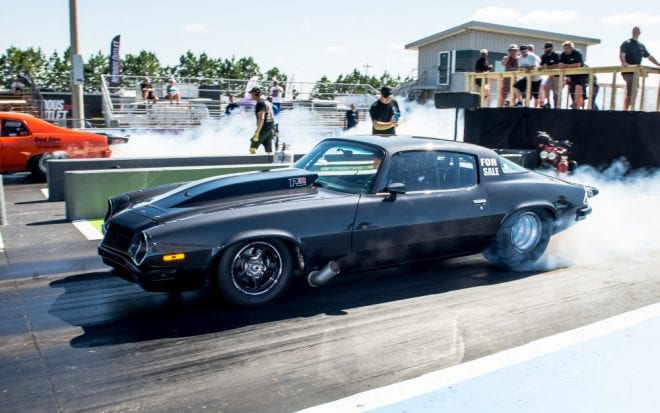 "My main reason I would go was to run fast – run personal bests with the car," Novak reasoned. "It was a street car, therefore you had radiators, fans and everything else on it. It was a nightmare to work on the car. It ruined the fun. It wasn't designed to be worked on at the racetrack. So this last year, I parked that car, put a cover on it, pushed it over to the corner of the shop, and now we're going to come back with something that we can actually compete with."
Beyond Lights Out 9, Novak envisions a diverse schedule anchored by NHRA Top Sportsman races and filled in with NMCA Pro Mod and PDRA Pro Boost dates. The radials will go back on the car for Tyler Crossnoe's Outlaw Street Car Reunion V at Kentucky's Beech Bend Raceway in April and Donald "Duck" Long's No Mercy 9 at SGMP in October.
"I'm going to do a lot of Top Sportsman racing," Novak said. "I want to race at the same races with my daughter EmiLee and her Top Dragster. That's been a big goal of mine. With the previous car being radials only, we never raced together. I enjoy racing with my daughter more than I enjoy racing alone."