Bob Harris pulled into Memphis International Raceway on Friday morning with one mission on his mind. As the Race Director for the Professional Drag Racers Association (PDRA), Harris intended to clear up some rumors that have been swirling around the PDRA pits and Internet message boards. Contrary to what some rumors have suggested, the PDRA isn't going anywhere in 2017, even if the American Drag Racing League (ADRL) returns.
"I obviously can't speak for the ADRL because I don't have anything to do with it. I can tell you that the PDRA is coming back next year, and we're coming back just as we have been for the last two or three years. Do we need to make a few changes to work on our fan base? Yes. Obviously we're growing and we're learning. We're going to hire a full-time promotor to do nothing but try to put people in the stands. I'm going to continue what I'm doing, all of our other people will continue doing what they're doing. We're moving forward with the PRI (Performance Racing Industry) show, the (PDRA championship awards) banquet, and putting together the 2017 schedule. Like I said, I can't speak for rumors because as far as I know that's all they are. If another sanctioning body or organization forms, that really doesn't have anything to do with us. I just want to stop those rumors. What other people do is their business. We want to look after our organization," Harris lamented.
Speaking from the race control room at the 3rd annual PDRA Memphis Drags, Harris confirmed that Ronnie Davis Top Sportsman presented by Magnafuel and Lucas Oil Top Dragster will continue to compete within the all-eighth-mile series in 2017. The sportsman classes won't be replaced by, or even supplemented by, a permanent Outlaw 10.5 class either.
"There was a rumor that Top Sportsman and Top Dragster were going to be eliminated next year. That's the furthest thing from our minds. We're actually looking to grow those programs. We have a lot more Top Sportsman cars than we have places to put them, so we're thinking about trying something different next year that would involve a lot more cars and people being able to race with us. Top Dragster is staying right there. It's a great class and we've had great participation.
"Another rumor that was going around was that Outlaw 10.5 is coming back to replace Top Sportsman and Top Dragster. That's not the case. I can't tell you that we won't have a 10.5 class in the future. We have run some 10.5 stuff this year, but it's the Cecil County guys. As far as us coming up with our own 10.5 class, that's not going to happen next year. That's not saying that it will never happen, but it won't happen in 2017," Harris said.
The longtime race promotor hinted at the possibility of a drag radial class joining the fold in 2017, though.
"We understand how the radial stuff works. It's hard to do the prep for radial tires and big tires, but one of the tire manufacturers has built a radial tire that will work on big-tire prep. I've talked to Keith Berry, (Barry) Mitchell and several other radial racers who said they would love to follow us if we do something like that. There's a lot of things in the air. We're not dead."
In addition to addressing the class line-up for 2017, Harris said the PDRA has taken a hard look at where they race and when they race. He believes the occasional struggles with car counts can be traced back to weather concerns, some of which can be avoided as the series moves into its fourth season.
"I know a lot of people are looking at the race in Maryland, where we had 195 cars. We were down some cars in our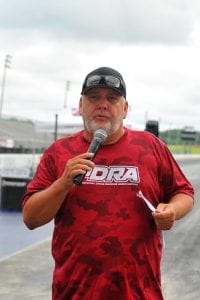 Pro categories – just as we are this weekend – but the temperature in Maryland was a hundred degrees for three days. Whether you like it or not, some people just don't want to race when it's that hot. The same thing here – the forecast called for 90 percent chance of rain all week. It does hurt car counts, and I understand that. We're going to try to do a better job next year of scheduling tracks that we know are going to be hot during cooler times of the year. We may go north more during the hotter times. I can't say which tracks we're going to next year because we're still talking to the tracks. We've talked to tracks that we've been to this year and tracks we've never been to before. We're going to concentrate mainly on scheduling better and putting people in the stands."
Harris concluded with a rebuttal for the naysayers who have commented on the potential of waning interest within the PDRA's ownership base, a group of racers-slash-benefactors who banded together to form the series when the ADRL closed up at the end of a tumultuous 2013 season.
"I said this during the driver's meeting this morning and I'll stick to it no matter what. Someone on one of the forums said, 'This is a bunch of rich guys. They're going to get tired of spending money after a while.' Truthfully, that's just a bad thing to say. You should say, 'Man, these guys are great guys because they've been spending a lot of money.' It's not about rich guys, it's about guys with a golden heart. They knew this wasn't a money-making proposition going into it. That's not why this organization was formed. Yes, we want it to get better. It's like any business – you're probably not going to make money the first two or three years, but you don't throw in the towel. You just work harder."