Pronto Auto Service Center driver Blake Alexander became the 105th different driver to win in NHRA Top Fuel Sunday afternoon when he defeated Terry McMillen at the Summit Racing Equipment NHRA Nationals. Driving for team owner Bob Vandergriff, Alexander was appearing in his second final round this season in Top Fuel.
After persistent rain showers shortened qualifying to just two sessions at Summit Motorsports Park, Alexander qualified No. 12 in the Ron Douglas-tuned Pronto Auto Service Center Top Fuel dragster with a 3.983-second pass at 306.46 mph.
Alexander started Sunday eliminations by knocking off three-time world champion Antron Brown in one of the closest races of the day, with Alexander's 3.802 at 319.75 defeating Brown's 3.808 at 326.71. The former Jr. Dragster driver used a sizable holeshot advantage and a 3.798 at 330.15 to defeat eight-time world champion Tony Schumacher's 3.779 at 330.31. In the semifinals, Alexander beat Leah Pritchett, the third Don Schumacher Racing driver he would face in eliminations, with a 3.799 at 329.91 to advance to the final round.
"I didn't realize what we were doing until it was happening, but I enjoyed it," Alexander said. "Those are good people to compete against. Every time before I race Antron, I think of him as the gold standard of being a Top Fuel driver. I always try to meet his level of driving. He was three thousandths of a second ahead of me at the starting line, then (crew chief) Ron Douglas did the rest.
"I needed to beat Leah because she had stopped our day the other two times we were racing late in eliminations. It was nice to get that off our backs before it became a narrative."
Alexander met up with No. 15 qualifier Terry McMillen in the final round, marking just the second time in Top Fuel history that the No. 12 and No. 15 qualifiers faced off in the final round. Alexander overcame McMillen's slight starting-line advantage and streaked to a 4.011 at 297.81 over McMillen's 4.155 at 289.20.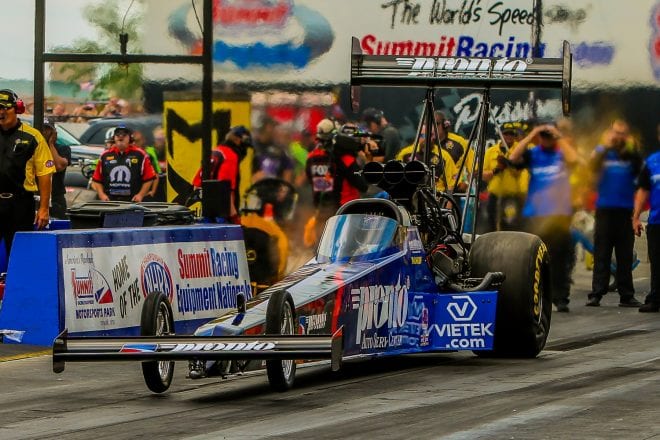 "This win validates the hard work myself and everyone around me puts in to make this possible," said Alexander, who has competed in limited schedules in Top Fuel and Funny Car since making his professional debut in 2011. "It just shows me that there's still a lot of hard work ahead of me because I want to win more than once. I want to continue providing more opportunities for my sponsors, my team owner and my team to be in the winner's circle. This is a step in the right direction for me and it's an exciting time for everyone who supports us."
Throughout raceday, Alexander's mind was focused on righting the wrong he felt he made during his first final round appearance in Top Fuel. He red-lighted against Pritchett in the final round at Atlanta, then rebounded with a semifinal finish at Chicago.
"I wasn't happy with how I performed in Atlanta," Alexander said. "I let my guys down. We all work together and everyone has an equally important role on the car. Any one of us can make a mistake that could cost us a race, and I was the guy who made that mistake. I was trying to redeem myself at Chicago and here at Norwalk. I was also letting the race come to me a little bit, as I saw I had a good car and I didn't need to press so hard."
Alexander became the latest Top Fuel driver to win for Brownsburg, Ind.-based Bob Vandergriff Racing. Vandergriff won three races as a driver before retiring from the driver's seat at the end of the 2014 season. Alexander won in just his second Top Fuel final and third final overall.
"I'm just thankful that I race for someone who has built a solid team that can capitalize on these situations and make me look good," Alexander said. "We had the team to do it and the car to do it. We don't want for anything. Bob gives us everything it takes to be the best car in the field on any given Sunday, and we proved that this weekend."
Blake Alexander and the Pronto Auto Service Center Top Fuel team will compete next on the Western Swing starting in July.