How a junkyard find helped take Bill Haskins to the top of the NHRA world
Bill Haskins' life has been defined by the Dodge Charger. Today he works for Don Schumacher Racing, serving as the cylinder head specialist on the Mopar Express Lane Dodge Charger R/T Funny Car driven by Matt Hagan on the NHRA Mello Yello Drag Racing Series. Haskins' story is one of inspiration and proof that hard work can achieve dreams. Yet his love affair with cars began long before he was ever able to drive, starting with a '68 Dodge Charger that was rescued from the woods.
Haskins grew up in upstate New York, in the town of Elmira. When he was 13 years old, his dad, Bill Sr., (a longtime car buff who has registered over 400 cars) bought that '68 Charger from a salvage yard and told his young son it should be ready by the time prom rolled around in high school.
Today Haskins, 28, laughs at the thought that the car still isn't finished, but it's put him on a career trajectory which has taken him to the very top of the drag racing world, working on cars which he says feature a "vulgar display of power." Haskins took auto body in high school to learn how to paint cars, and then attended the University of Northwestern Ohio (UNOH) in Lima to further study auto repair in general, all with the Charger in the back of his mind. He's owned a variety of vehicles in his life, many of them parts cars which he used as a resource to work on his pride and joy.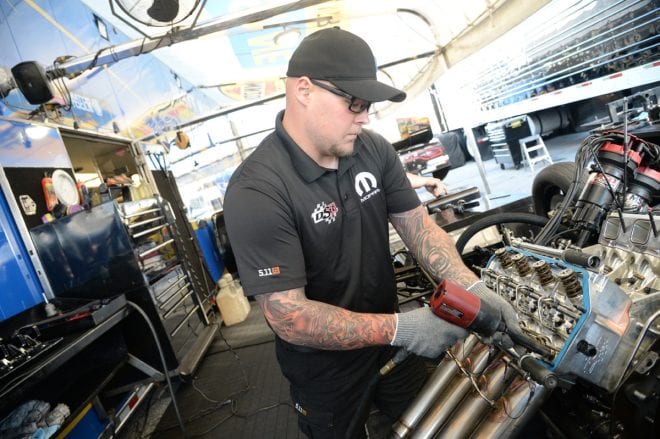 "I had to wheel and deal. I didn't have enough money to go out and buy a finished product, so I had to scour through the junkyards and pull pieces off old wrecked cars sitting in the weeds and rip the parts off that I needed, sell the shell and put the parts on my car," he says.
He admits he knew little about drag racing upon enrolling in UNOH, with the Watkins Glen road course being the closest track to his New York hometown. But one fateful Labor Day Weekend, Haskins was bitten by the drag racing bug.
"My roommate and I heard an ad on the radio for the U.S. Nationals and we were bored," Haskins remembers. "We looked at each other and said, 'Hey, let's go to that.' I saw these cars make a pass and right then and there I figured out what I wanted to do with my life."
Upon his return to school, he got in touch with the right instructors who knew drag racing, and became president of the drag club, trying to make the proper connections to get a foothold inside the NHRA world. However, it was a fateful trip to zMAX Dragway in Charlotte for the Four-Wide Nationals in the spring of 2011 which gave him the break he needed to achieve his dream. Haskins had just graduated from college without a job lined up and was trying to put off going to work on the fracking rigs popular in upstate New York. Always resourceful, he sold an old pickup for $1,500 for the money to drive to North Carolina, where he planned to sleep in his truck while handing out resumes. He ultimately came away from the weekend with a job on Dexter Tuttle's Top Fuel team.
"I got hired off the ropes and was told to pick up a rag and start cleaning parts," Haskins remembers. "I've worked my way up to doing cylinder heads."
From Tuttle's team Haskins went to work on Bob Tasca's Funny Car before working on Tony Pedregon's Funny Car team in 2012 and Leah Pritchett's dragster for Dote Racing in 2013. He made the move to the powerhouse Don Schumacher Racing at the end of the 2013 season, receiving a call out of the blue after having submitted a résumé early the previous year. He began working on blowers on Jack Beckman's car before moving to the Mopar-sponsored operation with driver Matt Hagan, where he has worked since 2015.
Haskins is easy to spot at the track. Aside from his dark-rimmed glasses and shaved head, his bare arms display sleeves of tattoos as he hustles to tune cylinder heads between rounds. His ink includes his '68 Charger, a blown HEMI engine and the Dodge R/T logo, as well as the Mopar omega "M" on his leg featuring the words "Mopar Muscle." That was his first tattoo, which he got at the age of 16.
It's fitting that a dyed-in-the-wool Mopar guy like Haskins, whose '68 Charger has defined his life, would end up working on the Mopar-branded Dodge Charger Funny Car.
Now that he's a major part of the racing world, Haskins still has his own Charger in mind, explaining that he wants to learn how to properly build a race car. He has the original 383 that came with the vehicle, but he plans to beef it up with a proven 600-horsepower, 440 cubic-inch power plant.
"I'd love to race my Charger, but that's still several years down the road," he says. "I have to finish it first. I'm a perfectionist with everything I do, so when I do it, I'm going to sit down and take the time to do it right, or my opinion of the right way, to make a street/strip car out of it and have a little fun."
That perfectionist attitude has been a benefit, both as Haskins has advanced in his career, and as he works as part of a championship-caliber outfit. The most minute details often become the most important elements of his job. Haskins, driver Matt Hagan, crew chief Dickie Venables and the rest of the Mopar team have become accustomed to being the quickest and fastest at the track, consistently setting national records.
Haskins currently lives in Brownsburg, Indiana, near the massive Don Schumacher Racing shop. Still, he spends the majority of his time on the road from February through November each year. He jokes that he considers it a culinary tour, enjoying food like crawfish in Texas, authentic Mexican food in California, and of course, seafood near his home in the Northeast. The way Haskins sees it, viewing the country is one of the best fringe benefits of working in a job he is undeniably passionate about.
"It has its pros and cons like everything else," Haskins says about the job, "but [I like] just being able to travel the country, seeing what's out there firsthand, versus seeing how it's depicted on TV or in a movie."