From test-n-tune wannabes straight off the street not really knowing why to Top Fuel pilots performing with practiced precision, nearly everyone opts to preview every run down the strip with what announcer extraordinaire Al Tucci would call a "beeyootiful smoky burnout."
It looks cool to spectators and no doubt it's fun from the driver's seat, but the true purpose of a burnout is two-fold: to absolutely clear the racing rubber of any contaminants like sand, rocks or cigarette butts picked up on the winding tow or drive from the pits and to lay down hot, sticky stripes of fresh rubber—ideally dead straight and in the racing groove—in which to back up and line up for a neck-snapping launch.
It wasn't always this way, though, and no surprise here, "Big Daddy" Don Garlits was instrumental in creating a ritual so prevalent in drag racing to become an iconic image of the sport. "Big" admits he wasn't the first to try boiling the hides before tackling the quarter mile at speed, but says by the end of the burnout's first official day he was on board, too.
"I can tell you for sure where the first burnouts were done. Prior to this event we just pulled up to the starting line and we went, but this was at Riverside, California, 1969, the HOT ROD Magazine Championships. The cars push started way in the back there and it was a long drive down to the starting line and one of the cars—I'm thinking it might've been either (Bob) Creitz or (Steve) Carbone, the actual car I wouldn't swear to, somebody out in California might know—did a burnout, they actually smoked the tires for a pretty good little distance because there was a lot of room and then they made their way on down to the starting line. And it made a difference; the car ran quicker!
"So the next time I made a run I did it and I actually stopped and then burned the tires. We spun the tires (while heading down track) in those days, but that gave me a nice gummy tire when I got to the starting line with some heat in it and of course it made a difference; it picked up the ETs at least a tenth of a second. So that was when the very first burnouts were done with fuel dragsters and we've done it ever since from that day forward."
Garlits emphasizes those first burnouts at Riverside were all completed prior to reaching the starting line; however, it was the only track he knew of with sufficient space for that, so it required a change of tactics when he visited other venues. Obviously unwilling to give up the obvious advantage a burnout offered, he took to the now common practice of completing his burnouts across the starting line and then being pushed back into place.
"Of course at first some of the guys didn't want to do it, so you would tell the guy you're racing, 'Look, I'm going to do a burnout, so you fire your car a little bit behind me if you don't want to do one because I'm going to take a little extra time.' It was no problem, they didn't care."
What did create a problem for some, though, was heat in their clutches created by the added stress of a burnout. That brought on the application of water to the new pre-run procedure, Garlits explains.
"Actually it was bleach at first; for some reason they wanted bleach. The clutches were getting set so loose that you couldn't spin the tires anymore on the pavement, this was before they sprayed down the tracks, and a couple of guys smoked their clutches out trying to get the tires to spin (for a burnout), so then they put down bleach. That's when VHT and RFI immediately got on the program making traction compound. It was like the little tire patch material you get when you buy a patch kit, only they had more solvent in it to make it thinner. That's what RFI was, you could actually use that stuff to put a patch on a tube."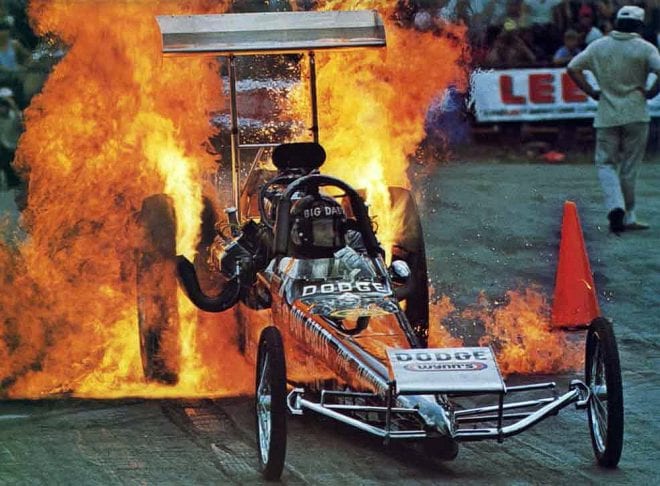 Unwittingly, the RFI product led to another first for Garlits: the crowd-pleasing and always spectacular, though admittedly risky, Top Fuel fire burnout.
"It was at Long Beach and they put down the RFI material on one side, it was at nighttime, and I rolled forward into the material but they hadn't got the material on the other tire, so they pushed me back, but as they pushed me back the flames were already coming out of the headers and they were pointed pretty much at the tires. So as the tire rolled up they caught that stringy material that was on one side of the car on fire, so I quickly spun on it to get out of the fire and it made a beautiful, beautiful scene. That was the beginning of the fire burnout.
"Me and Tommy (Lemons, Garlits' longtime crewman), we picked up on that right away, so we developed a system where he would put down the material but then string it out a little bit in front of the tire. I would always wait until there was a little bit of flame popping out of the pipes, of course this is slingshot days so I could see them, and I would spin the tire slowly at first and that would get the material all around the tire and I would give it a little light spin so it would sling that stuff all up on the headers and I lit my own burnouts like that."
Garlits chuckles as he recalls the efforts of NHRA under early executive Jack Hart to figure out how the fire burnouts were happening and for safety reasons, how they could be stopped.
"They knew we were lighting those fires on purpose; that no way it could just be happening because we could make it happen any time we wanted, so they put cameras on me because Tommy was far away from the car and they went all over the car looking for igniters but they couldn't find anything. So in the end I was just told I was not to light those fires. But of course if it just happened it was out of my control, right?"
Finally, by the early-'70s, NHRA banned the use of traction compound to aid burnouts and mandated water only.
"That's how they stopped it and that's when water replaced bleach," Garlits says. "But it was fun while it lasted."