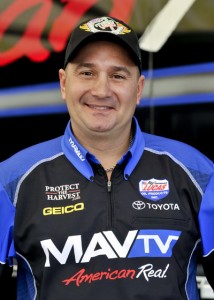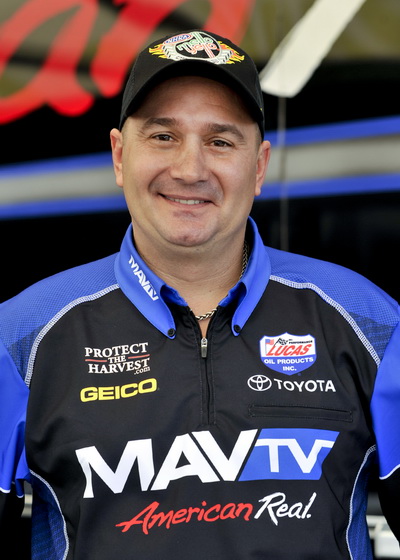 Morgan Lucas Racing announced May 30, that team driver Brandon Bernstein will undergo a procedure to repair a herniated disc in his back following this weekend's Toyota NHRA Summernationals and will miss the NHRA Mello Yello Drag Racing Series events in Bristol, Tenn., and Epping, N.H., .
Bernstein, who will race in Englishtown, will temporarily be replaced in the ProtectTheHarvest.com/MAVTV Top Fuel dragster by six-time NHRA national-event winner J.R. Todd.
"It's a real bummer to have Brandon sit out for a couple of races," Morgan Lucas Racing team owner Morgan Lucas said. "But first and foremost is his health, and his long-term health is the biggest priority to us as a team. We see everyone on our team as family, and Brandon is a key element to the family. We want to preserve his health and make sure he is capable of staying healthy for himself and his family."
Bernstein has been bothered by the herniated disc since the race in Atlanta, where he posted a runner-up finish. He will have an outpatient procedure performed by noted orthopedic surgeon Dr. Terry Trammell of Indianapolis sometime next week.
"The bottom line is when my doctors told me my right foot could completely go numb and I could not have any feeling in my foot ever, that was when a red flag was raised: 'OK, I've got to do this now,' " Bernstein said. "Honestly I would love to drive the rest of the season like this because I can deal with the pain, but when they told me that about my foot I thought, 'That's not just my career; that's my quality of life.'
"Morgan told me, 'You've got to do whatever is needed to get healthy because you've got a family.' I thought the same thing."
Bernstein currently sits seventh in the Top Fuel points standings and hopes to return to the race car in time for the Countdown to the Championship playoffs.
"It's a tough deal for me," Bernstein said. "It was a hard decision because I really feel my team is everything to me and I let them down because of this. It's unfortunate it happened but we've got to get it done now. Hopefully two races don't kill us for the Countdown and we'll be good to go."
Bernstein will have a final consultation with Trammell on Monday, when the decision on the date of the procedure will be made.
An arthroscopic incision will be made in Bernstein's back and a portion of the herniated disc will be removed. Doctors want the disc to scar over so there is no more herniation, and that recovery process usually takes three weeks.
"I'll be able to walk out of the facility that night and stay in my own bed," Bernstein said. "It's a pretty minimally invasive procedure, and that's why it's only three weeks of recovery."
Lucas and Bernstein are close friends with Todd, who is happy to fill in while Bernstein recovers.
"It's kind of bittersweet," Todd said. "I hate that Brandon has to miss some races because of that, but in the long run he'll be better off. I felt honored that Morgan and Brandon called me up and I was the guy to fulfill the job. Hopefully I can live up to the expectations.
"That car is more than capable of winning every race it goes to. Once they called and asked me, I didn't have to think twice about climbing in there and driving it. I'm looking forward to working with (crew chief) Joe Barlam and the team. It should be a fun couple of races."
Putting Todd in the car was an easy decision, Lucas said.
"Knowing how close Brandon and J.R. are as friends and how close J.R. and I are as friends, it seemed like a no-brainer," Lucas said. "He can just slide in and fit with the team. It's very gracious of Bob Vandergriff to allow J.R. to come over and do us a favor and help us out with this situation.
"It's a big deal to us to continue to keep the ProtectTheHarvest.com/MAVTV brand at the racetrack and continue to promote something that is near and dear to the Lucas Oil brand. We want to make sure the team is out there performing and getting laps to continue to defend the points situation so it won't take the team out of the championship race."
Bernstein agreed.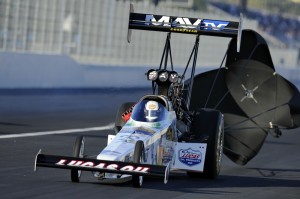 "J.R. is an excellent driver and he'll fit in great with the guys," Bernstein said. "It's going to be a perfect fit. We're the same size and everything. He's the man. It's going to be pretty cool because Morgan and J.R. and I are great friends, and it's like your best buddy is taking your seat for a couple of races and we'll go from there."
Bernstein's goal is to return to the car for the O'Reilly Auto Parts Route 66 NHRA Nationals on June 27-30 at Route 66 Raceway in Joliet, Ill.
(Photos courtesy NHRA/National Dragster; Ian Tocher; Click to enlarge)