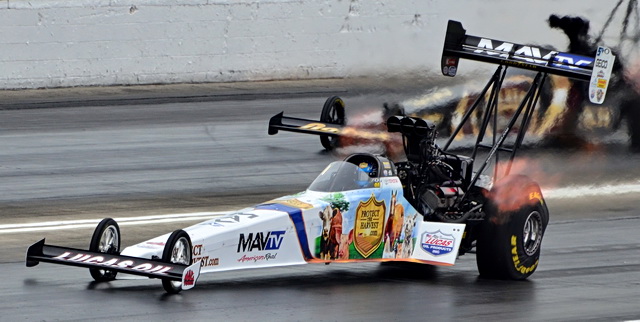 Brandon Bernstein gutted out an impressive performance through draining back pain to reach the Top Fuel final round of the Summit Racing Equipment NHRA Southern Nationals May 10-11, at Atlanta Dragway.
The final was Bernstein's first since winning the season finale in Pomona, Calif., last year, and it propelled him up two spots to seventh in the NHRA Mello Yello Drag Racing Series standings for Top Fuel.
But it was hardly easy. Bernstein walked gingerly Saturday and was visibly in pain when he got in and out of the race car.
"It was painful; it was very painful today," Bernstein said. "You're still going rounds, but with back pain like this shooting down the leg and the numbness in my toes it wasn't fun driving today. But I can't say enough about our ProtectTheHarvest.com team. They did an awesome job today. We just came up a little short in the final. I think the sun came out a little too much on us. It just got us a little bit."
Bernstein made four passes of 3.847 seconds or better–two in the abbreviated qualifying Friday and two more Saturday–to meet Antron Brown in the final, but Bernstein's car smoked the tires soon after passing the Christmas tree and Brown surged to the victory.
"I'm really proud of the guys," Bernstein said. "They did a great job. Hey, we got to the final. We got some more points and that's what we were here to do. Yeah, we'd like to win all the races, but the big key is to stay in the top 10 and keep us up there for the championship."
Bernstein, the No. 4 qualifier, started the day with a fortunate win over Terry McMillen. While Bernstein popped the blower and made a pass of 4.128 seconds at 213.23 mph, McMillen smoked the tires and slowed to a run of 6.876 seconds at 87.07 mph.
But crew chief Joe Barlam and the team had the ProtectTheHarvest.com rail running better in the second round, when Bernstein stepped up with a pass of 3.847 seconds at 318.47 mph to take out Khalid alBalooshi, who made a run of 4.071 seconds at 318.47 mph.
That put Bernstein against No. 1 qualifier Shawn Langdon, who lowered the Atlanta track record in the second round. This time Bernstein was the driver with the track record, making a stellar pass of 3.761 seconds at 324.05 mph to beat Langdon's 3.807-second run at 324.44 mph.
"That was a huge run," Bernstein said. "Obviously the conditions were perfect, and Joe knew they were perfect. We had to run a good number against him because that's AJ's (Alan Johnson) car and Shawn's a good leaver. You've got to be ready for that kind of race. It's just unfortunate we couldn't put it together in the final."
Brown's winning pass was 3.801 seconds at 321.35 mph while Bernstein coasted across the finish line with a run of 7.105 seconds at 90.64. Still, Bernstein's team made its best showing of the season, giving the veteran driver his 299th career round-win and evening his record at 7-7 this season.
"We made a huge step, a big, big step, especially with the new clutch package that we're running," Bernstein said. "Joe has got a better handle on it. I don't think it's perfect but he's got a better handle on it. We made some really good strides this weekend, and we're really excited about going in to Topeka."
(Photos by Ian Tocher; Click to enlarge)