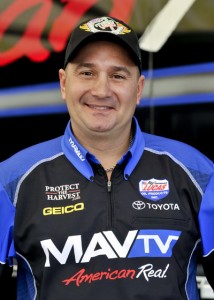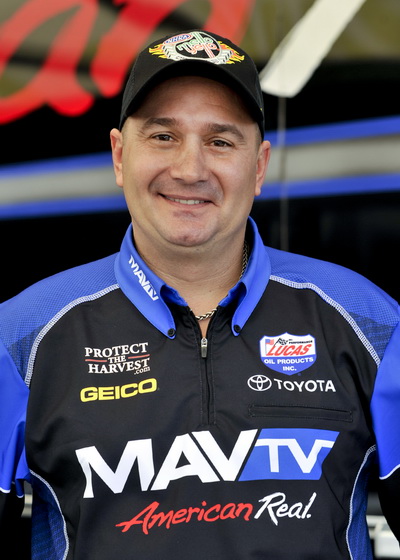 Brandon Bernstein (left) and Joe Barlam, released yesterday from Morgan Lucas Racing, have joined Al-Anabi Racing, the team announced today.
Bernstein, a 19-time Top Fuel race winner, joins Al-Anabi Racing as the team's general manager filling the position vacated by Chad Head one year ago.  Barlam, who served as Bernstein's crew chief at Morgan Lucas Racing, will join Khalid alBalooshi's gold Al-Anabi Racing Top Fuel team as its assistant crew chief alongside crew chief Jason McCulloch.
Prior to joining Morgan Lucas Racing in 2012, Bernstein served as the driver and general manager of his father's NHRA race team from late in 2009 through the end of the 2011 NHRA Mello Yello Drag Racing Series season.  With his extensive experience running Kenny Bernstein Racing, he is fully aware of the many responsibilities that come with such a position.  Bernstein began his new job this morning and will report directly to Al-Anabi Racing team manager Alan Johnson.
"Yesterday, Morgan came in over at Morgan Lucas Racing and notified us that we weren't going to be able to run our car (the Protect The Harvest/MAV TV Top Fuel dragster) next season," Bernstein said.  "We didn't have the extra funding to go along with the Lucas Oil funding, and they decided not to run the car.  Obviously, I was out of a job at that point and started making phone calls.
"I made a call to AJ (Alan Johnson) and just told him that if there were a position available at Al-Anabi Racing, I would want to look at it and would greatly appreciate being considered.  We talked for a while, and he said 'Well, let me think about it.'  I got a call late last night, and he said, 'Am I talking to my new GM?' I said, 'I don't know, are you?' And he said, "The offer is there.'  I said, 'Absolutely, I'll take it.'
"I was very excited.  It's a new chapter in my life that I am ready to start to be honest.  It's going to be fun; I think Al-Anabi Racing is the best place to be in Top Fuel drag racing so I'm excited to be here.  It's gonna be good."
While Bernstein does have more than two full seasons of experience as a general manager, driving a Top Fuel dragster is clearly his passion. So what would Bernstein do should the phone ring with an offer to get back into the car?
"It's something AJ and I discussed," Bernstein said.  "If something does come about, I'll look at it, speak with him and see if it's something I want to pursue.  I love competing, I love racing these Top Fuel cars – that's my passion, but who knows?  This may be something that I enjoy even more, and we'll just see."
Ronnie Thompson, who served as McCulloch's assistant crew chief as well as car chief for the last two years, will be allowed to focus more on the car chief role of overseeing preparation of the gold Al-Anabi dragster.  AlBalooshi finished eighth in the 2013 NHRA Mello Yello Top Fuel point standings improving from his 11th-place finish one year ago in his rookie season.  He has two Top Fuel wins in four final-round appearances.
"We are very happy to add Brandon and Joe to the Al-Anabi Racing Team," Johnson said.  "I was in the process of filling our general manager position when Brandon became available yesterday, and it seemed like the perfect fit.  He has experience as a driver, a crew member and a general manager so he fits perfectly into the position.  Thanks to Shawn Langdon for his help in filling this role this season. We are also very happy to have Joe on board.  Joe will bring a wealth of knowledge to Khalid alBalooshi's team and allow Ronnie to focus more consistently on the race car which should make that team stronger next season."