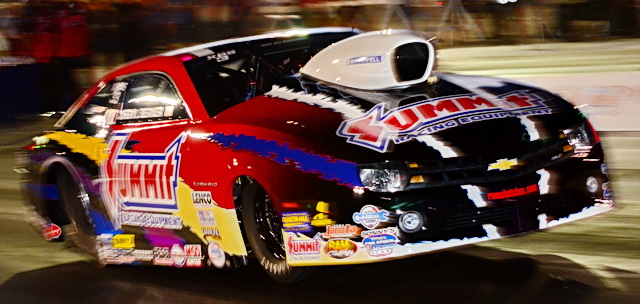 Pete Berner and his Summit Racing Equipment Team announced Jan. 31, that Tom Pierson will be joining them as crew chief on Berner's Extreme Pro Stock 2012 Camaro this season.
Berner served as his own crew chief last year, and while he enjoyed playing double duty and saw success in the ADRL Extreme Pro Stock (XPS) ranks, he realizes the expertise Pierson brings will add tremendous value to his team.
"Tom and I have been friends for a long time," Berner said. "He will be a fantastic addition to our team. Already in our first test session he helped me regain my focus, which is huge in terms of getting back to the winner's circle.
"His confidence level and enthusiasm replenishes my own which was something I was lacking. In the short
time we've worked together, he has already boosted the team spirit. Needless to say, I'm very excited to have Tom coming on board as crew chief."
In their recent test session at Bradenton Motorsports Park in Florida, Team Summit also tested new parts from Braswell Carburetors and Aeromotive.
"Dave [Braswell] and Steve Matusek at Aeromotive sent us some new parts to try out, and we were very pleased with the results. We immediately found the new combinations to be quicker. I can't wait to see what all it will do," Berner said.
"With great companies like Summit, Braswell, Hoosier, RJ Race Cars, Ram, Penske, and Aeromotive, and now one of the best in the business joining us as crew chief, I'm confident we have the right combination to get back on top. There's one thing for sure, with Tom's enthusiasm we will definitely have more fun finding our way there."
Pierson, who last year finished second in ADRL Extreme Pro Stock points with driver Richie Stevens Jr., also looks forward to his new role in the XPS ranks.
"I'm excited to work with another championship-caliber team," he said. "Testing went well and we worked great together. The team morale is high and everyone is looking forward to getting to the first event and seeing what we can accomplish in Extreme Pro Stock."
Pierson, Berner and the rest of Team Summit will head to South Georgia Motorsports Park Feb. 25-27, for their next pre-season test session, where Berner hopes to produce top numbers.
"We're excited to get this team back to the track for another test session," he said. "The first race is approaching fast and we want to be out in front right from the start. We produced good results at our first test session this year. Now we're looking to refine our tune-up and get dialed in."
(Photos by Ian Tocher and Roger Richards; Click to enlarge)