Funny Car racer Jack Beckman finished off a record-setting weekend of racing at Heartland Park Topeka Sunday by claiming a victory over category icon John Force at the NHRA Kansas Nationals.
Richie Crampton (Top Fuel) and Erica Enders (Pro Stock) also were winners of the NHRA Mello Yello Drag Racing Series event.
Beckman used a pair of 3.9-second runs to outrun Courtney Force and John Hale in earlier rounds and then beat Del Worsham in a close semifinal before speeding to another three-second run to oust the 16-time world champ in the final round. Prior to that, Beckman clocked three-second runs in two of the three rounds of qualifying on Friday and Saturday.
Just how quick were the Funny Cars at Topeka? There were 19 three-second runs in the entire 2014 season and just this weekend there were a total of 15. Beckman accounted for five of those.
"We had an outstanding week of racing," said Beckman, who set the record for the most three-second Funny Car runs by a driver in a race weekend. "That's a function of the (crew chief) Jimmy Prock tune-up, (the car) is so much fun to drive."
In the final, Beckman held off Force with a 3.984 second run at 316.45 mph in his Infinite Hero Foundation Dodge Charger, while Force trailed with a 4.002 at 324.51 in his PEAK Antifreeze Chevy Camaro. It was Beckman's second win of the season, 17th of his career and second at HPT.
"I have all the respect in the world for John Force," Beckman said. "It makes a difference when you race him. You're getting a chance to play against Babe Ruth. It's so unique in our sport, that a guy [who is] the best there has ever been in this sport, can still mix it up with us. I've said this before, I can't wait to tell my grandkids I got to compete against John Force. This trophy will be extra special because it was John Force we beat in the final."
Beckman credited NHRA's Safety Safari for their outstanding work all weekend to keep the track race-ready throughout numerous weather delays.
"It was an odd deal, as I've had very few weekends like this," said Beckman, who moved to third in the points standings, "where there are so many weather delays and you still get the entire event done on Sunday."
A pair of Beckman teammates are still first and second in points as Ron Capps holds the series lead and defending world champ Matt Hagan is second.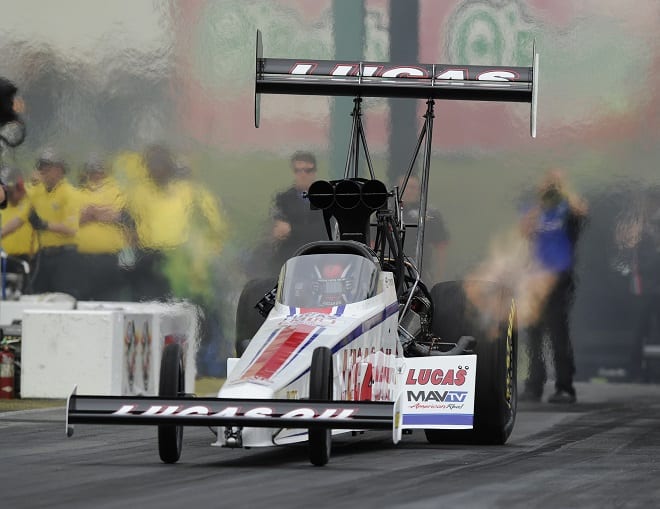 In Top Fuel, Crampton drove his Lucas Oil Racing dragster to his second Top Fuel victory of the season with a 3.738 at 318.09 to hold off Larry Dixon, who trailed with a 3.787 at 308.28 in his C&J Energy Services dragster. It was Crampton's fourth career victory and first ever at Topeka.
"It's huge to get two wins so early in this sophomore season; it's surreal," said Crampton, who also won in Las Vegas in April. "Being undefeated in finals is pretty special. It says a lot about crew chief Aaron Brooks and the team. I am glad this event went ahead and I am glad we were able to put our Lucas Oil dragster in the winner's circle."
Crampton defeated Kyle Wurtzel, Spencer Massey and Brittany Force in the first three rounds before holding off a surging Larry Dixon in the final. It was Dixon's second final round appearance of the season.
"I'm on top of the moon right now," Crampton said. "There were great conditions, good enough to try to set national records. Hats off to everyone who made this happen and the Safety Safari that did a fantastic job once again. I can't believe how many fans hung tough through this bad weather we had and enjoyed the racing with us."
Antron Brown, who lost in the second round to Dixon, remained in the series lead, 53 ahead of defending world champ Tony Schumacher. Crampton moved into third place with the win, and trails Brown by 81.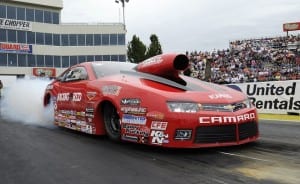 In Pro Stock, Enders claimed her third victory of the season and 15th of her career by clocking a 6.584 at 209.33 in her Racing In Red Chevy Camaro to race past Greg Anderson, who finished in 6.591 at 209.14 in his Summit Racing Camaro.
"My guys are really incredible and it speaks volumes of what they're capable of when they're given the tools that they need," Enders said. "The last time we did this was Norwalk last year; [running] low e.t. of every round of qualifying and eliminations. It's definitely a feat, especially with Pro Stock being as competitive as it is."
Defending world champ Enders won the race from the No. 1 qualifying position and beat Mark Hogan, Jonathan Gray and Larry Morgan in earlier rounds before holding off rival Anderson, a four-time world champ and four-time Topeka winner, in the final.
"I know [Greg Anderson] doesn't like to lose to me," she said with a smile. "He doesn't like to lose to anybody; he has a very competitive spirit. He got us last weekend in Atlanta, so I was happy to pay him back a little bit – but all in good fun."
With the victory, Enders took the series points lead away from Jason Line and leads by 58 markers. Anderson remained in third place.
The NHRA Mello Yello Series continues June 4-7 with the Toyota NHRA Summernationals at Old Bridge Township Raceway Park in Englishtown, N.J.