Bartone Bros Racing won Top Alcohol Funny Car at the Circle K NHRA 4 Wide Nationals at zMAX Dragway today.
The Killer Bs made up of car owner Tony Bartone, driver Sean Bellemeur, and tuner Steve Boggs had the car to beat all weekend. Fastest in each run, Bellemeur drove the Bartone Bros Racing Chevrolet Camaro to a 5.453 @ 267.96 MPH final pass to take the Wally. The win is the team's second in as many weekends taking a regional victory in Las Vegas last weekend.
"The Killer Bs deserve this," Bellemeur said. "We had the car to win in Vegas and I just didn't come through for them. For Tony, Steve, and the guys they deserve this win. We had a missile all weekend long going low ET. The car is phenomenal.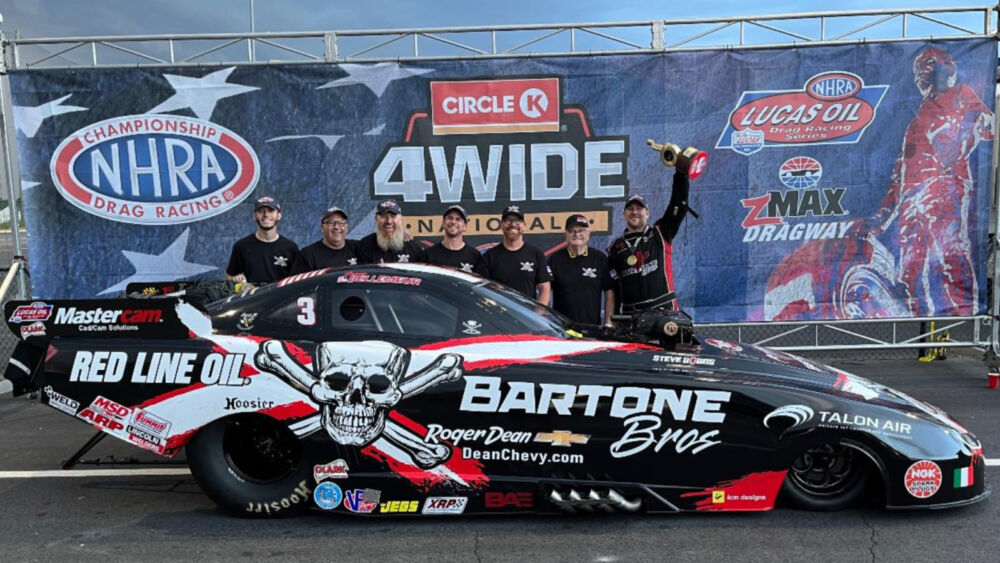 "It feels like we are on a roll. We stayed in Vegas and won the regional last weekend. I think we are getting back to our Killer Bs form. I can't wait until next week. Time to start catching up in points to some of these guys."
The team will travel to Lucas Oil Indianapolis Raceway Park next weekend for a regional to support the Cleetus & Cars event, May 6-7.
The team would like to thank team sponsors Red Line Oil, Roger Dean Chevrolet, Talon Air, NGK Spark Plugs, Mastercam along with product sponsors Simpson Performance Products and Taylor Motorsports Products.