By Ainsley Jacobs
Many have come close in the past, but it was longtime Ford racer Dwayne Barbaree (above left) who became the first NMRA Street Outlaw driver to break the elusive six-second ET barrier and earn a place in the history books.
On May 2, at the 14th annual SCT NMRA Nationals presented by Downs Ford Motorsport at Maryland International Raceway, Barbaree clicked off an incredible 6.976 at 199.82 mph for the first-ever Street Outlaw six-second pass.
"In the car it was hard to tell just what we had done. I knew it stayed on the back tires for a while and I was thinking that if it climbs I was just going to knock it into high gear instead of lifting, because there's no way it'd run even a seven-second pass if I lifted," Barbaree recalled of his first qualifying attempt for the event.
"I could tell the old girl was going pretty fast, so I just waited and waited, and finally she settled down. I really didn't know what it ran; I just knew it was good.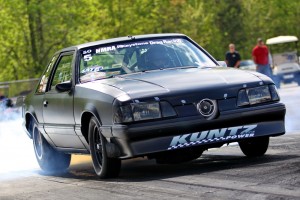 "I got off the track and the first guy who told me the news was Sean Ashe since he had gone right after me. He had a weird look on his face and yelled 'Dude, it went a 6.97!' I love driving that car, that thing's crazy!"
The El Dorado, Arkansas, native first started competing in the NMRA series during the 2000 season. Beginning with Pure Street, Barbaree moved on to the Renegade class before finally settling into Street Outlaw, where he now races his Fox-body Mustang. He and car owner Russell Stone found the car while taking some time off from racing a few years back, when they were watching an NMRA event at Bowling Green, Kentucky.
"We spectated for two or three years, and in the summer of 2012 Russell saw a 'For Sale' sign on a black Outlaw car. Russell said, 'I think I need that car,' and we bought it. I didn't even have a license to drive it at the time. We fixed it up, made a few licensing passes, and did okay last year even though we didn't know much about it," Barbaree explains.
Now, he and Stone have gone from simply "okay" to "record-setting."
As the inaugural member of the new Street Outlaw "Six-Second Club," Barbaree says, "it was definitely a milestone accomplishment, but it also took a little pressure off us for that event. Even though we didn't go very far in eliminations, we still had something to be proud of. There's never going to be another first 6-second run, so we're super stoked about getting that done."
With the six-second run secured, Barbaree now has his sights set on breaking the 200-mph barrier marker in the class. Before they had even left the state of Maryland, Stone was already on the phone working out a plan.
"Everybody's figuring out ways to go quicker, and we're doing the same. Russell's a great owner because he doesn't mind buying the parts and pieces to make it happen," Barbaree says of their partnership.
Utilizing a rare stretch of downtime, the team is currently taking the opportunity to make some adjustments to the car at Barbaree's shop and the team's home base, Wheels Up Performance Auto in El Dorado.
"Our focus is on running the first 100 feet of the track consistently. We're just getting runs on the car and taking notes. Trying to get down the track more, that's our biggest challenge. It's definitely got the power, there's no doubt about that, and we're looking for more final rounds," Barbaree says.
"We're low key, we don't have anyone backing us," Barbaree tells of his team, which consists of himself, owner Stone, Justin Jeeter who "always has something intelligent to add," the team's "cook and bossman," David Gates, and Chad Husbands. He adds that "everybody knows, without a happy wife there would be no racing," and is grateful to have the support of not only his own wife Leslie, but Stone's wife Allison as well.
Running a Keith Neal transmission, ProTorque Revolution Gen X Series bolt-together torque converter, Precision GEN2 Pro Mod 94 turbocharger, and a potent powerplant straight from the guys at Kuntz and Company, Barbaree will undoubtedly be on the hunt for the next great milestone when he hits the pavement for the inaugural Quick Fuel Technology NMCA Muscle Car Nationals May 23-25, in Madison, Illinois.