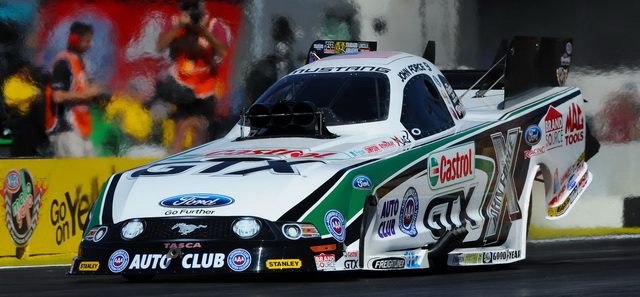 It's been 14 years since John Force last won a race at Old Bridge Township Raceway Park.  That's the longest the Hall of Fame Funny Car driver has gone without a victory at any track in the NHRA Mello Yello Series.
The fact is, he hasn't even reached the final round since 2004 and is only 8-8 in his last eight appearances in the Toyota Summernationals, contested this week for the 44th time. Nevertheless, it would be ludicrous to discount the sport's biggest winner from the title conversation when the world's top drag racing professionals once again convene for the Northeast's biggest event.
At an age when other 60-somethings are content to spend their weekends astride nothing more powerful than the riding mower, Force will climb back into the cockpit of a 10,000 horsepower Castrol GTX Ford Mustang with a better-than-average shot at ending his recent malaise on one of the tracks on which he got his start.
When no one else could see any potential in the former truck driver, the late Vinny Napp started booking him into Raceway Park for Wednesday and Saturday night Funny Car races.  That gave Force encouragement and credibility at a time when he needed both.  He's never forgotten it, either.
"It's always special to come back to Englishtown, because that's where I got my start," Force recalled.  "I hadn't even been east of Phoenix when Vinny Napp booked me into one of his Funny Car races (the first time).  Once that happened, a couple other promoters gave me a shot and it just grew from there.  If Vinny Napp hadn't had faith in me, none of this would have happened."
What happened is a Horatio Alger story on wheels that brings Force back to his roots as a 15-time series champion, a 134-time tour winner and, while still active, an inductee into both the Motor Sports Hall of Fame of America and the International Motorsports Hall of Fame.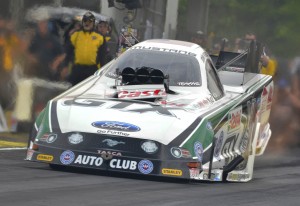 Not that those accomplishments will mean anything this weekend.
"That's old news," Force said.  "Nobody's gonna cut you any slack because you're in the Hall of Fame – and I wouldn't want them to.  But I still believe I can win and as long as that's true, I'm gonna stay out here.  I love it.  I love driving my hot rod, being out here with my girls (daughters Courtney and Brittany both drive) and with Robert (son-in-law Robert Hight).
"I tell people I grew up in a trailer park (in Bell Gardens, Calif.) and I'm still in a trailer park.  The only difference is the trailers are bigger and nicer."
Force owns 10 of the biggest and nicest.  They house six Funny Cars (two for each of the three teams), two Top Fuel dragsters, the Castrol Technology Center and a full complement of spare parts.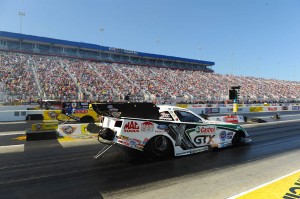 Just over two years removed from his most recent championship (2010), Force nevertheless admits that he has struggled the last couple of seasons.  Although he has continued to win (prevailing at Denver in 2011 and at Pomona, Calif., a year ago), he hasn't done so with typical Force flare.
This year, he's won just five rounds in eight races and has yet to reach the finals.  However, two weeks ago, he earned the 141st No. 1 start of his career, set a Heartland Park-Topeka track record at 4.043 seconds and, on Monday after the race, dipped to 4.01 seconds in testing.
That sends him into the Summernationals with the kind of confidence Vinny Napp instilled in him 30 years ago.  Coupled with returning crew chief Mike Neff's expertise (he won at Raceway Park as a driver in 2011), that may be enough to insure a very Force-ful weekend.
(Photos courtesy JFR/Lewis; Click to enlarge)