Reigning world champ Brittany Force opened the 2023 NHRA Camping World Drag Racing Series season in impressive fashion, racing to the provisional No. 1 qualifier on Friday at the 54th Amalie Motor Oil NHRA Gatornationals at Gainesville Raceway.
Bob Tasca III (Funny Car), Erica Enders (Pro Stock) and Steve Johnson (Pro Stock Motorcycle) are also the provisional No. 1 qualifiers at the first of 21 races during the 2023 NHRA Camping World Drag Racing Series season. The second qualifying session in Top Fuel and Funny Car on Friday was cancelled due to inclement weather
Force, who posted 10 No. 1 qualifiers in her championship season a year ago, went 3.699-seconds at 336.99 mph to kick off the season in her 11,000-horsepower Monster Energy dragster. Force's first career victory in Top Fuel came in Gainesville in 2016 and she's eager to repeat that to start her championship defense.
"It felt really good to come out at the first race and the first run of the season and go to the top," Force said. "It was incredible. We spent a lot of hours and a lot of days testing this off-season, and we kind of picked up where we left off last year. It's the same group of guys and it's a great start to the season.
"We always want to improve and that's our motivation. We had five wins last season and we want more, and ultimately, we want a back-to-back championship. I look at that championship as motivation because we want to do it again."
Selections were also made for the Pep Boys NHRA Top Fuel All-Star Callout, which takes place on Saturday in Gainesville. Force picked Clay Millican with her first selection, while Steve Torrence, the defending Callout winner, chose Doug Kalitta and Justin Ashley picked Mike Salinas, making Josh Hart and Austin Prock the final matchup. The opening round takes place at 1:20 p.m. ET on Saturday.
In Funny Car, Tasca went 3.888 at 330.72 in his 11,000-horsepower PPG Ford Mustang to jump to the top spot. If it holds, it would be his 10th career No. 1 qualifier. With new crew chiefs Aaron Brooks and Todd Okuhara in place for the 2023 season, it was an impressive showing for Tasca, who posted solid results in testing and has big hopes for the upcoming year.
"We lost all but two people on our team and we brought in Todd Okuhara and Aaron Brooks, and it's exactly what my program needed," Tasca said. "We didn't do enough at the beginning and end of the season, and we need to make sure our car runs better at the beginning and the end of the season. I think you're going to see a different Tasca Racing program going forward. I love the attitude of this team and their work ethic. I haven't been this excited for a season in a long time."
John Force is currently second after his run of 3.898 at 335.07 and J.R. Todd took the third spot thanks to a 3.900 at 329.99.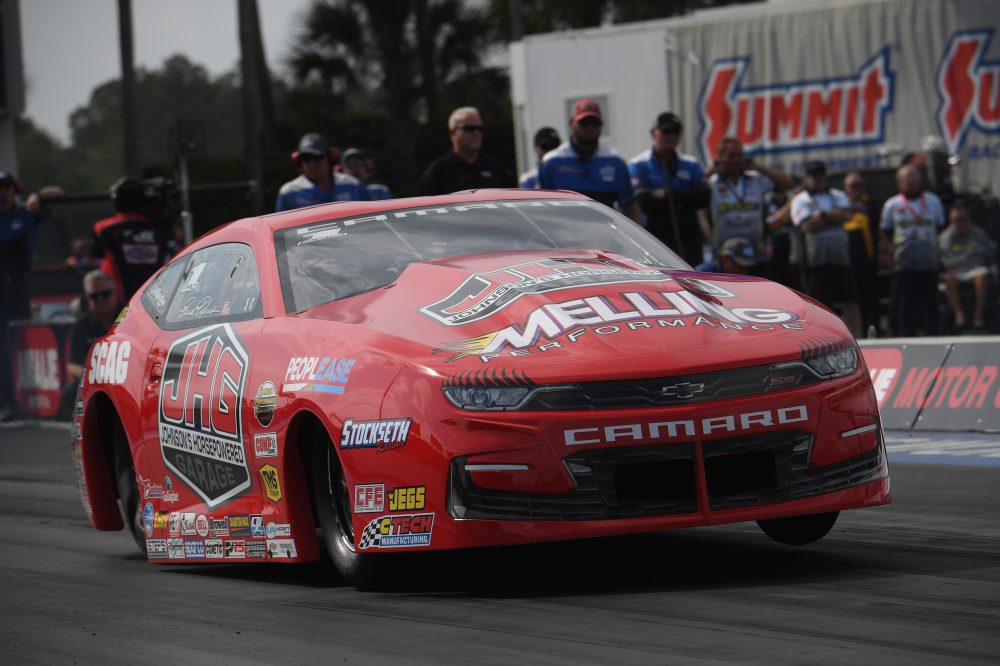 Enders, the reigning world champ, rolled to the No. 1 position in Pro Stock on Friday after her pass of 6.538 at 208.84 in her Johnson's Horsepowered Garage/Melling Performance/Scag Chevrolet Camaro. It was a dream season a year ago for Enders, who claimed her fifth world championship on the strength of 10 victories, but a victory in Gainesville remains atop her list. She lost in excruciating fashion a year ago at the Gatornationals, losing on a holeshot while making the quickest run in Pro Stock history and she's determined to have a different result in Gainesville to open 2023.
"As far as my to-do list, we can start off with winning the Gatornationals," Enders said. "I'm thrilled to be the provisional No. 1 qualifier tonight. We had one extra month in the off season so we're ready to go to battle and to defend our title."
Camrie Caruso was the quickest in the opening session and is now second after going 6.551 at 209.98. Bo Butner is right behind thanks to her run of 6.552 at 209.52.
Johnson delivered a 6.746 at 198.90 on his Steve Johnson Racing Suzuki to take the provisional No. 1 spot in Pro Stock Motorcycle. It was a welcome sign for Johnson, who started strong last year before struggling down the stretch. The veteran still has championship aspirations in a class filled with talent and remained focused on improvement.
"Our sport is so diverse and exciting," Johnson said. "I would love to come out here and win a championship. I've seen the mistakes I've made, and the teams out here work so hard, so it's not easy. We've got a lot of great new riders and it's hard to ride these motorcycles perfectly. I rode pretty well today and, for me, it's all about fundamentals and when you can concentrate on that, the motorcycle is going to have a really cool response."
Rookie Chase Van Zant enjoyed a strong debut on Friday, going 6.747 at 200.80. Gaige Herrera, who joined the Vance & Hines team in the off-season, is a spot behind with his 6.749 at 200.59.
Qualifying continues at 12 p.m. ET on Saturday at the Amalie Motor Oil NHRA Gatornationals at Gainesville Raceway.