Brittany Force and her Castrol EDGE Top Fuel dragster continued to improve June 1, posting consistent runs that eventually qualified the rookie driver 13th with a 3.908-seconds pass at 315.78 mph.
That momentum gave the Automobile Club Road to the Future Award candidate the confidence to defeat veteran Doug Kalitta in the first round for her third round win of the season.
Force used a starting line advantage, .071 to .096, to get her dragster to the finish line first even though her elapsed time was a shade slower, 3.884 to 3.873 seconds, than the Mac Tools dragster.
"I was very excited to be qualified and running Doug Kalitta in the first round. I have really been working on my reaction time so to get a hole shot win was awesome. I have been talking with my crew chiefs and some other drivers on how to improve my lights and I have been practicing on my tree. I have really been focusing on that. My lights still need improvement to stay consistent but they are getting there. I knew I would have to have a good light against Doug because he is such a great racer," an elated Force said.
In the second round Force was tasked with racing one of the toughest cars and best leavers in the category, as she met up with Spencer Massey and his Schumacher Electric Battery Extender dragster for the first time in her Top Fuel career.
Massey left first this time, but both drivers soon encountered traction issues before Massey took the win with an off-the-pace 4.232 to Force's 4.301-second run. She did a masterful job of pedaling her dragster for the first time in her career, however.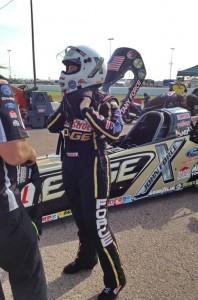 "Going into the second round racing Spencer Massey was another big round. He is an awesome driver so it was fun to get up there and run him. Unfortunately I didn't get the win light but I was able to pedal this Castrol EDGE dragster and get it to hook back up," Force said. "That was something new and I am learning something every run."
Force's comfort level at Old Bridge Township Raceway Park may have played a role in her success today.
"I was No. 1 qualifier here in A Fuel so that gives me some confidence here I think. I came back with a good attitude and some confidence that we would do well here. I am going to try and keep that same mentality at the next races this season," she said.
"Sitting in my dragster makes me more comfortable and lets me practice my routine. I spent more time in the car this weekend just in the pits going over my routine. The practice I think was very helpful."
(Photos courtesy JFR; Click to enlarge)