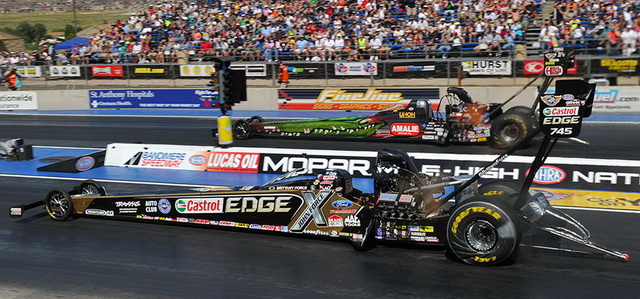 At the end of the day on Saturday (July 20), Brittany Force (above, near lane) solidified her qualifying position at the Mopar Mile High NHRA Nationals by re-taking her No. 3 qualifying position with a 3.918 second pass at 309.63 mph. It also marks her best qualifying position so far in her rookie Top Fuel season.
Force had slipped to No. 4 after Steve Torrence jumped to the top spot with a blistering 3.880 second run. Force moved around Khalid alBalooshi and the Al-Anabi dragster, the most recent winner, to reclaim the No. 3 spot in Top Fuel and a first round match-up with journeyman Scott Palmer.
"The first qualifying pass we smoked the tires at about half-track, so I lifted and just coasted on down the track. The final session we made it all the way down the track and improved from our run yesterday. We ended up running a 3.91, so we earned another bonus point. That ended up bumping us up from the No. 4 position to the No. 3 position," Force said.
"The team is so pumped right now. They're so excited about it. This is exactly where we needed to be. We have (Richard) Hogan who came on board to help out my crew chiefs Dean Antonelli and Eric Lane, we got a new hot rod that is 100 pounds lighter and it's definitely showing that it's going to run."
Brittany Force's qualifying effort was the second-best qualifying finish by a woman every at the Mopar Mile High NHRA Nationals. Ironically, the best qualifying performance was Melanie Troxel's No. 1 qualifier in 2007 driving a Top Fuel dragster tuned by Richard Hogan, the veteran tuner who joined the Castrol EDGE Top Fuel team last race in Norwalk and has been working side by side with Dean Antonelli and Eric Lane.
With the added bonus points following her strong qualifying runs, Force improved from 13th in the Mello Yello points standings to the 12th position. This gave Force and her team an extra boost of confidence going into Sunday as she will face Scott Palmer for the first time in her racing career.
"That's exactly what we needed," the 27-year-old Yorba Linda, California resident said. "Gaining those extra points and just moving up whether it's a little bit at a time, but tomorrow we're going to try and make our way up even further.
"I've never raced Scott Palmer, so I'm excited to be racing him in round one. Hopefully I'll get a chance to talk to him before we make our run. I definitely want to go some rounds tomorrow and get a win, but for everyone running tomorrow, just safe runs would make me happy."
(Photos courtesy JFR/Lewis; NHRA; Click to enlarge)