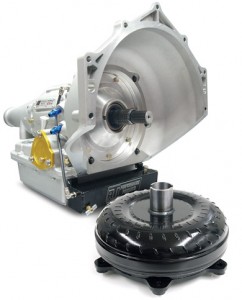 If you have a high horsepower race car and want to get all of your power to the pavement, ATI has the solution: ATI's new 1.62 Superglide 4 transmission is designed to handle up to 3,500 horsepower thanks to it's heavy duty 1.62 ratio Vasco gear set, patented ATI ringless 1-3/16" input shaft, T400 Output shaft, aluminum Super Pump, and adjustable Wicked Quick valve body all packaged in an ATI SFI-certified Supercase with your choice of SFI bell-housing make or SFI 6.3 "Can". An ATI Outlaw Torque Converter is included with every Superglide 4 purchase and an optional Lock-Up version is available. The 1.62 Superglide package allows racers to leave the line with more power and get down the track quicker as track conditions change or can help with traction if you run a limited tire. ATI's Superglide has been in the field for more than 5 years with thousands of runs on these units. An Industry leading 1 year warranty against any hard part failures comes with all Superglides and is offered with an available second year with maintenance.

ATI Performance Products, Inc. is located in Baltimore, MD, and specializes in producing and maintaining high performance products for street and strip applications. Over the years ATI has earned a reputation for its cutting edge technology, attention to detail, and rigorous testing under race conditions.
Visit ATIRacing.com or call 1-866-203-5094 for more information.