It was a great weekend for ATI racers at the NHRA Division 1 event at Cecil County Dragway, where ATI Performance Products, Inc awarded $1,000 each to the winners in Stock and Super Stock as part of the 2nd Annual Jim Beattie STK/ SS Memorial.
Brad Huntzberry (pictured above) took the Super Stock win in his ATI equipped '87 GT/DA Camaro over Marty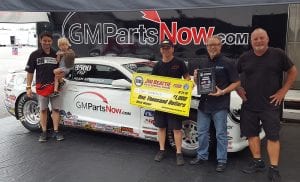 Rinehart while the $1000 award for Stock Eliminator was split between the winner, Todd Hoven, and Runner-up, Adam Berberich (pictured at right) driving Victor Cagnazzi's 2015 DS/F Camaro.
ATI would like to thank the staff of Cecil County Dragway and NHRA Division 1 for their help in making the 2nd Annual Jim Beattie STK/SS Memorial Race a success. ATI's headquarters are located a short drive from Cecil County Raceway just outside Baltimore, MD, and specializes in racing and high performance driveline and engine components.