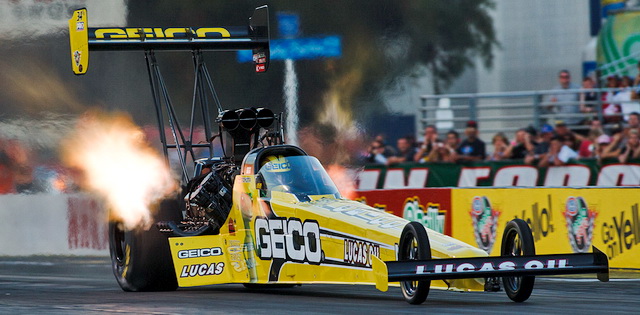 Shortly before last weekend's NHRA Finals, Morgan Lucas announced  that he would be stepping out of the GEICO/Lucas Oil Top Fuel dragster cockpit starting next year in order to learn the family business, so this race would be his last as a full-time racer for the foreseeable future.
On Sunday (Nov. 10), Lucas closed this chapter of his Top Fuel career with an oh-so-close, .0006-second loss to Clay Millican in the second round of eliminations at the NHRA Finals on Sunday.
"I love this sport, I'm just going to be taking a different angle on it in the future," Lucas said. "I'm looking forward to this next chapter in my life and career."
Lucas ends the season with a career-best fourth-place finish in the Top Fuel standings. He and Spencer Massey both ended the season with 2,422 points, but Lucas held a 1-0 advantage over Massey head-to-head in the Countdown (the finals in Charlotte), which was the tie-breaker.
"I'm so proud of what this team has accomplished this season," Lucas said. "We've been chipping away at it every race. Our goal has been to improve and race smart, and we've been done a lot to be proud of. The final spot in the points is just the cherry on top."
Lucas collected wins at Seattle and Charlotte, made the finals in Sonoma and qualified No. 1 three times on the year (Chicago, Charlotte 2 and Reading).
On Sunday, Lucas and the GEICO rail were in the first pair down the track and turned in a picture perfect 3.793-second pass at 325.22 mph to roll to a solid win over Terry McMillen, who smoked the tires and crossed the finish line 4.949 seconds at 145.61 mph.
Up next was the pairing with Millican, who had lane choice. Lucas enjoyed a slight edge off the starting line but the two cars were wheel to wheel all the way down the 1,000 feet to the finish line.
Millican crossed the line first with a time of 3.776 seconds at 325.77 mph, which ended up just a fraction ahead of Lucas, who turned in a time of 3.782 seconds at 320.13 mph.
"We were third quick in second round," Lucas said. "We would have beaten everybody but Clay in that round. If I had to lose my last professional race, I think that's the way to do it.
"It was a close race, we both gave it our all and we just didn't end on the upside of it. We made a great run, somebody else just made a better one."
Despite yielding the driver's seat to crew member Richie Crampton next season, Lucas said he's already getting excited for what's in store for the 2014 season.
"The GEICO team is going along pretty well," Lucas said. "Our crew chief Aaron Brooks is doing a good job of leading this group. I hope these guys will be able to deal with me because I'm going to have a lot of energy and it's probably going to be a pain in their (neck).
"I'm a little somber at the moment, too. But the future of this team is so bright; it's so exciting. One door is closing but another is opening and the possibilities are endless."
After a testing session in January, the GEICO/Lucas Oil Top Fuel team will to return to Pomona in February for the Winternationals.
(Photos courtesy Morgan Lucas Racing; Click to enlarge)