Consistency, unity and hard work carry the Top Fuel star to world championships and Top Gear America co-hosting gig
Antron Brown waltzes into the main entrance of Don Schumacher Racing's immaculate Brownsburg, Indiana-based race shop, bringing with him an unmistakable energy that's turned the former Pro Stock Motorcycle phenom into one of professional drag racing's biggest stars. He greets the receptionist, asks how her day is going, then checks in with his publicist before we settle on a vacant board room, where we'll spend the next hour talking about drag racing.
The beaming smile on Brown's face is replaced with a look of concern as we sit down at the table where numerous high-dollar sponsorship deals have been pitched and signed. Something is clearly on his mind. "Let me show you something," he says as he pulls up a recent Seattle Times piece about the driver of the Matco Tools Top Fuel dragster on his iPhone. "This story says I have a 438-117 record in head-to-head competition—a winning percentage of 71.2—I never realized that until one of our sponsors at Toyota Racing showed me this article."
The story goes on to say Brown's winning percentage is higher than peers like DSR teammate Tony Schumacher (67.7 percent) and 16-time Funny Car World Champion John Force, who's amassed a winning percentage of 69.6 over a decades-long career of head-to-head drag racing. Brown isn't sharing the article to show off or brag about his accomplishments. He's using it to provide context to a question he's increasingly asked by sponsors and friends: "Why aren't you being nominated for Driver of the Year honors?"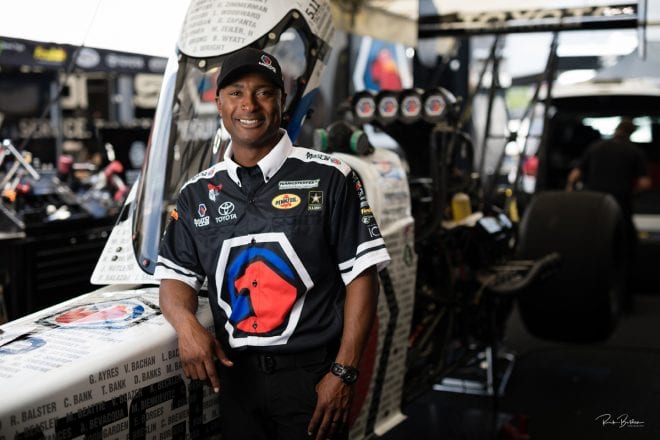 "It's one of those questions that's baffled me," he admits. "I have sponsors that ask questions like, 'Man, we figured you'd be nominated for this,' or 'Why didn't your team get nominated for that?'. And we don't know. We just don't know what it takes to be recognized from that standpoint. Driver of the Year is always one big award from ESPN and the ESPYs, but there's other awards besides that, too. Our main focus right now is we try not to look at things like that because one day when we retire we can look back at all the stuff we have done, our whole work together as a unit.
"As of now we're just going to keep our heads down and keep plugging and keep working hard. Then maybe one day people will recognize what we've done. Hopefully they don't recognize it when you're five championships down the road, you know what I mean? Right now, we're working on our fourth title and we're working hard at it. That's going to be our focus right now."
Brown grew up on his grandmother's 10-acre farm in Chesterfield, New Jersey, a small Trenton suburb where in 2016 a street was named after the still-rising Top Fuel star: Antron Brown Way. He was exposed to drag racing at a young age, going sportsman racing with his father, Albert, and his uncle, Andre. By his senior year of high school Brown was racing motorcycles on the local drag strip.
"I distinctly remember eating, sleeping and dreaming about drag racing," says Brown, 41. "I used to draw and doodle dragsters when I was in school. I wanted to race. One person told me when you eat, sleep and you dream it, you don't realize that you become it, and I became it probably when I was 10 years old. I just did everything along the way to bring me into that realm. I started off working on a team, to testing motorcycles and riding street bikes."
Brown's passion for two-wheeled drag racing continued in 1998 when he entered the NHRA Pro Stock Motorcycle ranks with a bike owned by star NFL cornerback Troy Vincent. After joining the U.S. Army team with teammate Angelle Sampey in 2003, Brown would earn 16 Pro Stock Motorcycle victories in 33 final rounds.
"Four years into racing Pro Stock Motorcycle, I did the Army deal; went through basic training. When I got out of that basic training—to make it short and sweet—it taught me to believe in myself and that you should never settle. It's not that 'I can't;' it's always 'I will' and 'I can.' Once I got that Army motto in my mind and started to live that lifestyle, that's when I put my eyes on Top Fuel. Four years later, after still plugging away while I was riding bikes, I got to live the ultimate dream, and that was to drive a Top Fuel car."
Brown got the call to move up to Top Fuel in late 2007, taking over the seat of the Matco Tools dragster fielded in 2008 by Texas businessman David Powers. He raced to his first Top Fuel win in just his fourth start, beating three-time world champion Larry Dixon in the final round at Houston. The team later traded hands to Mike Ashley, who hired former Funny Car driver Mark Oswald and longtime Funny Car crew guy Brian Corradi to tune the car. The trio stayed together when Don Schumacher added the Matco Tools team to his expanding stable of nitro entries late in 2009.
Brown and his "Matco boys" have done exceptionally well during their time racing together. Leading into this year's NHRA Countdown, his Top Fuel credentials boast 49 event wins, 38 low-qualifier awards and three of the last five NHRA Mello Yello Series world championships: 2012, 2015 and 2016.
The Matco team's ability to string together winning passes—especially in the crucial Countdown portion of the season—has created a unique situation for them. Whenever they win a race, they celebrate conservatively and pack up. When they finish the season as the number-one team in drag racing's most elite category, the achievement isn't met with overwhelming praise from the media, no ESPY award nominations or magazine covers. It's almost as if a championship-level performance is expected from Brown and company, almost as if winning is just business as usual.
One easily identifiable reason behind Brown winning no less than six races per year since 2009 (excepting 2010 and 2013), has been the consistency of his team throughout that time. Assistant crew chief Brad Mason and car chief Wayne "Red" Waite have been with Brown since his first race in Top Fuel. Oswald and Corradi came along one year later. In the fast-paced NHRA nitro racing circles, where crew chiefs bounce around from team to team, sometimes multiple times in the same year, the ability of the core group to stick together is a rarity. The unity of the Matco team has made its crew members the envy of those who aspire to join a championship-caliber Top Fuel team.
"You have five of us that have been together through thick and thin for the last nine years," Brown reports. "The other key-component guys have been together with us for years. We've lost guys one at a time, but it was when guys just retired from the sport. The unique thing that we have with our team is we've never had somebody who wanted to leave our race team to go somewhere else. They stay or they retire from racing because they want to have a family and not go on the road anymore. We have people waiting in line who want to be on our team.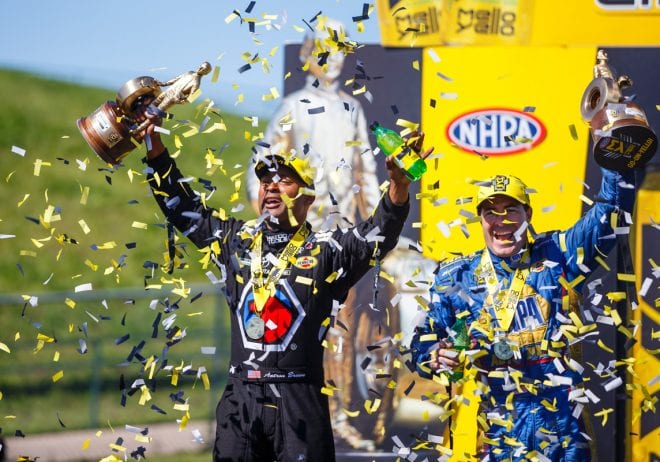 "When you have a team like that, people who want to be here and have that same desire, same passion, same determination; we don't have to motivate each other to do what we want to do. We already got that. We can look at each other and not even say a word and know what each other is thinking. Once you get that symmetry, that's when you have those unbelievable things happen like we've had happen, the round wins, the success, the pushing for world records, winning the championships and things of that nature," Brown offers. "That's what comes with it."
Unity within the team over several years has allowed the group to develop a mentality that is every bit as important to their ability to win as the parts that make up the Matco machine and the tools used to put it all together.
"We attack every event, every round of racing that we do, and we give it our all. We never look back at the end of a race and go, 'Woulda, coulda, shoulda,' or ask 'What could we have done different?' We gave it our all and did everything we thought was right at that given moment. Those moments that don't go our way, we go, 'OK, well, this is going to make us better.' When we struggle, that's when it actually pushes us to step up to that next level.
"That's what we see each and every year. We challenge ourselves every year. We start off the year good and we battle for the points lead. We had the points lead taken away, then we battled back and now we have it back again. These are the things that make us stronger and make us better. We don't fold. We don't worry about, 'We messed up at this race.' We look at how we can be better at the next one and how can we raise the bar and go beyond that. That's the zone we're in right now."
Though he might not spend much time looking at the statistics or boasting about his success, Brown appreciates what he and his team have achieved during what is arguably the most competitive era of Top Fuel.
"When we go back and look at our track record for 10 years being in the nitro category, as a team we've won more than 71 percent of the rounds that we raced; that's a high percentage," Brown asserts confidently.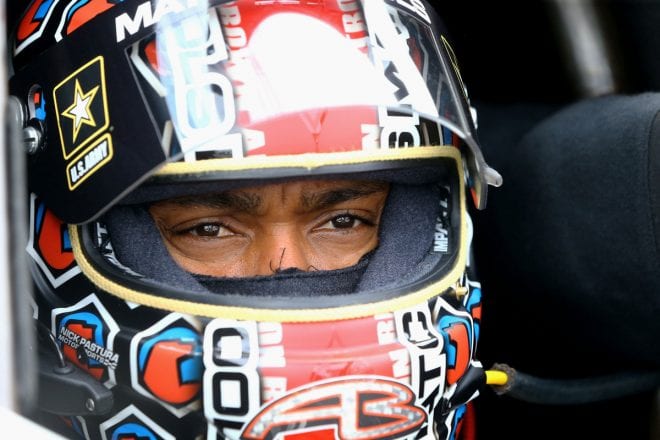 "We're beyond Force. We're beyond Tony (Schumacher). I never looked at it that way. To have a record like that right now, in the last six years of Top Fuel the racing's been phenomenal where we have over eight teams that can win the championship and over eight teams that can win a race. They didn't have that back in the day, you know what I mean? It was like two or three stallions that were in the game, that were in the mix to win a championship. Now in today's age, to be able to compete at the level that we compete at and the way our team performs, it's phenomenal. I've been very fortunate and blessed with the two crew chiefs and the team I've got because we all focus so hard on each and every round of racing that we enter. Those are the type of results that we get from that mindset."
Ambassadors, every sport has at least one, someone who excels on the given field of competition, but also champions the game at every opportunity when away from the confines of the boundary lines. Here, too, is where Brown thrives, representing NHRA Mello Yello Series drag racing with passion. Where some drivers show excitement that occasionally appears forced, Brown's enthusiasm always comes across as natural and sincere.
"I never look at this as a responsibility; I look at it as my love," he explains. "I'm deeply passionate about our sport and what we do. I want to see it grow and I want to show the youth coming up that we have opportunities to work here. Motorsports is a big business. People know that now because they actually have college degrees for motorsports, for marketing and management, PR, truck driving, CNC machining, fabricating, composites, everything. It's so easy for me to go out and talk about our sport."
He's just as passionate about helping young people find their place in the sport as he is about maintaining his spot atop the points. Maybe it's because Brown has been training for this, his dream job, since he first walked through the gates at an NHRA national event. Brown's first memories of "the big show" are etched into his mind. He relives them every time he picks up a Sharpie to sign autographs and spend time with his fans.
"One thing about this sport that gave me hope and a love for it when I was a kid was the access that it has. Every ticket is a pit pass. You just get in and you're a part of the show. When I was 10 years old, my dad brought me to my first national event, the Summernationals at Englishtown back in '86," Brown says, a smile washing over his face.
"I will never forget what I saw and what it was all about. I was like, 'Oh my goodness! That's Kenny Bernstein! That's Big Daddy (Don Garlits)! Big Daddy's right there, I can touch him! That's Dave Schultz, the 'Milk Man,' all in white!' I remember going out there and seeing people like Joe Amato, Darrell Gwynn, Mark Oswald, (Raymond) Beadle, all the greats of the sport. And I saw John Force when John Force wasn't the John Force that he is today; you get what I'm saying? He was talking the same, but he was still trying to make it happen. When I was able to see all that, it started giving me that sense of I can be here someday.
"I started seeing it and putting it together in my mind, and when you get something like that from a sport—and I'm living that dream that I had when I was a kid—it's automatic to give it back to the youth so they can experience the same experience I had, so they can have that ray of hope that I had, so they can field their dreams and make them a reality. That's what I think our Mello Yello Drag Racing sport is all about. It's walking that walk, but you want to end up going through that finish line and making it happen. I think it's all our responsibilities as professional drivers to give that back and to be that type of ambassador for the sport."
It can be said that a career in professional drag racing was more attainable when Brown was growing up. However, he doesn't see it that way.
"The thing about it is I see that this generation has a lot more options than what I had when I was growing up. They didn't have Jr. Dragsters when I was growing up. Kids can start racing Jr. Dragsters now at five years old, and then you can go into a street car at 14 years old," he points out.
Beyond the driving aspect, today's young people can find a wealth of opportunities throughout the sport. Perhaps more importantly, they're exposed to those opportunities more frequently than ever before.
"The awareness is at a whole new level, especially with the U.S. Army doing the Youth Education and STEM program, bringing high-school and college kids out to see what we're all about at the NHRA. These kids get to see the different opportunities, where they can go to school. They can come out of high school and get a degree from UNOH, from Lincoln Tech, from Western Tech, from all these different tech schools and colleges, and actually get a degree in High Performance or Race Performance Mechanics or Engineering, and they'll come over into our sport.
"That's been making our sport grow, and not just grow 'out,' but also just the intelligence factor of it. We're bringing the science into the sport. That's why you're seeing our cars go down the track 90 percent of the time. Back in the day, if you had a car that would go down the track 70 percent of the time, you would've won all the races. Now we're going down the track and we're running within a thousandth of a second of each other. That's because of all the new modern technology and all these kids who are coming out of college, coming right in and bringing that new way of thinking into our sport."
Just as he's seen the talent side of the sport growing rapidly, Brown has noticed a new wave of fans coming through the gates, filling the grandstands and tuning in on television. He believes the NHRA's new television package with FOX Sports, effective at the onset of the 2016 season, has helped the sport's audience become "bigger, better and wider" through an extensive live TV schedule and a selection of races being aired on the national FOX network.
"We've got people coming out to our races that have never been before," Brown says. "Once they see it in person, they're done; they're hooked like a big-mouth bass. They fall in love with the sport because it's like no other. That's what's great about our sport. TV helps get it out there, but now with the national and worldwide exposure, we're getting people to come visit. We're getting sold-out crowds; we saw it on the Western Swing and we're going to see it at the Countdown races. It's going to be out of control. That's what I've been seeing with our sport. Our sport is at the pinnacle where it's about to explode."
A rising mainstream interest in drag racing has been attractive to Brown's cast of supporters, another consistent factor behind the team's success.
"Our sponsors have been very excited about where drag racing is going. I've been fortunate with our sponsors. Matco just signed a contract last year all the way through to 2020, and the same thing with Toyota. Pennzoil has stepped up and Hangsterfer's Metalworking Lubricants has also stepped up on our car, and not just helping our shop out with the products, but also with money to help us with outreach. Streamlight Flashlights has also stepped up. We have a lot of new partners that are coming on board, and then with Papa John's being a part of all of DSR here, being on a national ad campaign with them, it's been huge," Brown says, referring to the commercials and pizza boxes emblazoned with the image of teammate Leah Pritchett's Papa John's car. "And I've been loving it."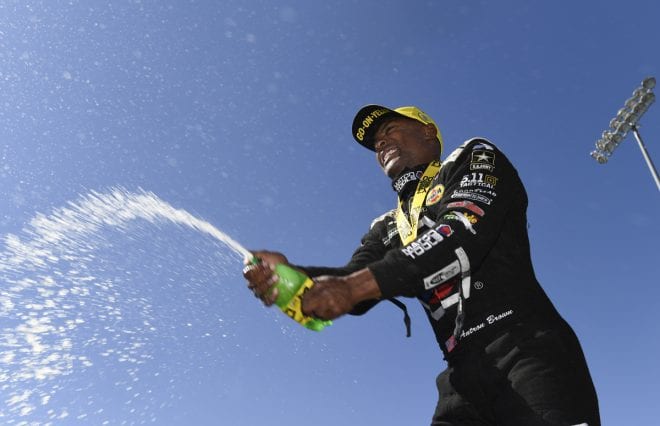 It's easy to see why brands are jumping at the chance to be involved with Brown, the Matco Tools team and the Don Schumacher Racing organization as a whole. Gone are the days of applying a sponsor's branding to the race car, equipment and team uniforms, and maybe doing an appearance here or there. Few racing outfits understand the complex 21st-century sponsorship game better than DSR.
"We do a lot of outreach with our sponsors 24/7," Brown notes. "One thing that is unique here at Don Schumacher Racing, which a lot of the teams—besides Force and Kalitta—don't have, is we're able to intertwine and do some really good B2B (business-to-business) deals with our sponsors.
"Like for the U.S. Nationals we're tying in Mello Yello and they're going to be on our car, but then Mello Yello and Coca-Cola are actually doing product (sales) with Matco on their tool trucks now. You're tying them in with each other to give them a direct return on their investment where they're making money off it. At the end of the day, it's business. It's not just about branding and putting their name out there. It's about them getting a return on their investment right away. That's what I think we do well here at Don Schumacher Racing."
Just as he uses a voice of authenticity to promote the sport, Brown represents his sponsors in a way that inspires confidence in the products he's pitching. It's a personal policy of his to only do business with brands he believes in and uses. His daily driver, a Toyota Tundra, can be found in his garage, alongside Matco tools and toolboxes he uses to wrench on his kids' Jr. Dragsters during the week.
"Myself, I'm always out there shaking the bushes and being a spokesperson for various companies. A lot of people know that I don't stand for anything that's a gimmick," assures Brown. "Anything that I put my name on and I'm backing, it's something that I truly believe in and is actually helping people out in a way. I want their product to perform the same way we perform on the race track, and that's at a championship level. Those are the only people I support and the only people I believe in. When I back something and I put my stamp on it, people can believe that it's the real deal Holyfield."
Brown's lovable personality and knowledge of all things automotive have helped him connect not only to drag racing's core fan base, but also to a mainstream audience through appearances on cable television. He appeared on a 2012 episode of A&E's Storage Wars, then was featured prominently in an hour-long episode of Idris Elba: No Limits, in which A-list actor Idris Elba learned to drive a Super Comp dragster. The 2015 show aired in 220 countries on Discovery UK before reaching U.S. audiences the following year during Discovery's hugely popular Shark Week.
When BBC decided to launch a new version of Top Gear America on its American channel, the network's casting directors went looking for hosts for the show. They wanted personalities with star power, but also an obvious knowledge of the cars they would be driving and discussing on the show. As it turned out, Brown is just the kind of guy they were looking for.
"I got a phone call one day and it was actually the casting director," Brown recalls. He said he had seen Brown's work in other television appearances and asked him to send in an audition tape for the reincarnation of Top Gear America. "I was like, 'OK, I'm familiar with Top Gear.' I watch it, especially the U.K. version with Jeremy Clarkson, (Richard) Hammond and the boys. I was a big fan of it."
Brown was not, however, a big fan—at least initially—of the idea of joining a show with a notoriously critical viewer base. "It was kind of nerve wracking at first because Top Gear has a lot of critics. You have some people who love it and some people who hate it. But if you love cars, you love any car show, and I'm a car lover. I grew up around cars, old-school hot rods and stuff of that nature, and race cars, of course—and motorcycles."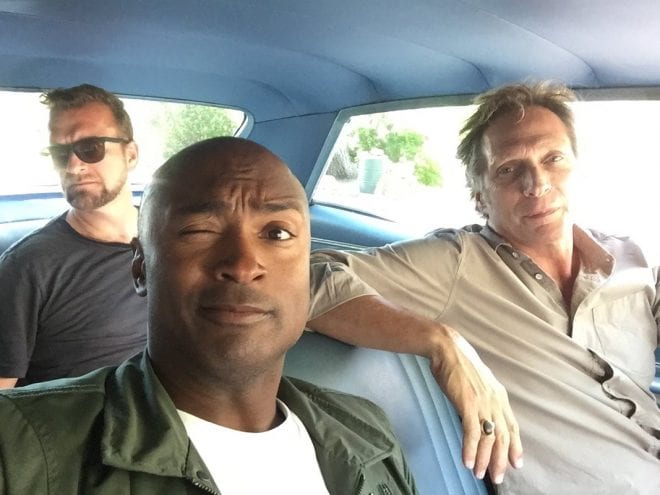 Brown's audition tape proved he was a natural fit for the position, but the show's directors wanted to see more. After filming the tape in one take in his garage, Brown was called back and asked to fly out to California to work on camera with the other candidates.
"They said, 'We like you and you're going to be one of the frontrunners, but you have to come do a cam test.' I get to the cam test and I'm like, 'I'm not a frontrunner! There's like 30 people here!' And they went through hundreds of people already. I did the cam test and I wasn't sure how it would go. I did a couple skits with a couple people and it was all right. It was cool, but I was like, 'I don't know if this is me.' I'm this easygoing person and I'm used to working on a team, and a lot of these people I was sitting down with, they were all about themselves. But then I lined up with William Fichtner and Tom Ford, who we call 'Wookie.' We had a mutual respect and we had a love of cars, but we understood how a team works. We made each other better."
Brown, Fichtner and Ford did a segment on an old Jaguar together, cracking jokes and playing off each other with the rhythm of three old friends. Their chemistry was obvious to producers and the other personalities on set. "The coolest part was when I saw the other people who were trying to get on the show, they looked at us and they got quiet. They saw the way Bill, Wookie and I interacted on camera and they were like, 'Damn, those three are good.'"
Without the team bond that he found in this new power trio, Brown might not have continued to pursue the opportunity to be a major player on the hit international program.
"I told the producers, honestly, I don't know if this is for me," Brown says of his first impression. "The people that I talked with before I met Bill and Tom, I was like, 'Nah, I'm good.' Because I can't do something I don't believe in. I'm not going to do it just to do it because it's TV. I already have a job. I already have something I do that I love. But I thought it would be cool because I could cut up and act like a clown and talk about cars. That's an awesome job! After I worked with Bill and Tom, I was like, this is going to work. This could be awesome. The producers called me back two weeks later and told me I got the job. So we were off to the races."
The new gig adds a layer of complexity to Brown's calendar, which already was packed full of races and sponsor-related appearances before weeks upon weeks of filming were added. Filming took place in locations across North America during the first half of the 2017 NHRA Mello Yello Series season.
"A lot of people thought that when I joined the TV show that it would hurt my racing because I was literally not going home. My wife would fly with me to wherever I was filming so I could see my family. I'd come home for a day and fly right back out to a race. I did that for two-and-a-half months, where I was home for two or three days out of that two-and-a-half months. The people here at the shop would bring a suitcase full of clean clothes for me to the races and I'd send them back with a suitcase full of dirty clothes so my wife could take them home, wash them and send them back to the next race."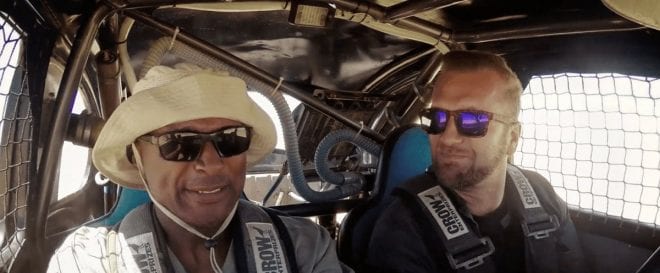 Somehow, Brown finds the time to fulfill his duties as a professional drag racer, a Top Gear America co-host, and most importantly, a husband to his wife of 17 years, Billie Jo, and father to his three children, daughter Arianna and sons Anson and Adler. "I can tell you one thing, my motto I always keep with me: God, family, work. When you keep it in that order, everything falls into perspective for me," Brown says.
Along with his motto, Brown credits his support system for allowing him to pursue his dreams to the fullest.
"I could not do it without my wife and kids, and also my whole family, my mom, my dad and everyone else," he emphasizes. "Throughout my whole career they always gave me their all. Whether I'm on the road racing or whatever it is, my mom and my mother-in-law help us out with the kids. My dad and my uncle always have my back anytime I need something. But my wife has been my backbone throughout my career in racing. She's been there every step of the way. We've done everything together."
Finally, one simple approach helps the ever-positive Brown tackle his responsibilities.
"I'm telling you, the way you get through it is you focus on one day, one hour, one minute at a time. I never look at what I must do the whole week because it'd kill me. What I do is I focus on one deal and I make sure I have fun with each and everything I do along the way."
To be clear, hard work brought Brown to this point in his career, and it's hard work that will keep him at the top, but he is most definitely having fun along the way.
"I already made my dream come true by being out here and driving a Top Fuel car with the team that I'm a part of," he says. "All the wins and championships—that's all been icing on the cake."