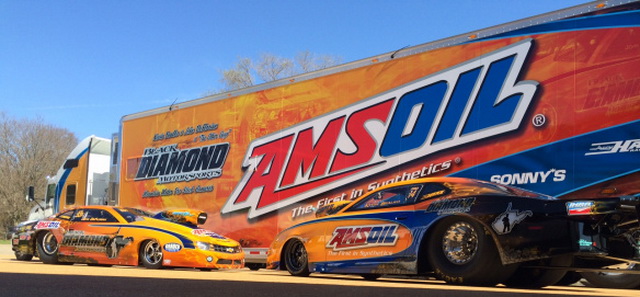 Black Diamond Motorsports is pleased to announce a partnership with AMSOIL INC., the First in Synthetics and recognized leader in synthetic lubricants since 1972 and the Exclusive Official Oil of International Hot Rod Association (IHRA) and Nitro Jam.
AMSOIL lubricants have helped racing teams in all forms of racing – from off-road trucks to dirt bikes and everything in between – capture countless checkered flags and season championships. AMSOIL believes that Racing is Research, and uses the data its racing efforts generate to tailor its formulations for even greater levels of performance and protection. The products that dominate at the track are the same products available to every AMSOIL customer.
Kevin and Karen Bealko of Black Diamond Motorsports (BDMS), alongside friend and teammate John DeFlorian, have gone from a single-car operation in 2007, to a two-car in 2014. The team's enthusiasm for drag racing has only increased along the way.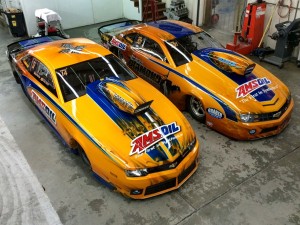 "Our Black Diamond crew is very excited to partner up with such an innovated group as AMSOIL," said Kevin Bealko. "We are committed to our common goal which is to work with the AMSOIL staff to continue the development of the best synthetics lubricants in the business."
BDMS has blazed onto the drag racing scene by resetting established elapsed time (ET) and Miles per Hour (MPH) speed records throughout 2012-2013 while accumulating multiple wins in both the ADRL and XDRL competition during the racing seasons and adding IHRA ET & MPH records coupled with a win for 2014 season.
DeFlorian obliterated the IHRA speed record in Mountain Motor Pro Stock, a record which stood at 223.95 mph since 2008. The speed was topped on two separate occasions by the Arnold, Mo. native, ending with an outstanding 226.70 mph pass in the final. The run not only gave the driver of the BDMS Camaro the record, but it also helped propel DeFlorian to his first victory in IHRA competition at the San Antonio Nationals as he bested Cary Goforth in the final.
Up next for BDMS is the Nitro Jam event at Bradenton Motorsports Park in Bradenton, Fla. April 11-12.