Don Schumacher Racing and Alan Johnson Racing announced Thursday that former NHRA world champion Shawn Langdon will drive DSR's Red Fuel Powered by Schumacher/Sandvik Coromant Top Fuel dragster in the 2015 NHRA Countdown to the Championship when racing begins Friday in the Carolina NHRA Nationals near Charlotte.
DSR owner Don Schumacher said he reached an agreement with Alan Johnson to make Langdon an "on-loan" driver to DSR for the six-race Countdown to enable a full 10-car field to contend for the world championship and for the Red Fuel/Sandvik team and Langdon to have a chance to win the prestigious title.
"Alan and I were able to work this out and it benefits everyone," Schumacher said.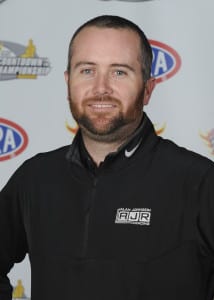 Langdon became available when Alan Johnson Racing, for whom he had driven the past four seasons including 2013 when he won seven races and the Mello Yello Top Fuel world championship, opted to not compete in this year's last six events due to a lack of sponsorship funding.
Langdon, 33, who lives in Avon, Ind., will replace Khalid alBalooshi who competed at the last race in the Mello Yello Series.
"Khalid helped us when we needed a driver for the U.S. Nationals and this decision is only based on Shawn having qualified for the Countdown and the world championship," said Schumacher, who hired alBalooshi after former DSR driver Spencer Massey was released late in August.
"Our NHRA fans certainly should see the 10 best drivers battle it out in the Countdown and we are excited that Shawn and our Red Fuel/Sandvik team will be in the fight."
The Red Fuel/Sandvik team held the 10th and final Countdown spot going into the U.S. Nationals but points "belong" to the driver so the team virtually was eliminated from contention when a new driver was named for the last race of the 18-event season and finished the regular season ranked 11th and only six points outside of the top-10.
Langdon is seeded sixth into the Countdown and 70 points behind DSR points leader Tony Schumacher (U.S. Army) and 40 behind another DSR teammate, Antron Brown, who ranks second.