Paul Romine is no stranger to the drag racing industry. His illustrious career includes world championships, as well as experience in multiple high-speed classes. Romine definitely knows a thing or two about cars. Throughout the years, Aeromotive's President and CEO, Steve Matusek, encountered Romine at the track numerous times and a relationship formed.
When Romine restored his 1955 F100 pickup truck, he struggled to keep it running. Nothing he tried could solve the problem and, after a year-long struggle with it, he seriously considered throwing in the towel. "I'd drive the truck eight or ten miles and the engine would just quit," Romine said. "I'd coast over to the side of the road and start trouble-shooting but I never could determine why the engine quit running. I'd sit by the side of the road for 30-45 minutes and then the engine would fire right up and run."
He went to Matusek about his issues, which turned into a discussion about how Aeromotive can help him fix his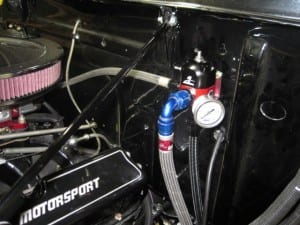 beloved truck. They determined Romine was probably experiencing cavitation and vapor-lock problems. When Matusek recommended Aeromotive's Phantom Fuel System as a solution, Romine stated that he hadn't heard of that particular system before. That did not deter him – in fact, he trusted Matusek and Aeromotive so much that he installed the Phantom based on their word, and the rest is history.
"Once I installed the Aeromotive submerged pump, fuel pickup and baffle it immediately solved all of the problems," Romine said. "Now I'm not concerned that if I try to drive the truck around town or even make a road trip that I'm going to end up by the side of the road with a truck that doesn't run. I'm really having fun with my truck now and that is what I built it for."
Paul Romine, a world-renowned racer and champion, chose Aeromotive because of our reliability, our solutions, and our ability to utilize track relationships and discussions as a tool to help solve problems.