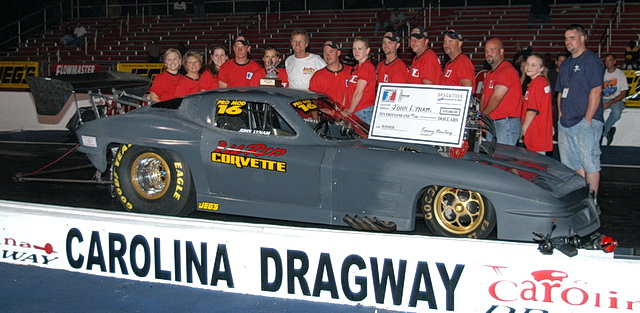 The American Drag Racing League (ADRL) announced Oct. 2, that popular clothing brand Public Nuisance Garage will sponsor an eight-car Pro Extreme shootout as part of Carolina Dragway's Battle of the Big Dawgs event Oct. 11-12, 2013, in Jackson, South Carolina.
The special-event race is being held to commemorate the inaugural Dragstock event won by South Carolina's John Lynam (above). Dragstock initially was intended as a one-off showcase to present the NHRA Pro Mod teams of the day going head-to-head with eighth-mile outlaw racers, but turned out to be so enjoyable and successful that it gave birth to the all-eighth-mile ADRL, which held its first full race season the following year.
"We have been searching for away to celebrate the ADRL's 10th anniversary at Carolina Dragway for quite some time," ADRL President Kenny Nowling said.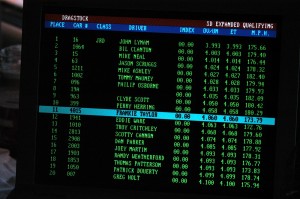 "Without the initial support of Carolina Dragway owners Jeff and Angel Miles, the ADRL may have never gotten off the ground. The first Dragstock event there in 2004 is still widely considered one of the greatest drag races ever held and they deserve a lot of credit for that."
The ADRL Pro Extreme Shootout presented by Public Nuisance Garage will follow ADRL Pro Extreme rules to the letter. The winner will earn $10,000, the runner up $3,000, semi finalists $500 and qualifiers will earn $250 each.
"It is hard to believe that it has been 10 years since the original Dragstock," Carolina Dragway co-owner Jeff Miles said.
"Dragstock was such a great event and we are thrilled to have this reunion shootout as part of our Battle of the Big Dawgs event. It will be awesome to see some of the stars of the ADRL back where it all started."
Public Nuisance Garage President Larry Jeffers added, "Being associated with the ADRL this year has been a huge benefit to our company. When Kenny contacted me about sponsoring this shootout I couldn't say yes quickly enough."
(Photos by Ian Tocher; Click to enlarge)