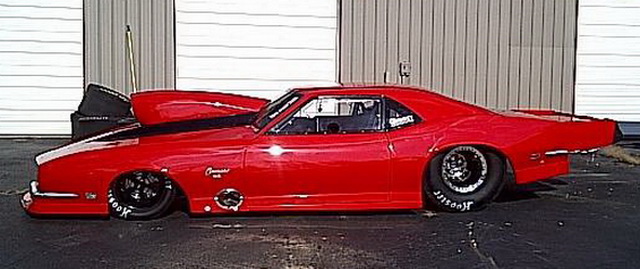 Lee Adkins Jr., a former American Drag Racing League (ADRL) national-event winner in both Pro Nitrous and Pro Modified, will return to the all-eighth-mile series this weekend (Sep. 7-8) in the ADRL Memphis Drags III at Memphis International Raceway.
This time, however, Adkins will get behind the wheel of a new Garret Race Cars-built '68 Camaro in the Top Sportsman class.
"This is a brand-new car we just finished for Tom Smith in Southhaven, Mississippi, which is basically part of Memphis, so this is a home-town debut for him," said Garret Livingston, founder and president of Garret Race Cars in Marble Hill, Missouri. "We decided to put Lee in the car first because he's a great, experienced driver who will be able to help us get it dialed in quickly for Tom."
The new, light-weight bodied Camaro is motivated by a nitrous-fed Reher & Morrison 665-cubic-inch engine that's backed up by a Powerglide transmission.
"I'm really looking forward to getting out there again with this new car," said Adkins, who lives in Linden, Tennessee. "I've driven Garret cars before and they've always been first-class all the way."
Also expected to compete in Top Sportsman with Garret-built entries are championship contenders and past race winners Glenn Butcher and Aaron Glaser, in a pair of 1968 Camaros.
In Pro Extreme, former two-time class champion Jason Scruggs will be driving his Garret Race Cars '63 Corvette, while 2006 ADRL champ Bubba Stanton will compete in a Garret '69 Camaro. Additionally, the two-car team of Todd Martin and Brandon Pesz features a '68 Mustang and '58 Corvette, both built by Garret, and class newcomer Randell Reid will be in his Garret-built '57 Chevy.
"We have quite a few cars competing this weekend and I'll be available to help any one of them as the need arises," Livingston said. "I know it's going to be a lot of hard work, but it's the high quality of people we work with that makes it all worthwhile."