For the seventh time in his career Aaron Stanfield and the Janac Brothers Chevrolet COPO Camaro earned the No.1 qualifying spot. The two-time Factory Stock Showdown world champ captured the top spot Saturday at the Amalie Motor Oil NHRA Gatornationals in front of a sellout crowd. He would run a 7.655-second pass at 179.49 mph before picking up two round wins in the Flexjet Factory Stock Showdown, a class that pits Chevrolet COPO Camaros, Ford Cobra Jets and Dodge Challenger Drag Paks against each other in heated competition.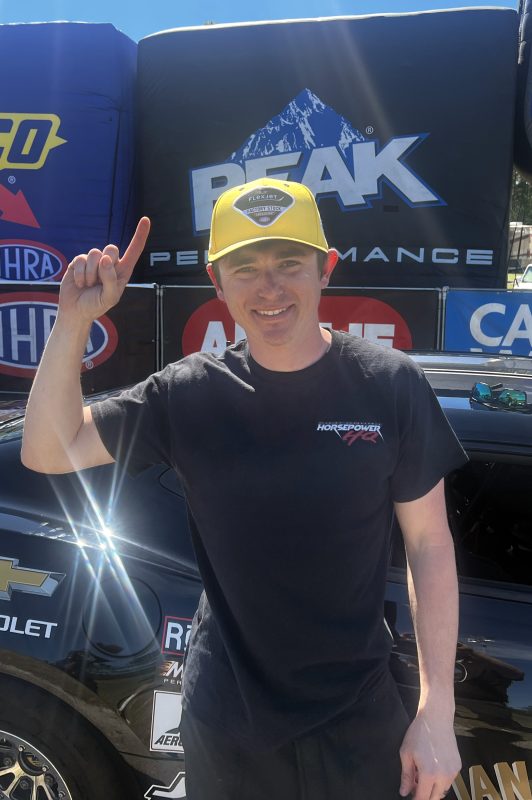 "We only tested for a couple days so getting off to a good start was important for us," said Stanfield, who still has the $1,000 Flexjet Factory Stock Showdown Bounty program target on his back as the winner of the season-ending Texas NHRA FallNationals. "Friday we learned a few things on our runs and today it came together. This whole group is working really hard. We won the last race last year but that didn't really give us momentum coming into this race. We just really put a lot of work in over the off-season and it looks like it has started to pay off this weekend, we'll see how tomorrow goes.
In the first round, Stanfield would go 8.659-seconds at 175.73 mph to send Ingram home for the weekend. Stanfield followed up the victory with a 7.738 pass at 178.54 driving around Ricky Hord's 8.016 at 167.24. Stanfield will have AJ Berge waiting for him on Sunday.
Veteran tuner but first-time Flexjet Factory Stock competitor AJ Berge took two round wins today and will go into Sunday of the Gatornationals with growing confidence. Racing the iconic look RAMCHARGER Dodge Drag Pak Berge will be looking for three more win lights tomorrow.
"We've been struggling since we started testing here on Tuesday. Getting a hold of this tune-up has been a challenge but we're starting to see the fruits of our labor and starting to get the bugs worked out. We had good power, and we have a good team. Winning any race for me is just such a huge accomplishment. It's a very humbling experience for me to be out here."
Another driver who is excited to be advancing to Sunday is David H. Davies, driver of the Save Our Allies Dodge Drag Pak. Davies started his own team this season after a season under the Don Schumacher Racing banner and the Kirtland, Ohio, resident is eager to try and earn his first Flexjet Factory Stock Showdown Series national event.
"We came in here with a new team," said Davies. "We're going through the normal new team stuff, but everybody's doing a great job we wrenched on the car before round two and it got where it needed to go. It's the Gators so we're happy to be running on Sunday.
"We have a little bit more work to do on the car. It's been behaving great for two weeks. We've pretty much got this thing figured out, the 'Gator air' is causing us a little bit of grief along with everybody else in the class," Davies continued. "If we figure out the 'Gator air' we will be in good shape."
Sunday will feature the third round of the Gatornationals Flexjet Factory Stock Showdown Series with drivers hitting the track at 11:50 a.m. the final round should commence at 2:20 p.m. The Gatornationals will be broadcast live on FOX from noon – 3 p.m. ET.
Sunday Match-ups
Aaron Stanfield vs. AJ Berge
Jesse Alexandra vs. Joe Welch
Doug Hamp vs. David H. Davies