Aaron Glaser and his family-based race team are heading into the third stop on the NMCA tour with a new look and a renewed determination. After an on-track incident April 7th at the NMCA/NMRA All-Star Nationals in Atlanta left the driver's side of the team's beautiful 1969 Chevy Camaro severely damaged, Glaser and team at his collision center knew that it'd be near-impossible to repair the car and restore it's signature paint scheme without missing an event. The only other option was to bust out the rattle cans and start spraying.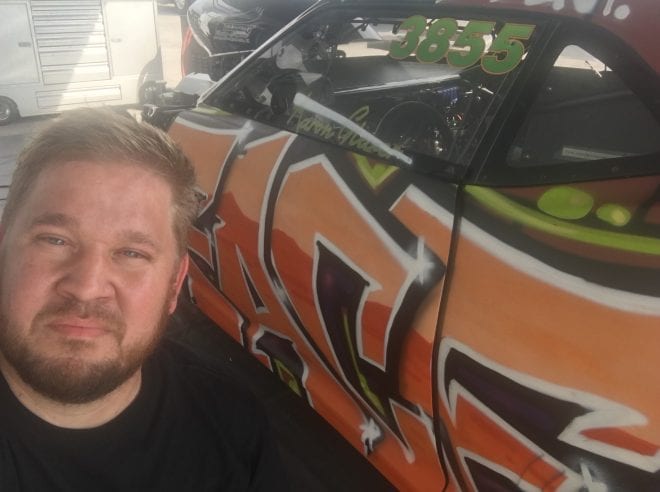 "Being a painter by trade, I take a lot of pride in my own personal cars," explained Glaser. "I just couldn't go to a race with the whole side of the car in primer. A detailed paint job, however, can take a couple hundred man hours – the body work, paint, airbrush and pinstripe work."
With little time to spare, Glaser and crew dreamt up a "Two-Face" concept, covering the entire driver's side of the car in graffiti.
"After we finished the repairs and body work, I busted out the spray bombs and went to work," said Glaser, who finished off the comic book-inspired theme with a decal of infamous villain Harvey '2-Face' Dent on the hood.
The rebuild of the team's Camaro could not have happened without the support of some great companies pitching in. The entire crew at Glaser's Collision Centers helped get the body back in shape while Jerry Bickel Race Cars had most all the hard parts in stock and shipped in record time. David Monday Race Cars had the few body panels required to complete the rebuild. The father/son team of Gene and Aaron Glaser spent countless hours at the race shop rebuilding the car, going over every nut and bolt to ensure a proper and safe return to the track.
Qualifying begins on May 18thfor the Bluegrass Nationals, watch for Glaser Racings debut of the Two-Face Camaro on the team's Facebook page.