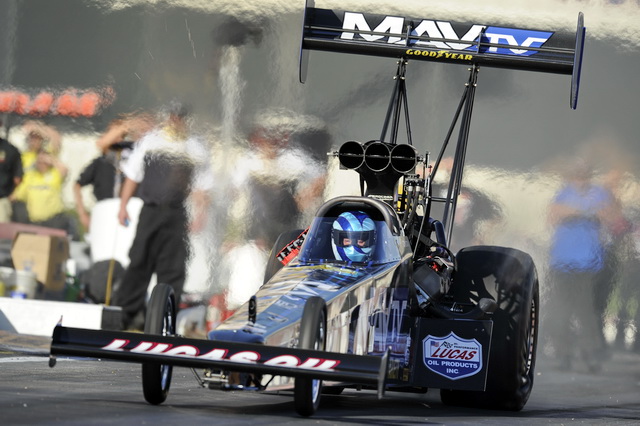 The fifth-longest qualifying streak among active drivers came to a sudden halt Saturday when MAVTV/Lucas Oil Top Fuel dragster driver Brandon Bernstein missed the Ford NHRA Thunder Valley Nationals at Bristol Dragway.
The 16th and final qualifier, Scott Palmer, ran 4.045 at 294.54 mph, while Bernstein's best pass was 4.221 seconds at 231.16 mph that left him 18th. Bernstein's team owner and teammate Morgan Lucas also missed the race-day cut in his Geico-backed ride with a 4.778 that placed him 20th of 21 entries.

Bernstein had qualified for 114 races in a row, last missing a race in 2007 at Chicago, site of the next race on the NHRA Full Throttle Drag Racing Series schedule.
"It just seems like the track conditions and everything were pretty horrendous all weekend long," Bernstein said. "Unfortunately, if you miss the Friday night session – and we dropped a cylinder on that run – you're behind the 8-ball come Saturday.
"It's just unfortunate. The MAVTV car was running terrific, and we had some good momentum going after the last three races. To come in here and have that happen, it just sucks."
Bernstein, seventh in the Top Fuel points standings, came to Bristol off a runner-up finish in Englishtown, NJ. Plus, Bernstein had semi-final appearances in the two races before that and had qualified in the top half of the field for five races in a row.
Bernstein, though, is confident his team can get the momentum back June 29-July 1, in the O'Reilly Auto Parts Route 66 Nationals at Route 66 Raceway in Joliet, IL .
"There's no doubt at all they'll bounce back," he insisted. "This is a top-caliber team, and we've proven it. It's just one of those races. You have to chalk it up to that. We'll come right out to Chicago the next race, and I'm sure we're going to perform perfect."
The way to bounce back, Bernstein added, is simply to "stay positive."
"That's all you can do. You can't change it now," he said. "My good buddy Eric Medlen always used to say when bad stuff happened and you're all mad and depressed, 'Can you change it now?' No, you can't.
"So you've got to stay positive and go in the right direction and keep the morale up on the team. We'll go into Chicago and be ready."
(File photos courtesy NHRA/National Dragster)